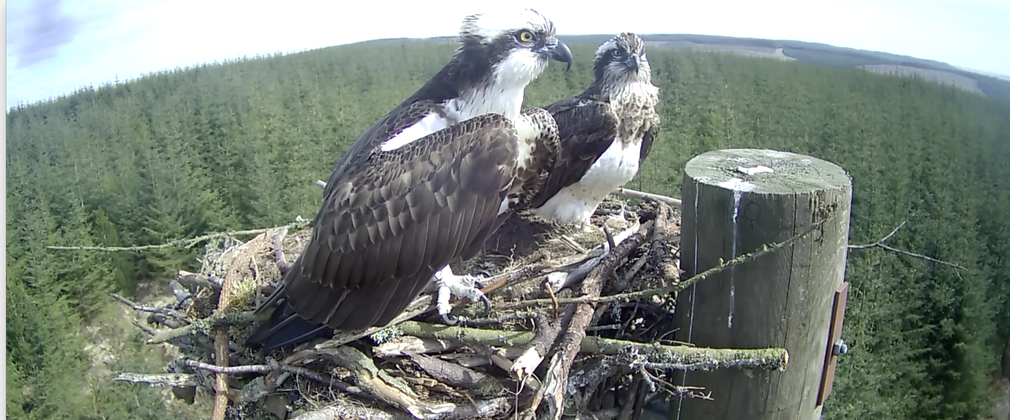 Ospreys return to Kielder Water and Forest Park
Ospreys have returned to nest in the forests of Kielder Water & Forest Park for the twelfth year in a row. And whilst it is just another season for the ospreys it is a year unlike any other for their many fans.
In support of the national effort to combat coronavirus (COVID-19), Forestry England and Northumbrian Water took the unprecedented decision to close all recreational facilities at Kielder Water & Forest Park on Monday 23rd March.
Lynn Turner (Director of Kielder Water & Forest Park Development Trust) said "the Kielder Osprey Partnership would like to send a clear message to everyone who would ordinarily delight in coming to Kielder to see the ospreys for themselves. The most important thing for all of us at Kielder Water & Forest Park is to keep the public and our staff safe. The government has said everyone must stay at home apart from essential travel. Sadly this means we have to ask you not to come to Kielder. We will keep monitoring the situation closely and follow the latest advice from Public Health England".
Happily, it is still be possible to keep an eye on how the birds are doing from the comfort of your own home. Forestry England has been very busy over the last few months preparing for the 2020 season: sprucing up the nest platforms; replacing cameras and working with consultants to ensure that all electronics are in place to provide us with reliable footage from the nests. Due to the current situation we are still working on safely obtaining footage from some nests but we are able to receive images from two of the nest platforms. This footage is being closely monitored by dedicated Osprey Consultant, Joanna Dailey. Joanna will be posting all the latest news and images on the Kielder Osprey Project blog throughout the breeding season, and has kindly provided us with the highlights to-date.
Joanna happily reports that the first osprey to make the return journey from its wintering grounds (as far as we know) was male osprey known as YA. Arriving on 26th March, YA arrived at one of Kielder Forest's nesting platforms, bearing a fish. He spent a couple of hours at the nest in the hopes of being able to gift his fish to a returning female before flying away again – disappointed on this occasion. In fact YA had his longest wait for his mate in his nine seasons here. Mrs YA finally arrived on 5th April, and her first act was to evict a three year old female who had shown an interest in the platform earlier in the day. Since then, normal business has resumed with plenty of nest building, preparation of a cup for eggs and mating.
The couple's son, Blue Y1 (who was born in 2016) has also briefly visited the nest. He hasn't been seen since 2018 so it is great to know he is back safely and interested in the place where he was born.
At another nest, W6 returned from migration on 4th April. He had a much shorter wait for his mate to join him as Mrs W6 arrived the very next day. As with the other nest, the pair got straight on with preparing for eggs.
We are delighted to announce that first eggs have now been laid at both nests and we hope to bring further egg news from these and other nests very soon.
Through observations passed on from people working in the forest, we also know that there are pairs on three other nests. We hope to find out soon whether these are the usual pairs or new birds.
Jennifer Watson, Forestry England Recreation Ranger said "while we are all undergoing restrictions on movement for good reason at the moment, we are delighted to be able to keep open a window on the natural world and check in with some of our winged residents. Our ospreys are a welcome reminder that wildlife is still out, is safe in Kielder Forest and will be in the future".
Before their recolonization, ospreys had not been observed in Northumberland for nearly two hundred years largely due to persecution in earlier centuries. Kielder Water & Forest Park has been proved over the past 12 years to be the perfect environment for ospreys to thrive, with 250sq miles of forest surrounding the birds as well as the open water of the biggest man-made lake in northern Europe.
The Kielder Osprey Project is a partnership between Kielder Water & Forest Park Development Trust, Forestry England, Northumberland Wildlife Trust, Northumbrian Water and Calvert Kielder. The partners are working hard to ensure that the ospreys are here to stay by maintaining a high quality habitat in Kielder Water & Forest Park and safeguarding and monitoring the nest sites.
To find out more, go to www.visitkielder.com.
Notes to Editor
1. Members, who have appointed directors/trustees to serve on the board, are Northumbrian Water, Forestry England, Calvert Kielder, Northumberland County Council, Northumberland Wildlife Trust, Northumberland National Park Authority and Kielder Observatory Astronomical Society. Affiliate organisations that are not members but have a close working relationship with KWFPDT include Arts Council England, Environment Agency, The Scout Association and local decision making bodies such as the parish councils.
2. Forestry England manages and cares for the nation's 1,500 woods and forests, with over 230 million visits per year. As England's largest land manager, we shape landscapes and are enhancing forests for people to enjoy, wildlife to flourish and businesses to grow. For more information visit forestryengland.uk. Forestry England is an agency of the Forestry Commission.
3. Northumberland Wildlife Trust is the largest environmental charity in the region working to safeguard native wildlife. One of 47 Wildlife Trusts across the UK, Northumberland Wildlife Trust has campaigned for nature conservation for over 40 years. It aims to inform, educate and involve people of all ages and backgrounds in protecting their environment in favour of wildlife and conservation. Supported by over 13,000 individual and 100 corporate members in the region, Northumberland Wildlife Trust manages and protects critical species and habitats at over 60 nature reserves throughout Newcastle, North Tyneside and Northumberland.
Media Contact:
Katherine Patterson, Communications and Marketing Manager E: katherine.patterson@forestryengland.uk
Christina Taylor, Volunteer Co-ordinator Email: christina.taylor@forestryengland.uk
Mobile: 07979 776061