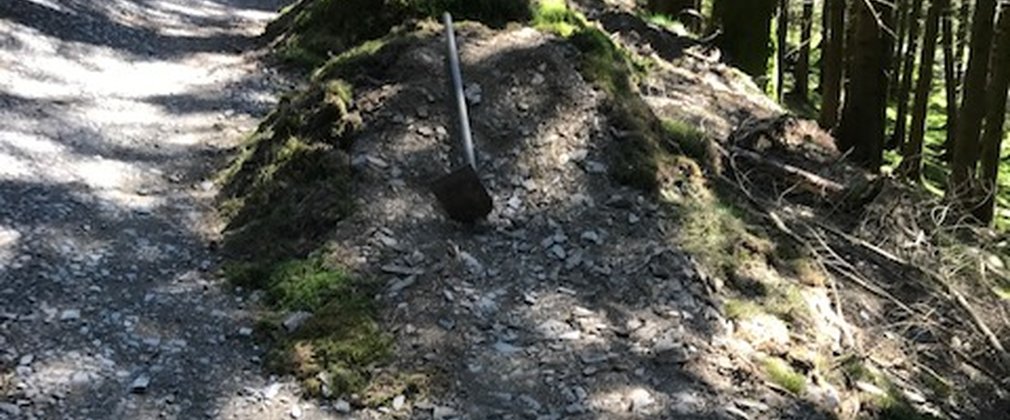 Reckless trail modifications put mountain bikers at risk
Some unofficial and dangerous modifications to Whinlatter Forest's popular Altura Trail North Loop have been discovered by Forestry England Rangers out doing safety inspections.  Jumps, ramps and double-jumps were built over the last two weekends, Forestry England have said.
These could be a significant danger to local riders using the trail legitimately under the social distancing and exercise rules. They could also put added pressure on front line key workers, the NHS and Forestry England staff dealing with incidents and injuries.
Adrian Jones from Forestry England said:
"We are so disappointed at a time when the country is supposed to be pulling together that people are making journeys for this reckless, irresponsible and dangerous activity. It is sad that a small number of individuals have chosen to modify the trail and put other riders at risk.  Given the pressure on the emergency services at this time, this behaviour is particularly shocking."
Adrian added:
"The trails at Whinlatter are professionally built to a very precise specification, and we will not tolerate these unsafe features so they have been removed. What people are doing might also be illegal under the current rules and if anyone has any information that can stop or catch these people please report it on the Cumbrian police web site or call 101."
All car parks and visitor facilities at Whinlatter Forest are currently closed, and Forestry England urges people to stay at home and not travel to use the forest. This difficult decision was taken to support social distancing, discourage unnecessary travel and keep Forestry England staff safe as they carry on managing the nation's forests. Local people can still walk and cycle to the forest for their daily exercise but must follow government rules on social distancing and not congregate in groups of more than two people other than members of their household.
Notes to Editor
Photos are available to download here:


https://www.dropbox.com/t/RQfjfpMrjyjjHw9F
Please credit: Forestry England/Crown Copyright

Whinlatter Forest is managed by Forestry England. It is home to stunning views, fantastic walks, exhilarating mountain biking, rare wildlife and adventure play.

 It is also home to the longest purpose-built mountain bike trails in the Lake District. For more information visit www.forestryengland.uk/whinlatter.
Forestry England manages and cares for the nation's 1,500 woods and forests, with over 230 million visits per year. As England's largest land manager, we shape landscapes and are enhancing forests for people to enjoy, wildlife to flourish and businesses to grow. For more information visit forestryengland.uk. Forestry England is an agency of the Forestry Commission.
Media Contact:
Adrian Jones | e: adrian.jones@forestryengland.uk | t: 07720 700321