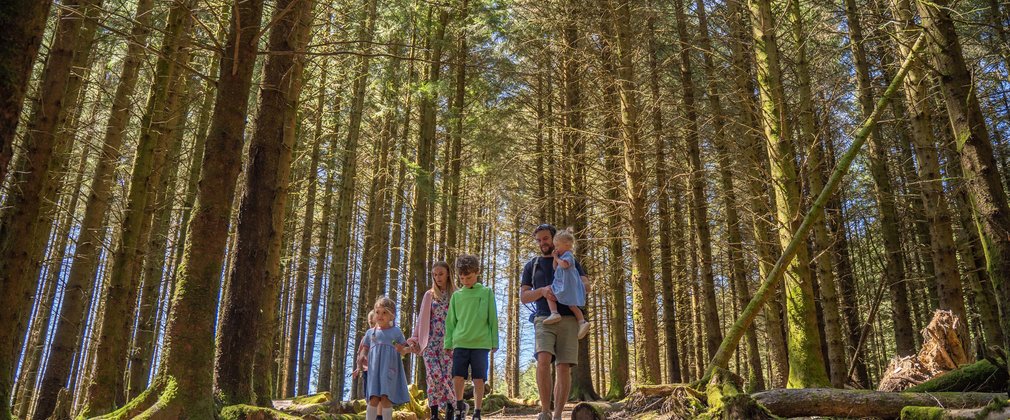 Record visit numbers show we are a nation that love our forests more!
Forestry England, the country's largest land manager, has recorded the highest ever number of visits to the nation's forests across England over the last year.
Some 363 million visits were estimated to have taken place – an increase of 67 million (over 20% per cent) compared to the previous year's estimate. This is the second consecutive year we have seen a substantial increase, showing that connection to nature has continued to be vital to people since the pandemic.
Many people visited the nation's forests for the first time during the pandemic as they offered a space where people could relax, exercise, and meet family and friends. Since then, the nation's forests have continued to make visitors feel safe and welcome and people have begun to visit more frequently, with more people visiting between once a month and twice a week.
Forestry England has also seen an increase in visitors deepening their connection with the forest landscape and becoming supporters of the forests they love with membership up by 38% from the previous year.
The end of COVID-19 measures has also meant that Forestry England has restarted hugely popular events and activities, welcoming visitors to Forestry England sites across the country. From inspiring arts programmes, sports and physical activities and historical sites to mindful moments, there is something for everyone.
Hayley Skipper, Forestry England Director of Commercial Visitor Development says:
"The nation's forests are a living treasure for us all and are among the most popular natural spaces in the country. We want to go further and will keep developing our offer to reach out to new audiences and to make everyone feel welcome in these shared public spaces.

"They are a space for everyone, and this astounding number of visits shows the value they hold. In 2021 we worked hard to develop products that reflect the richness and diversity of the nation's forests and welcome visitors to explore, play and have adventures."
Forestry Minister Lord Goldsmith said:
"Today's record visitor figures demonstrate how essential our woodlands and forests are to the nation's health and wellbeing. With a huge range of attractions, events and activities on offer, it's no surprise more people than ever are heading to England's forests. 

"We will continue to work closely with Forestry England as part of our ongoing drive to protect and grow treescapes of all kinds across the country, including by creating new woodlands close to where people live. This will mean more of us will be able to enjoy the simple, universal pleasure of spending time in nature."
Forestry England is determined to bring a greater diversity of people to the nation's forests and offer a wider range of experiences. In 2021 they introduced new ideas such as the Pedal and Play trail at Cannock Chase Forest, designed in partnership with British Cycling to inspire the next generation of cross-country mountain biker and Christmas at Delamere, an enchanting after-dark illuminated trail through the forest. Since this latest survey, Forestry England has also been able bring back old favourites such as the summer Forest Live concerts.
Forestry England are working hard behind the scenes to continue to welcome all visitors and to enhance people's quality of life. From watching wildlife, riding bikes, viewing art and mindful moments there is something for everyone. Visit www.forestryengland.uk to find out more.
Notes to Editor
Images are available

 here.

Hayley Skipper is available for interview requests.
Forestry England manages and cares for the nation's 1,500 woods and forests; there were an estimated 363 million visits in the 2021-22 year. As England's largest land manager, we shape landscapes and enhance forests for people to enjoy, wildlife to flourish and businesses to grow. We are continuing the work we have already started to make the nation's forests resilient to climate change and by 2026 we will:  

create at least 6,000 more hectares where we integrate wilding activities in our productive forests.

increase the diversity of visitors to the nation's forests and have one million hours of high-quality volunteer time given to the nation's forests

plant at least 2,000 hectares of new, high quality, predominantly broadleaf woodlands
For more information visit www.forestryengland.uk Forestry England is an  agency of the Forestry Commission.
The visit data is gathered through a survey conducted four times a year for a representative sample of adults living in England, asking them about visits they have made to Forestry England forests over the previous three months. The figure of 363 million visits covers visits made from April 2021 to March 2022 and represents an increase of 23% against the previous year's estimate of 296 million visits. The number of visits per annum to the nation's forests managed by Forestry England are Official Statistics published on 16 June 2022 as a part of the annual update report of the

Forestry Commission's Key Performance Indicators

.
Media Contact:
Rebecca Ulewicz e: media@forestryengland.co.uk t: 07771 971813