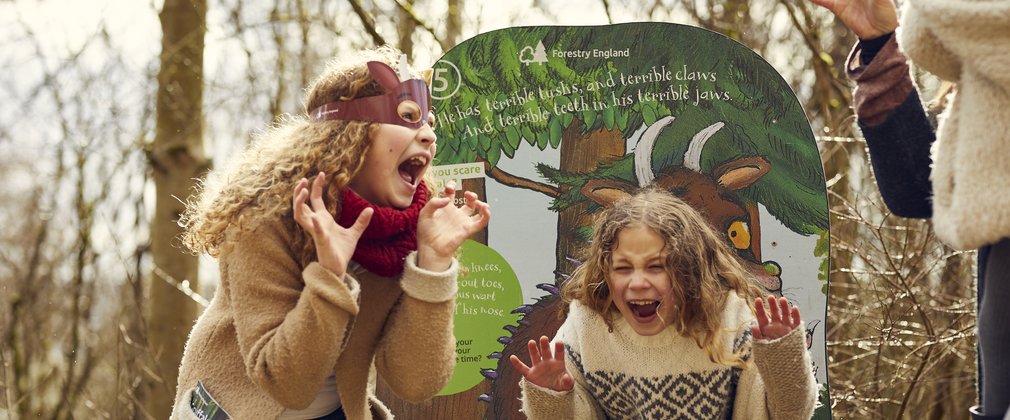 The Gruffalo is returning to England's forests with an exciting new augmented reality app
Taking family forest walks to new heights, The Gruffalo is returning to the deep, dark wood in the latest exciting partnership between Forestry England, Magic Light Pictures and Nexus Studios. The Gruffalo Spotter 2 app builds on the success of the BAFTA nominated original and brings The Gruffalo characters to life in the forest.  
Families will be able to use the brand new Gruffalo Spotter 2 app to follow a trail and learn about the characters from the story The Gruffalo, best-selling picture book written by Julia Donaldson and illustrated by Axel Scheffler. The Augmented Reality app mixes the animated characters with the real world environment, encouraging children to get exploring, firing their imaginations and giving them a forest experience like no other.
The Gruffalo Spotter 2 encourages children to drive their own personal narrative journey. Responding to instructions such as waving, stomping, flying, dancing and roaring, visitors will trigger the AR characters to magically come to life and interact with them. Through cutting-edge face and body recognition technology, the characters now look at the children directly, encouraging them to play along. These wonderful moments can be recorded and saved to mobile devices for families to revisit and share later via the #GruffaloSpotters hashtag.
Gruffalo Spotter 2 has been designed for exclusive use at up to 24 of the nation's forests across England where visitors of all ages can join the adventure and spot favourite characters along the way! The self-led trail is packed with fantastic facts about forest animals with fun activities to complete including rubbings and interactive activities on some of the panels.
Bridgette Hall, Recreation Manager for Forestry England commented:
"This is such an exciting development and will deliver a completely different forest experience for our visitors. The Gruffalo is a much-loved story and to be able to once again bring the characters to life in their natural setting is fantastic. We're thrilled to be bringing the two worlds of technology and nature together again with this new app!"
Barney Goodland, Producer at Magic Light Pictures said:
"Following the run away success of the first Spotter app we're delighted to be bringing The Gruffalo back to the forest for 2021. We're always looking to further children's enjoyment of The Gruffalo and this is an innovative way to incorporate new technology with a real-world experience. Working with Forestry England and Nexus Studios has been a real joy and it's exciting to now be sharing Gruffalo Spotters 2 with families. Most importantly for us the app is completely free, which means that it's there for everyone to enjoy."
The Gruffalo Spotter 2 app, which has been developed and animated by Nexus Studios, is available for free with no in-app purchases from the App Store and Google Play and requires downloading before your visit. A Gruffalo Spotters trail pack will be available to buy on site which includes an activity leaflet full of fun facts and activities, Gruffalo Mask and paws, a nature spotters game, stickers as well as a crayon and pencil.
Colin Davis, Executive Producer, Interactive Arts, at Nexus Studios, said:
"The team at Nexus Studios are massive fans of The Gruffalo and were really excited to be able to bring the iconic characters to life in the forest through the magic of Augmented Reality. Working with Magic Light Pictures and the Forestry England has been a fantastic collaboration on many levels, from new technical innovation in AR and real time 3D characters, to creating an experience that works outside in all weathers and for all ages. The creative challenges have always been enjoyable and we can't wait to see children (and their grown-ups!) playing it."
The Gruffalo Spotters trail and Gruffalo Spotter 2 app will be live until winter 2021.
Launch dates differ between forests, for more details please visit www.forestryengland.uk/gruffalo-spotters
The nation's forests, car parks and essential facilities are open to you for outdoor recreation and exercise. We should all be trying to reduce how much and how far we travel and spending time or exercising outdoors should be done locally. Make sure you plan-ahead and follow the latest national restrictions for travel, outdoor spaces, and meeting people from outside your household.
List of participating sites:
Alice Holt, Surrey
Bedgebury Forest and Pinetum, Kent (opening 11 June)
Beechenhurst, Forest of Dean, Gloucestershire
Cannock Chase Forest, Staffordshire
Dalby Forest, North Yorkshire
Fineshade Woods, Northamptonshire
Hamsterley Forest, County Durham
Hicks Lodge, Leicestershire
High Lodge, Thetford Forest, Suffolk
Jeskyns Community Woodland, Kent
Kielder Water and Forest Park, Northumberland
Moors Valley Country Park, Dorset
Salcey Forest, Northamptonshire
Sherwood Pines, Nottinghamshire
Wendover Woods, Buckinghamshire
Westonbirt Arboretum, Gloucestershire
Notes to Editor
Photos can be downloaded from here. All photos should be credited to Tom Donald.
 
Forestry England manages and cares for the nation's 1,500 woods and forests, with over 230 million visits per year. As England's largest land manager, we shape landscapes and are enhancing forests for people to enjoy, wildlife to flourish and businesses to grow. For more information visit forestryengland.uk. Forestry England is an agency of the Forestry Commission.
 

First published in 1999 by Macmillan Children's Books, 

The Gruffalo was recognised immediately as a 'modern classic' (The Observer). Written by Julia Donaldson and illustrated by Axel Scheffler, the book has been translated into 105 languages. The award-winning film The Gruffalo, produced by Magic Light Pictures, was released in 2009 followed by The Gruffalo's Child in 2011. For more information visit www.magiclightpictures.com
 
Magic Light Pictures makes imaginative entertainment for audiences, families and children worldwide. The BAFTA winning and 4-time Oscar nominated company creates high quality films and products and has built the wonderful Gruffalo brand over many years. Magic Light directly manages production, licensing, global distribution and marketing. It runs an international merchandising programme with over 80 licensees and hundreds of products. For more information visit www.magiclightpictures.com.
 
Nexus Studios is a world-leading, independent film and interactive
studio with animation and storytelling at its core. With studios in London, LA
and Sydney, they partner with like-minded advertisers, brands and broadcasters
from concept to delivery, crafting culturally relevant work that gets people
talking. Their work has earned acclaim from BAFTA, Cannes, the Emmy Awards, the Webby Awards, Annie Awards and the Academy Awards, throughout their twenty year history.



For more information visit:

www.nexusstudios.com
Media Contact:
Stuart Burgess
Media Relations Officer
t: 0300 067 4073