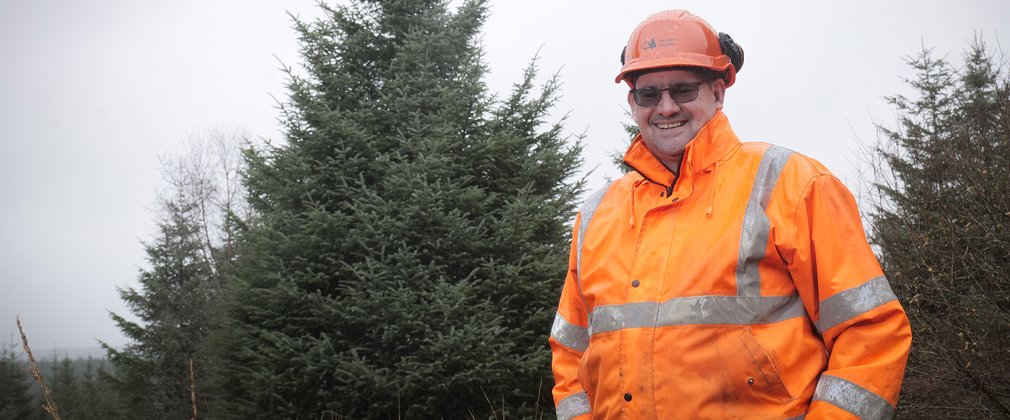 A tree in 150 million earns a place in the limelight
A stunning Christmas tree from the 'land of the giants' has been chosen to grace one of the world's most famous landmarks.
Forestry England has despatched a magnificent British grown 42 foot Sitka spruce from 63,000 hectare (155,000 acre) Kielder Forest, Northumberland, to stand proud at the foot of Big Ben in London.
It is set to be in place this weekend and adorned with Christmas lights, which will be switched on to raise a festival cheer across Westminster and the capital
Kielder is England's biggest forest and one of the very few places in the UK that can supply such tall festive trees.  In addition a 25 footer has been despatched to stand in the medieval Westminster Hall and another smaller tree supplied for the Speaker's House.
This year over 90 other outsized specimens, some up to 55 foot tall, will also take up position at prime locations across the UK. To ensure sustainability, seedlings from previously selected trees have been planted in the vast woodland, and some may even be be destined to stand beneath Big Ben in the 2050s!
Ian Green, from Forestry England, said:
"It's a big honour to be able to supply a tree from the 150 million growing in Kielder for such a starring role. It has been hand selected by experts to look good from every angle and was carefully felled by an experienced chainsaw operator to ensure its good looks were kept in tact.  It really is a beauty. But it's also a credit to the way to the way the forest is managed.  Kielder is an internationally important habitat for wildlife and also England's major producer of sustainable timber.  Seeing the tree lit up on view to the whole world will be an immense source of pride for all of us."
Meanwhile, Forestry England has embarked on a colossal annual planting programme in Kielder.  Over three million new trees are scheduled to be planted before the spring to ensure the forest continues to flourish.
Notes to Editor
Forestry England manages and cares for the nation's 1,500 woods and forests, with over 296 million visits per year. As England's largest land manager, we shape landscapes and enhance forests for people to enjoy, wildlife to flourish and businesses to grow. We are continuing the work we have already started to make the nation's forests resilient to climate change and by 2026 we will:
create at least 6,000 more hectares where we integrate wilding activities in our productive forests.
increase the diversity of visitors to the nation's forests and have one million hours of high-quality volunteer time given to the nation's forests.
plant at least 2,000 hectares of new, high quality, predominantly broadleaf woodlands.
For more information visit forestryengland.uk Forestry England is an agency of the Forestry Commission.
Media Contact
Stuart Burgess, Forestry England, t: 07785 748351 e: media@forestryengland.uk