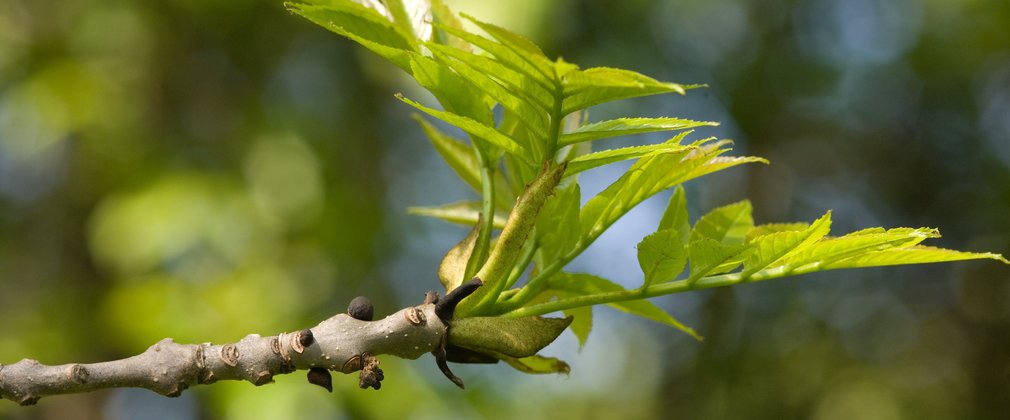 Why are trees waking up? The science behind tree budburst
As the cold of winter melts away, spring is once again welcomed into our forests. Bumble bees begin bumbling, butterflies begin fluttering, and in the canopy above, changes of a different sort are beginning.
Newly unfurled leaves can be one of the most vibrant heralds of spring, but have you ever wondered how trees 'wake up' from their wintertime rest? The answer isn't as simple as you think, for the trees were never really sleeping.
Alison Vry, Forestry England Database and Records Officer, Westonbirt the National Arboretum explains
"A sleeping tree in winter is in fact highly sensitive and is continually responding to seasonal changes in its environment, such as day length, water availability and temperature."

"On average, the first leaves will start to emerge from their buds between March and April each year. However, we know this can differ and with both weather and climate being variable, predicting when we see the first bud burst can be fun to anticipate."
"We have been keeping phenology records at Westonbirt since 2010 and this year we recorded our earliest ever budburst on the 29 November 2021 of a hazel. In comparison, the latest budburst recorded was on 3 May 2013 and this was on a common oak."
The new growth of leaves we see each year in spring is due to a complex programme of changes. Along with seasonal changes in our environment, hormones within each bud such as cytokinin and auxin also play critical roles in bud bursting brilliance by promoting growth and encouraging cells to divide. These minute changes happening within the buds have a spectacular impact within our forests.
Alison continues:
"Admiring springtime blooms at the arboretum is such a welcome and wonderful sight that bring us happiness and warmth after the long winter months! For us, a sure sign that spring has arrived at Westonbirt, is the bud burst of our horse chestnut and oak trees, often closely followed by their first flowers."
However, the buds we will witness in this year's vivid display, actually developed in the previous year.
Brian Robertshaw, Forestry England Dendrologist, Bedgebury, the National Pinetum explains:
"It is in spring when we are struck by their dynamic nature, but trees are active throughout the year. The buds that burst on both broadleaf and coniferous trees in spring begin to form in late summer and early autumn. On some trees, you may be able to see several generations of leaves and buds on the same branch, illustrating their continuous cycle of growth."
And it is not only broadleaved trees which form buds, most conifers do. In fact, at Forestry England's Bedgebury Pinetum one of the first trees to become clothed in green is the deciduous conifer Larix gmelinii, the Dahurian larch. This rarely seen tree has its home in north-eastern Eurasia, and in the milder climes of England comes into leaf in January.
With the brilliance of buds bursting and the blossoming of trees, this time of year brings with it bundles of spring life for the whole family to enjoy outdoors. Leaves and flowers unfurling can be seen every day in mixed woodland or as a stunning mass display in plantations and avenues of the same tree species.
Sign up to Forestry England's newsletter for lots of Spring activities to enjoy and as you head outside, see if you can spot the spectacular signs of growth and new beginnings that transform our forests this season.
Notes to editor
Forestry England manages and cares for the nation's 1,500 woods and forests, with over 296 million visits per year. As England's largest land manager, we shape landscapes and enhance forests for people to enjoy, wildlife to flourish and businesses to grow. We are continuing the work we have already started to make the nation's forests resilient to climate change and by 2026 we will:  
create at least 6,000 more hectares where we integrate wilding activities in our productive forests.

increase the diversity of visitors to the nation's forests and have one million hours of high-quality volunteer time given to the nation's forests

plant at least 2,000 hectares of new, high quality, predominantly broadleaf woodlands

For more information visit forestryengland.uk Forestry England is an agency of the Forestry Commission.
The botanic collections at Bedgebury National Pinetum in Kent and Westonbirt, the National Arboretum in Gloucestershire are a living resource for research, conservation, learning and public engagement. Each has species trial plots that are a resource for scientists to study a wide variety of tree species. As part of eight Forestry England arboreta across the country, the National Collections held at Bedgebury Pinetum for conifers and Westonbirt Arboretum for broadleaved trees play a key role in conservation efforts in collaboration with worldwide networks of botanic gardens. For more information visit forestryengland.uk/bedgebury and forestryengland.uk/westonbirt
Images available here. Please credit Forestry England/Crown copyright
Media Contact: