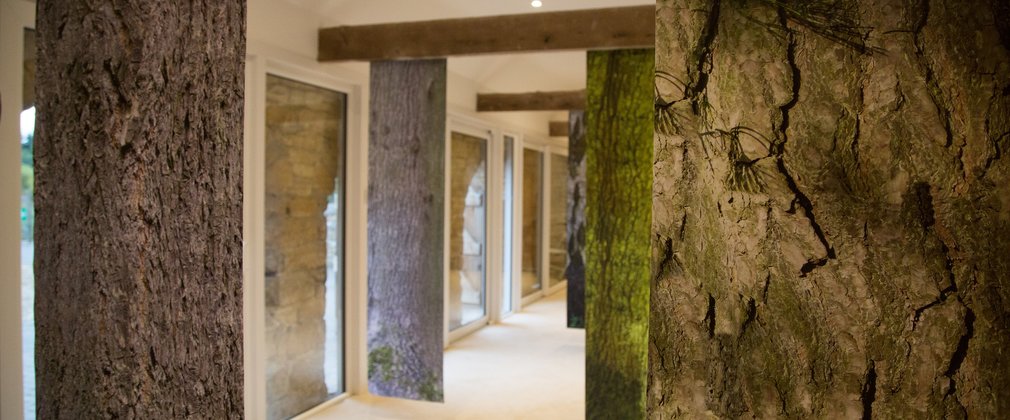 Edwina fitzPatrick is our first 'The Forest is the Museum' artist in residence with 'The Archive of the Trees'
'The Archive Of The Trees' is the body of work produced by artist Edwina Fitzpatrick during her residency at Fineshade Wood, and is currently on display at The Arches as well as in Fineshade Wood itself.
The work combines Forestry Commission tree records with historical archives, local anecdotes about the weather, and the images of each tree's secret interior archive.
Edwina fitzpatrick, by working with foresters, regular visitors to Fineshade Wood and local resources, has been investigating the forest as a living archive that traces human activity in relation to the landscape.
At the heart of the project are cores collected from mature trees in Fineshade Wood by Swansea University's UK Oak Project. Collecting these cores – the tree's own individual archive – does not harm the tree and reveals the tree's age, growing patterns, past weather conditions, stresses such as diseases, as well as its individual reaction to diverse and changing weather conditions dating back several decades.
Each artwork features a tree core image, as well as a timeline and excerpts from 60 conversations with diverse people who care about Fineshade Wood.
The artworks span topics that affect both trees and humans in similar ways – such as pollution, seasonality, adapting to new environments or healing from wounds.
Useful information
The exhibition runs until December 2018.