Horse riding in the Forest of Dean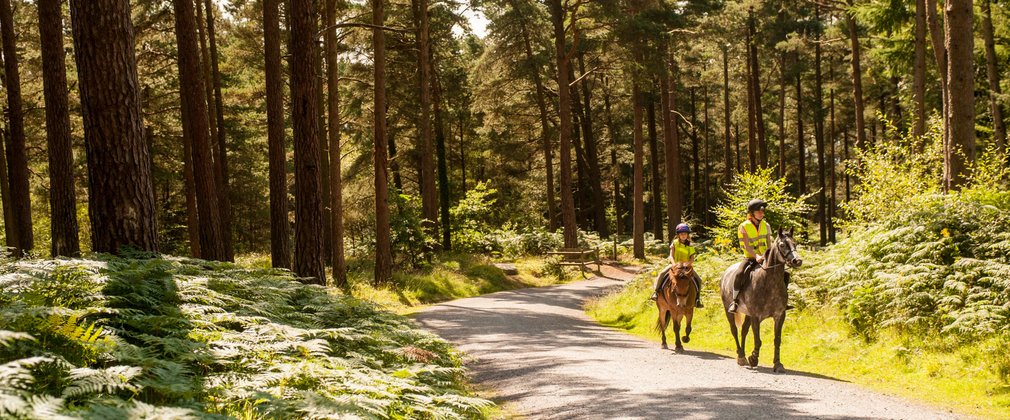 Horse riding in the Forest of Dean
Horse riding is welcome in the Forest of Dean on byways, bridleways and hard stone tracks.  
Hard stone tracks, or category one forest roads, are often indicated on ordnance survey maps in white with a broken black outline.
To avoid damage to paths, tracks and to reduce the risk of injury to rider and horse please refrain from riding on paths and soft tracks.
Please be aware the woodlands of the Forest of Dean are part of a shared and working forest, you may encounter vehicles, machinery, walkers and cyclists, at anytime.  Forestry operations take place year round and you may come across signage which indicates you need to stop, be prepared to go back the way you came or change your planned route.
Mapped British Horse Society routes
Flaxley - A 4 mile off-road circular through Flaxley and Hope Wood.
Dymock - The Dymock Greenway comprises approximately 2.5 miles of off-road, waymarked track located within Queens Wood and Hay Wood and 4.5 miles of quiet country lanes and bridleways. 
Blakeney - This is a 12.5 mile route in a figure of 8, an undulating route with some long hills, although not very steep.
 
Ride safely
Ensure you always wear a helmet , we recommend wearing hi-vis whilst riding off-road, this allows dog walkers, runners and cyclists to see you from a greater distance.  In the event that you have a fall, you may be seen much sooner and hopefully prevent any injuries from becoming more serious. 
Plan ahead
Before going out on a ride, research where you can and can't ride.  Look into more detail, any roads or tracks you may have to ride before entering the woodland and plan accordingly. Check if the woodland has any restrictions for horse riding. Have a fully charged mobile phone with you in case of emergency.
Be responsible
If you bring your dog with you please ensure it is in sight and close-by at all times.  Take steps to prevent dogs from going up to other people and animals uninvited and always clean up after your dog. Be aware that the forest is full of special wildlife that you might not be able to see.
There are additional costs for a carriage driving permit. 

Please contact westengland@forestryengland.uk for more details.