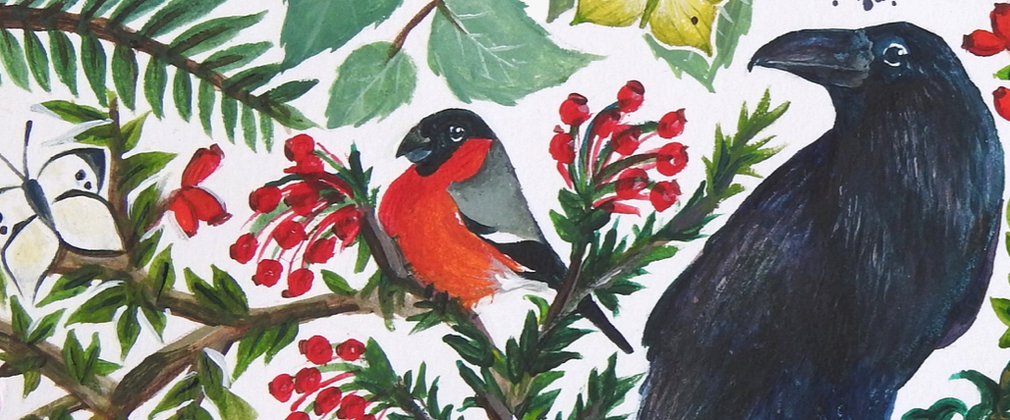 VI
The trees heard new days calling, saw
their paradise in leaf -
But wait. Who's there? Who moves, unwelcome,
through this salvaged peace?
A tribe of apes, defeated, bruised
and broken, there emerged,
the lone survivors of their breed,
a plague uprooted, purged.
'They aren't like us,' said yew. 'They see
their species fall apart,
and nothing moves their minds to grieve,
nor pains their bloodless hearts.
This meagre band has roamed our land
and somehow stayed alive,
but fear not, for we'll turn our heads
and see they don't survive.'
And one by one, the forest turned
its back upon the few,
except for beech, who stopped, and peered
around for one last view,
and there he found a scene most strange,
beneath the quiet trees,
one ape had stopped, and silently
sunk down upon her knees.
The long grass sang, she cocked her head
and then a second noise
pattered through like April rain - it was
the blackbird's velvet voice.
She listened closely, swaying soft,
with eyes half-closed, half-sleeping;
But beech moved closer still - and
realised that she was weeping.
A single tear had fallen from
her cheek into the ground,
resilience infused and
resurrected in that sound,
and suddenly the fever broke,
the demon exorcised,
the sickness passed, and wildfire
rekindled in her eyes.
Beech watched her lift her head towards
the bright, bewitching sky,
he saw her heart engulfed by guilt,
her soul itself decry,
her ecocidal burden fell
like barbed and blackened boulders,
the weight of so much hurt, like iron
anchors on her shoulders,
and from her drying lips, she howled
her tortuous lament,
a requiem for every day
she'd fuelled the earth's torment.
Retreating, beech crept back to where
the trees had congregated,
and shared the scene, so mournful, that
his mind had captivated.
'We fought to rid the land of plague,
of greed and mindless slaughter,
to clean the air, nourish the soil
and purify the water.
But what if we were wrong? What if
the plague was so maligned
it made a home not in their hearts,
but in their feeble minds.
These apes we think are rotten through,
are really just possessed,
their souls, once strong, surrendered
to the virus in their chest.
We've starved them, watched a species fall,
and now they're on the edge
of their extinction - But these apes
are changed, so now what lies ahead?
The sickness that consumed them has
departed evermore,
and now these beasts are broken,
crawling, frail, upon the floor.
What if, my friends, we choose to give
them hope, and let them live?
What if we choose to bind our hearts
to theirs - and just forgive?'
Each tree, in turn, reflected on
this gentle proposition,
an idea rooted not in fear,
but kindness and compassion.
At last, the forest murmured in
accord, from ash to maple
and lofty spruce to scented pine,
from hawthorn briar to hazel,
'til finally the ancient yew,
in gnarled and tangled frame,
exuded acquiescence -
and their wills were bent the same.
The trees began to push their
tendrils back into the land,
and day by quiet day, the apes
began to understand,
indebted to the earth they had
destroyed not long before,
they saw the world alight with peace
and not ablaze with war.
And when spring woke the warming soil
and burst the speckled seeds,
the apes danced once again beneath
the green and tender trees.
Now every blackthorn hangs with fruit,
and elder froths with flower,
the cuckoos pipe their clockwork song
into the lime tree bower.
By night the woods still echo with the
story of this curse,
and how it was lifted from this wild,
enchanted universe.