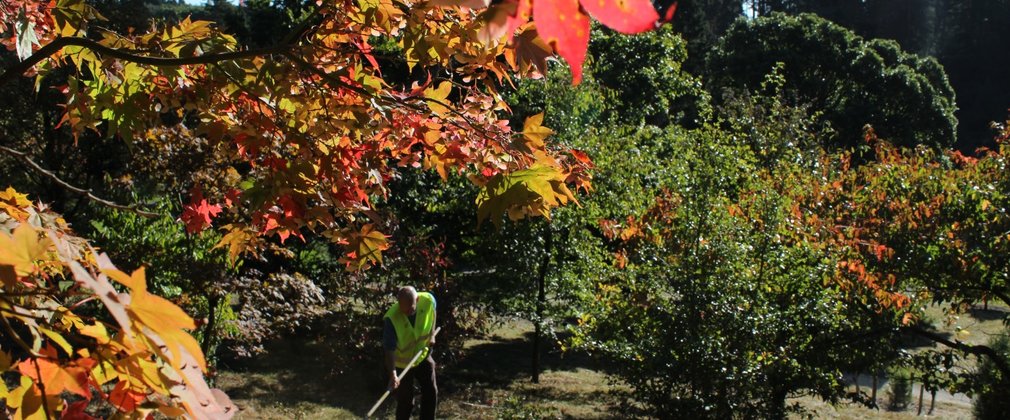 What can I do?
Make new friends, help a great cause and work in the amazing surroundings of the National Pinetum and Forest… all great reasons for volunteering at Bedgebury.
Opportunities to volunteer vary from assisting with events to practical work in the pinetum; the following key groups are currently open to new volunteers:
Habitat monitoring and conservation volunteers
We are setting up new group of habitat monitoring and conservation volunteers to meet and work in the pinetum once a week.
The 'Tuesday Group' will be established as part of the legacy of the Big Forest Find - England's largest survey of forest and woodland wildlife. Working with Bedgebury's volunteer coordinator, ecology experts and the pinetum tree team, volunteers will help monitor flora, fauna and native habitats as well as undertaking essential practical conservation tasks across the pinetum. This is an opportunity to support the valuable work that is undertaken by the team at Bedgebury through recording and submission of data and you get to work in the beautiful setting of the pinetum.
Visitor experience volunteers
'VEVs' play a key role in meeting visitors to Bedgebury National Pinetum and Forest, helping with queries, giving directions and advice and providing a warm welcome to the site. This is a great opportunity to meet lots of people whist helping to give visitors all the information they need for a memorable visit to Bedgebury.
Practical conservation volunteers 
There are several groups who work under the guidance of the tree team at Bedgebury National Pinetum, helping to maintain our internationally renowned conifer collection. Typical tasks include scrub and weed clearance around specimen trees, mending tree cages and autumn raking. This volunteer role provides an opportunity to learn new skills and put them into practice within the collection. These groups are popular so please enquire for current availability.
Training and support for all of the above roles is provided. Your time as a volunteer is much appreciated by Forestry England and is rewarded with thank you events, training opportunities and a parking pass for Bedgebury after 35 hours of volunteering.
If you are interested in volunteering for any of these roles and would like more information please contact dylan.laidler@forestryengland.uk