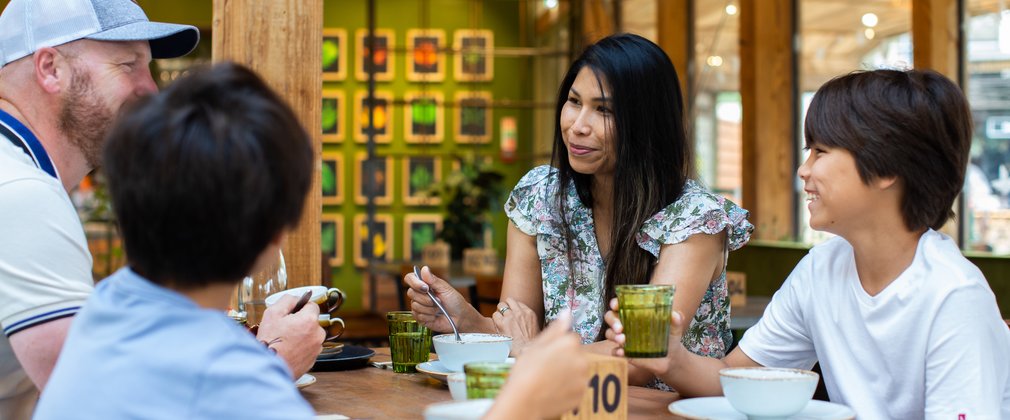 Westonbirt's Kitchen, Pantry, and Smokehouse
We are delighted to announce that all three catering spaces at Westonbirt are now open, following an extensive refurbishment and update with our catering partner, Fosters Events.
The Kitchen: Now open with relaxed seated service, enjoy seasonal dishes, fresh coffee, and homemade cakes
The Pantry: a grab-and-go kiosk, serving homemade sandwiches, freshly baked cakes, ground coffee and Marshfield fresh-scoop ice cream
The Smokehouse:  our Theatre-style smokehouse, home to our very own traditional pizza oven, fired by Westonbirt wood and a whole array of mouth-watering toppings. The Smokehouse is operated at weekends, bank holidays, at varying times throughout school holidays, and peak-times from 11.30am - 3pm. 
Look out for our seasonal concessions from October onwards:
The Chalets: Available from October, serving up tasty dirty dogs, loaded fries and nachos, as well as hot and bottled drinks and tubs of Marshfield ice cream
Open: from 11.30am-3.00pm
Fosters' Barista Box, also joins us from October, serving freshly ground coffee, hot chocolate, tea, soup, and more
Open: from 9.30am-4.00pm
To help reduce single use cups, we are offering 30p off your hot drink when you bring your own cup!
Please note all food facilities are card only.
Essential Information
Opening times:

The Kitchen Restaurant
Mon - Sun - 9.30am – 5pm (4pm in the Winter)

The Pantry
Mon – Sun – 9.30am – 5pm

The Smokehouse
Mon - Sun - 12pm – 3pm (weekends, bank holidays and at varying times throughout school holidays)

The Chalets
Mon – Sun - Open during holidays and peak-times from 11.30am - 3pm

Fosters' Barista Box
Mon – Sun - 9.30am - 4pm