Shipwrights Way trail at Alice Holt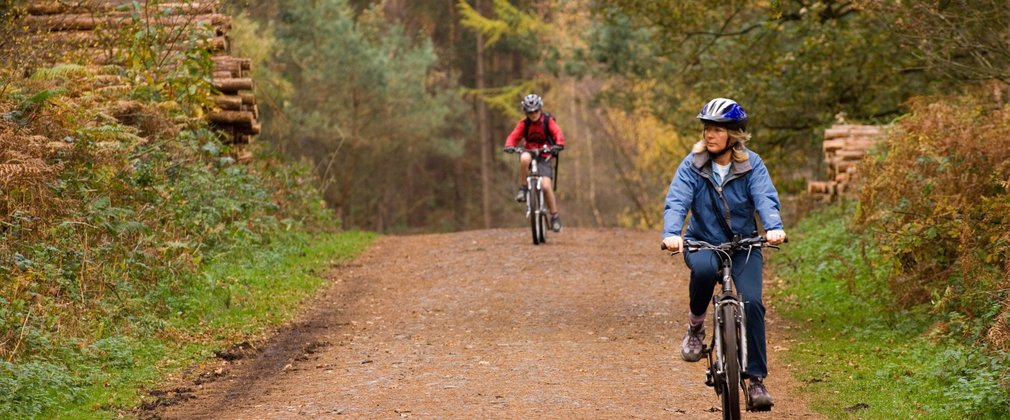 Shipwrights Way trail - historic route through beautiful countryside
The Shipwrights Way is a long-distance route which links villages and towns in East Hampshire through some beautiful countryside.
The name of this trail reflects the journey of oak grown at Alice Holt to dockyards such as Portsmouth for medieval shipbuilding; the route finishes at Portsmouth Historic Dockyard, home of the famous Mary Rose and HMS Victory.
The route starts from Alice Holt Forest, it passes through Bordon, Liphook, Liss, Petersfield, Queen Elizabeth Country Park, Staunton Country Park, Havant, Hayling Island and via ferry into Portsmouth, finishing at the Historic Dockyard - around 50 miles in all, and including seven rail stations.
Alice Holt Forest hosts three of the twenty beautiful sculptures along the route of The Shipwrights Way, each depicting a story or aspect of the area where they stand. The subjects were suggested by local people and then carved by artist Richard Perry from creamy Portland stone.
This 3 mile section of the route starts at Alice Holt Forest and the path winds through mature woodland on wide gravel tracks, with occasional views beyond. The last mile uses an ancient trackway and includes a river crossing with a ford and footbridge.
The whole Shipwrights Way is divided into twelve sections, for more information about the whole 50 mile route visit Shipwights Way.
Partnership working with East Hampshire District Council, Hampshire County Council and the South Downs National Park Authority provided the route.
Take care at the two minor road crossings and at the ford. The route is not hilly but is undulating.
Be aware that you may see motorcycles on both Hardings Ride (the start of this section) and Cradle Lane, which is the end of this linear section of the route.
Trail information
Alice Holt Forest, Bucks Horn Oak, Farnham, GU10 4LS
Follow the finger posts. This is a multi-use trail so please be aware of other users on this trail, including cyclists, walkers, horse riders and forest vehicles.
Blue grade trails are suitable for intermediate cyclists or mountain bikers with basic off-road riding skills.
The route is all on wide, well-surfaced gravel tracks with no stiles or gates, suitable for pushchairs and mobility vehicles.
Alice Holt section: 3 miles (4.8 km)