Biblins Bridge is currently open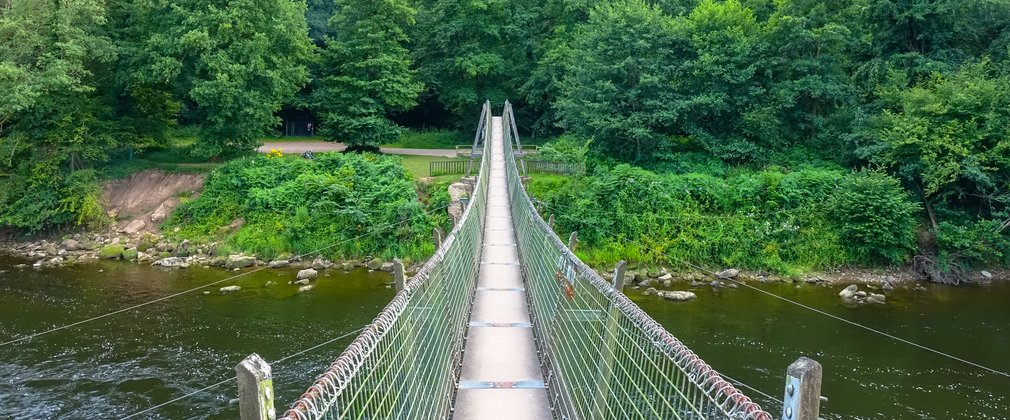 Biblins Bridge
Biblins Bridge is an iconic feature on the River Wye, connecting the Forest of Dean with the wider Wye Valley Area of Outstanding Natural Beauty. The bridge is a beautiful place to visit, offering views along the river and the surrounding woodland.
Back in 1919, this site was a winch point for moving logs across the river and then in 1924 this was converted to a footbridge. The wire mesh suspension bridge that we see today was originally built in 1957, although much of it has been replaced since. 
Storm Damage
The flooding of the River Wye in February 2020 caused significant damage to Biblins Bridge, and it remained closed until July 2020 whilst emergency repairs were carried out. Further flooding in 2021 damaged the riverbanks, particularly on the south side where there was a land slip on the edge of the bank. 
Climate change is making these extreme weather events more common.
Safety monitoring
The riverbanks are now regularly inspected by Forestry England staff and if water levels rise then the bridge is closed. Anything above 4m is considered a risk. The nearest water monitoring station is at Lydbrook, you can check this page to see the current water levels.
Please check the current bridge status at the top of this page before visiting.
River access
The riverbank and bed are privately owned and there is no public access into the water at Biblins, or onto the riverside 'beaches'.  This area of the river is an important salmon spawning area, people (or dogs) entering the water could disturb the salmon population. Please stick to the public footpaths.
The nearest river entry point is at Symonds Yat East.  Parking is available at Symonds Yat Rock.
Visiting the bridge
Biblins Bridge is the only crossing point for 7 miles and is suitable for walkers only (cyclists please dismount). The nearest vehicle crossings are Huntsham (3 miles upstream) or Monmouth (4 miles downstream).

Please note: For safety, there is a weight limit on the bridge and only 6 people should cross at one time.

The bridge can be used to access: