Stay home, protect the NHS, save lives - the nation's forests and essential facilities are open for people to exercise once-per-day, if they live locally
-
read our coronavirus guidance.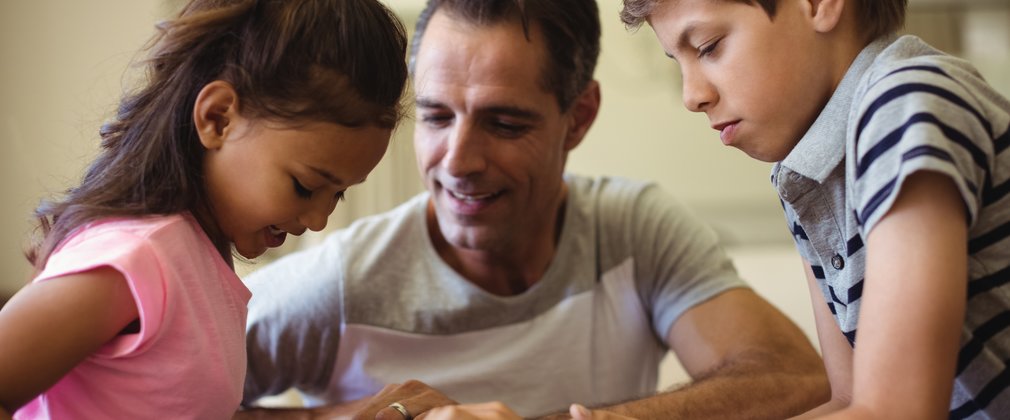 Although spring is usually a great time to get together with loved ones to enjoy fresh air and sunshine, this year we need to stay home and stay safe. But don't worry, we're here to bring the trees to you! Read on to keep the kids busy with our top seven activities you can do at home.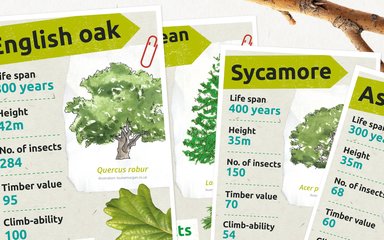 1. Play Tree Trumps
Download our Tree Trumps game to get to know the different trees in our woods and forests and love them for their wonderful secrets! 
Completely free to download and print, this full set of Tree Trumps is an enjoyable way to bring the forest to you while staying at home. 
2. Compete at 'nature bingo'
To help you be more mindful of your surroundings, or keep the kids busy for a few hours, try playing nature bingo. We've put together a checklist to get you started: 
Seek something made of wood. Can you see lines and patterns in the grain?  
Spot a nearby tree. Does it have any buds?  
Find a flower. Is it on a plant or tree? Spring is in the air, so keep a special eye out for cherry blossom! 
Spy a bird. Is it up high or close to you?  
Inspect an insect. You might spot a butterfly out the window or a spider web in the house. 
The first person to find and photograph everything on the list shouts "Bingo" and is crowned champion!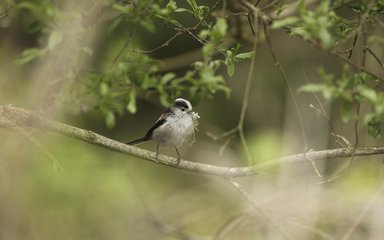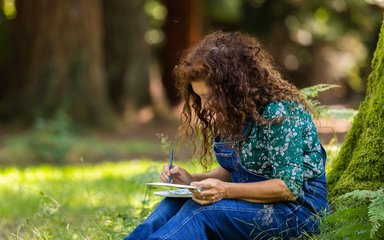 3. Draw a tree from memory
Think of a tree in your favourite forest, woodland, park or from your garden. Do you have a favourite tree? Or one from your imagination?
Spend some time drawing it and share your creations with us on social media. There's some fantastic tutorials on YouTube if you need some inspiration.
4. Create a forest scene inside your home
If you don't have a view of nature, you could draw or paint a forest and stick it up somewhere to look at.
Why not add a different tree or animal to it every day? You could repeat the draw a tree from memory activity until you have a whole forest with wildlife dotted throughout.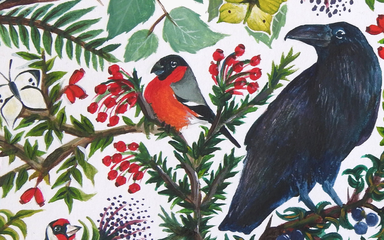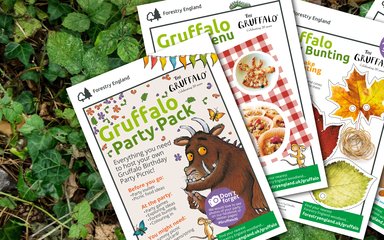 5. Put on an indoor picnic
Make picnic grub and roll out the picnic rug to enjoy an indoor picnic with your family. If you're looking for extra inspiration and things to do, download our free Gruffalo party pack. In the pack you'll find...
Invitations

Gruffalo picnic food ideas

Fun party games

Forest exploring ideas

Arts, crafts and colouring (bunting, masks, medals and party flags)
Want to make it feel even more 'foresty'? Grab all the plants from around your house and place them around your picnic blanket to make it feel like you are in the woods. Why not play some forest sounds in the background too?
6. Go on a bug hunt
If you're lucky enough to have a garden, go on a bug hunt and see what you find. If not, use your daily exercise to see what you can spot.
Take the fantastic iNaturalist app along with you for help recording and identifying the wildlife you spot.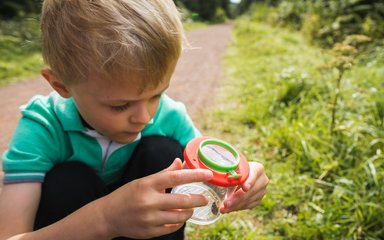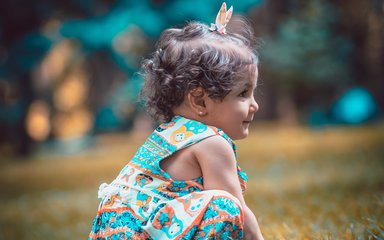 7. Become a sound collector!
While you're pottering about the garden or enjoying your daily exercise, encourage your children to listen and 'collect' sounds.
Then when you get home, help them to write and recite poems about their surroundings. Look to Roger McGough's 'Sound Collector' for inspiration.