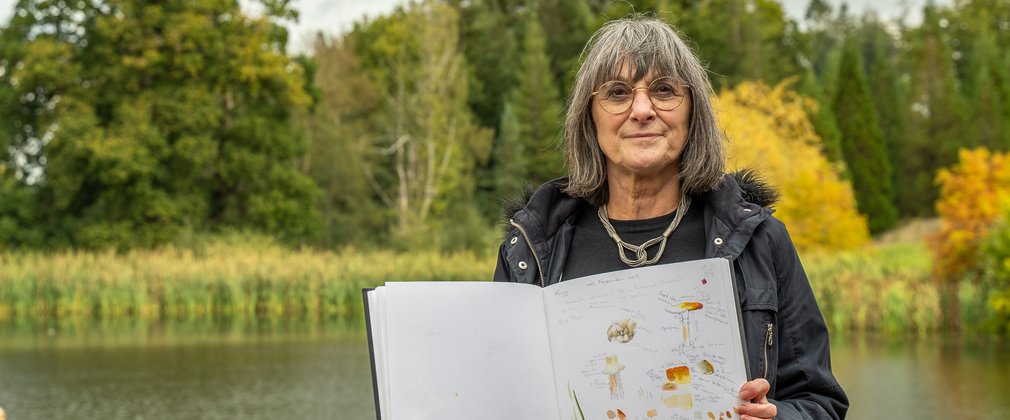 An army of artists is volunteering their time to support the important work of Bedgebury, the National Pinetum, by creating botanically accurate drawings of the pinetum's trees and plants from living samples.
The Bedgebury Pinetum Florilegium Society was formed 11 years ago by founding member Pearl Bostock. Their work continues a tradition that dates back many centuries and is playing a crucial role in recording the tree and plant collections of botanic gardens around the world. The drawings and paintings are to scale where possible, with a scale bar added to the artwork to denote the actual size of the specimen painted.
Pearl started the florilegium after being inspired by a particular tree she wanted to draw. She was advised by someone at Kew Gardens to speak to Daniel Luscombe, who was then Forestry England's National Pinetum Propagator, and since then they have been recording rare and endangered trees and plants at Bedgebury. The florilegium have also shared their intricate and beautiful artwork with members of the public through exhibitions like the Art of Trees in 2019.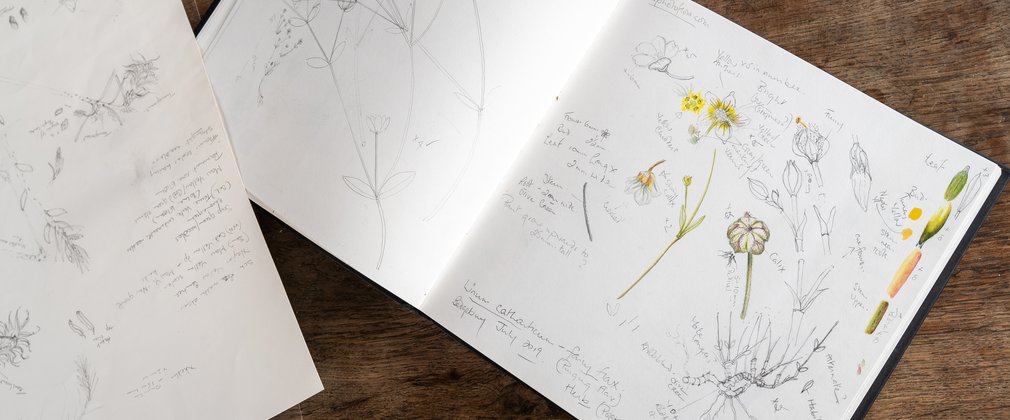 We spoke to two members of this talented group to ask what motivates them to volunteer their time to the project, and how forests and natural spaces can inspire the rest of us to get more creative.
Pearl Bostock, the founder of the group, discovered a love of art at a very early age:
I was already artistic as a child but I also developed a deeply felt love of nature, which started from spending time sitting in my grandmother's garden. I suffered from psoriasis when I was young and often wasn't allowed out at school and had to spend time indoors while the other children were outside. The time I spent in my grandmother's garden was special and I was amazed by the tiny flowers surrounding me and it led to an appreciation of the wonder and beauty of the plant world. I went on to train in Fine Art which I subsequently taught for over 20 years. Since finishing teaching I have also obtained a Botanical Art Diploma with Merit from The English Gardening School.

Being part of the florilegium is a lot of work and quite a commitment, but the work we produce is really important to record a range of plant species. We all travel from different areas to have monthly meetings in which we decide what we are going to paint and how we are going to collect it - we don't work from pictures so need live samples to ensure complete accuracy. Our drawings are to scale and are of every part of the plant as it is viewed under a microscope, showing all the different colours, shapes and sizes that the naked eye may not necessarily see and the botanical detail which is important for future identification purposes.

As part of our meetings, which are also attended by Dan and by the Friends of Bedgebury Pinetum who are great supporters of our work, we walk together and we often sit and paint in the pinetum all day, which is the part that we absolutely love. Covid-19 has created new challenges for us, as for everyone, and we have had to change the way we work, but Dan and the team at Bedgebury have been really helpful and supportive.

As a group, we clearly love what we do and we all have a shared love of art and nature. However, more than anything it is the place that inspires us. Spending time at Bedgebury and being with nature has a whole range of benefits, and I feel that the trees embrace you and you go away feeling happy.
Pearl believes forests can inspire anyone to create. She concludes:
You don't have to be a botanical artist to portray beauty. What is important is creating an impression of what being in this wonderful space makes you feel.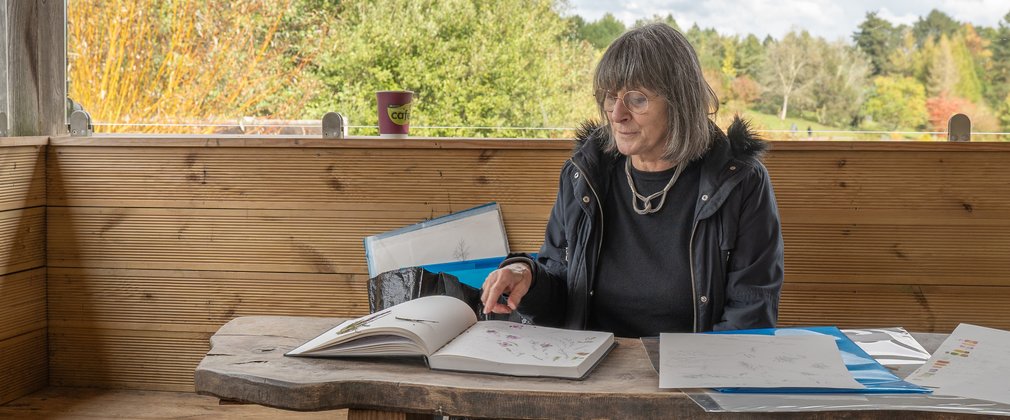 We spoke to another member, Margaret Brooker, about her experiences of being part of the florilegium. Margaret has always drawn and painted. She studied zoology and botany at university, meaning the daily drawing of animals and plants. After many years of practice and study she is now a qualified teacher of adults and has won two Silver Gilt medals at the Royal Horticultural Society's London shows.  
Margaret says:
Being part of the group is so important to me. Being an artist is quite a solitary life, so having a group of peers to share ideas with and talk to is wonderful. Belonging is so important, something that Covid-19 has highlighted even more. It is not only wonderful being part of the florilegium, but also being part of the bigger Bedgebury family of staff, volunteers and the wonderful Friends of Bedgebury Pinetum. It is great 'professional development' for me and a great way to showcase the work I do as an artist, whilst also being part of something that is helping to conserve the environment, which is hugely important to me.
Like Pearl, Margaret believes that special places such as Bedgebury can inspire anyone to create.  
While botanical art is a highly specialist genre, I firmly believe that anyone can create art without having to be experts. Instead of seeing what we can get from nature we can all just enjoy being in it; look, enjoy and absorb the surroundings. Then, if people feel inspired, they can create in many ways. For example people could simply sketch. Or if they don't feel confident to do that they could draw around leaves, or create beautiful leaf rubbings. Or take photos, write poems or plays – just whatever they feel moved to do. It is about the contemplative aspect of being in nature. This is how we can all learn more about the natural world.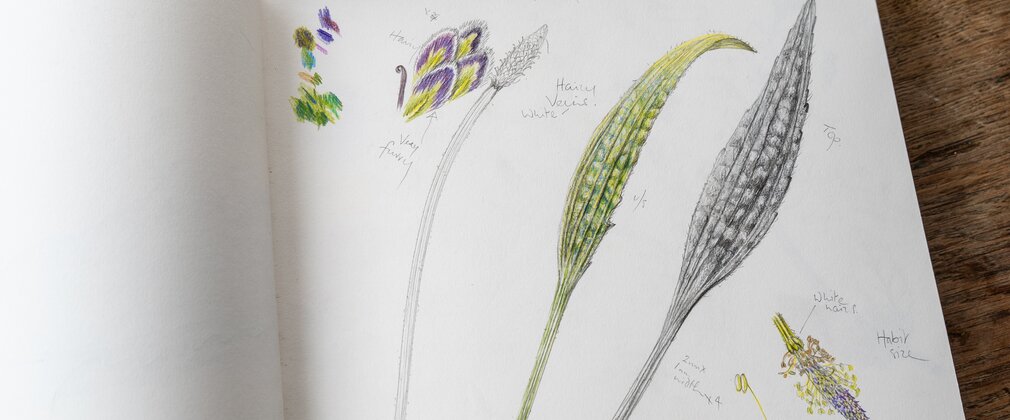 Speaking about the Florilegium Society Dan Luscombe, Curator of Forestry England's Bedgebury Pinetum, said:
They're brilliant, to be able to call upon such a talented group of artists and see their enthusiasm for Bedgebury's trees is such a pleasure.

I'm so proud to have the Florilegium's help in bringing the conifer collection to life. Their artworks make it possible to share the beauty of specific tree species up close with visitors at Bedgebury and far beyond the front gates. It's so clear from the intricacy of their studies, and when spending time working together with them, that they love Bedgebury. Their considerable skill in interpreting the naturally occurring textures, colours, form and patterns of the many tree species we document is such a valuable contribution. They manage to capture the subtle differences in characteristics that aid botanical identification, I find collaborating with the group fantastic.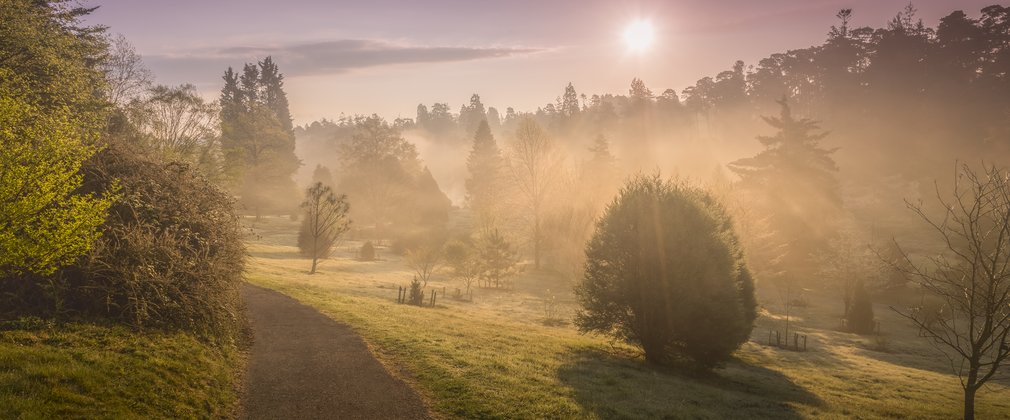 Try it yourself
If you'd like to try creating your own botanical art during lockdown, but aren't sure how to get started, try taking some photographs in your local green space or garden and experiment using these ideas from Pearl and Margaret.
When studying the plant or tree, break down the appearance into simple shapes. For example, an umbrella shape drawn would indicate a possible broad leaf tree whereas an egg shape on top of a cylindrical shape may indicate a conifer.

Thinks of silhouettes. By keeping the drawings initially simple you will begin to enhance your knowledge of the species of tree and how it grows.
Start with quick 'scribbly' sketches, working lightly at first. It's fine to go over lines and keep trying, as all the lines, shading and colour help towards understanding of the subject matter.  
Keep looking at the tree or view, don't look too much at your drawing. Eventually your understanding will find its way onto the paper.
Look at light and shadows, they'll help your drawings become three dimensional.
Try drawing from memory when you get home from a walk.
Sketch the same tree over a year, documenting the changing seasons.
Focus on the details. Instead of painting the entire plant or tree, focus on the grain of the wood or the colour in a petal.
And of course, don't forget to share your creations with us on our Facebook page or over on Instagram. 
Subscribe to our monthly newsletter and be the first to receive inspiring stories like Pearl's, straight from the nation's forests.