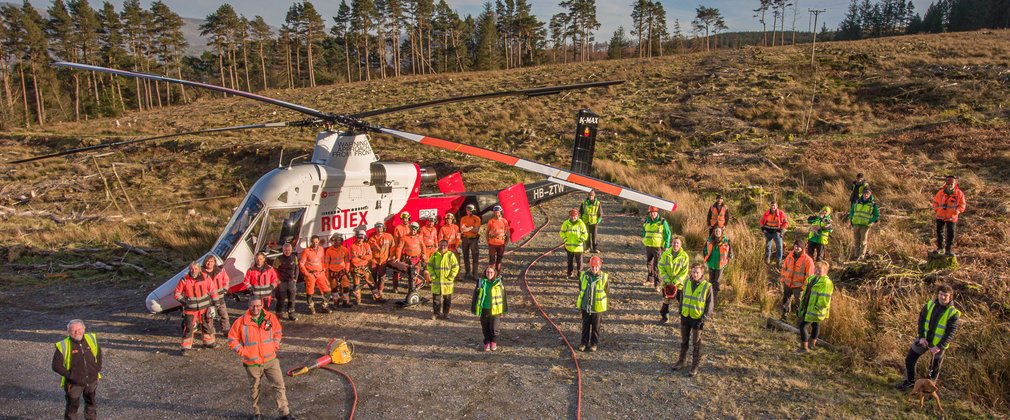 Sometimes looking after over 1,500 forests involves removing trees that have pests or diseases. Felling diseased trees protects surrounding healthy woods and forest and is a regular part of our work. But it's not every day we take to the skies with a helicopter to do it!
We spoke to area forester Gareth Browning and found out how his team managed some spectacular 'helicopter forestry' high above the lakes of Cumbria.
Whinlatter Forest, known as England's only true mountain forest, is a magnificent landscape with stunning views, rare wildlife, adventure play and fantastic walking and mountain biking trails. Sadly, some of the forest's larch trees had become infected with Ramorum disease (scientific name Phytophthora ramorum), also known as larch tree disease. It's a fungal-like disease that spreads very easily and once a tree is infected it can't be saved. Once spotted we need to focus on stopping it spreading to healthy trees. We work hard to spot signs of disease early and discover more about the pests and diseases that affect our forests so we can keep trees healthy. 
The infected larch trees were very close to our wonderful Wild Play area and the Go Ape high ropes course, and we couldn't cut them down without badly damaging the play and climbing equipment. This would have meant costly rebuilding, and the equipment would have been out of action to visitors for many months. So, we teamed up with expert Swiss and Scottish helicopter and forestry teams to do what's called 'vertical felling', which is literally lifting each tree into the air by helicopter! It's a technique common in Switzerland's mountainous terrain but has only once been used in the UK before. It's a logistical challenge involving a large team who all need to work seamlessly together.
Watching the helicopter felling in action!
The felling operation involved several steps and careful co-ordination between the ground and climbing teams, and the helicopter pilot. First, the climbing team assessed the weight of the tree and divided it into sections weighing no more than two tonnes (the maximum weight that the helicopter could lift) before securing a rope to each section. The specialist heavy lift helicopter hovered overhead, lowering a steel cable to the ground that was attached by rope to a section at a time and pulled taught as the helicopter rose vertically. Communicating by radio with the pilot, a tree climber then cut the tree by chainsaw and the helicopter flew the tree stems up and away over the forest to an area one kilometre away, where another team processed the wood with a harvester. Because the helicopter was faster between lifts than a climber, three climbing teams served the helicopter in turn in a non-stop operation. We successfully removed the larch trees and left the play equipment and high ropes course undamaged, ready for reopening.
We removed 150 trees by helicopter in this way over two days, weighing a total of 300 tonnes… quite a feat! Of course, this is a very unusual kind of forestry and there is an environmental impact in using a helicopter. We weighed this up and it was the only option at Whinlatter Forest because traditional felling techniques, which involve cutting the tree trunk and felling it to the ground, were going to be very disruptive to visitors and site businesses, and more costly.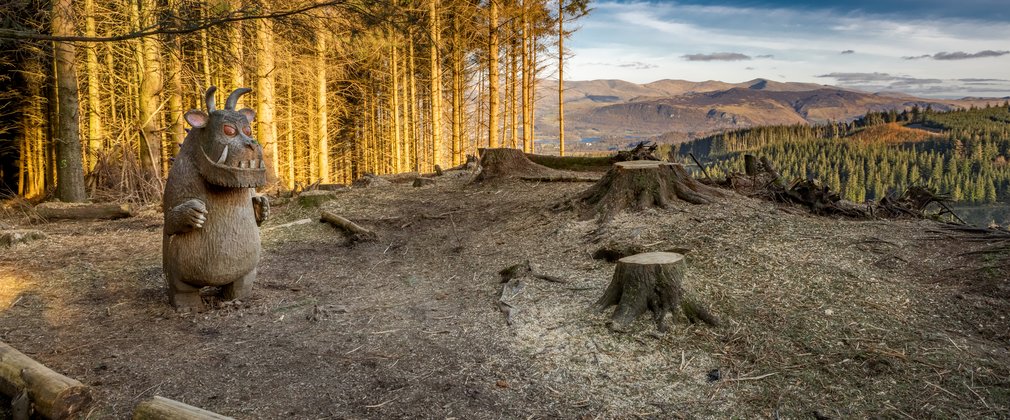 Now we've removed the diseased trees, we're left with new forest glades and semi-open areas. These will provide a valuable habitat for small mammals, insects and reptiles, which in turn provide a food source for birds of prey like kestrels and owls. Next winter, we'll start to replant some of the areas with a mix of tree species more resilient to changing climate conditions and future pests and diseases. We'll leave some areas to nature for a couple of years as we think they will regenerate naturally from seeds spread by surrounding trees. 
Together with the whole Whinlatter Forest team, I'm looking forward to seeing this part of the forest change and renew over the years ahead and welcoming visitors back to enjoy it. This was very difficult forestry and I'm extremely proud of the whole team who worked together brilliantly to make this happen so successfully.

Written by area forester Gareth Browning. 
Main photo: The Forestry England, Swiss and Scottish helicopter felling team. The Swiss team standing by the helicopter were working a bubble to limit the risk of Covid-19.