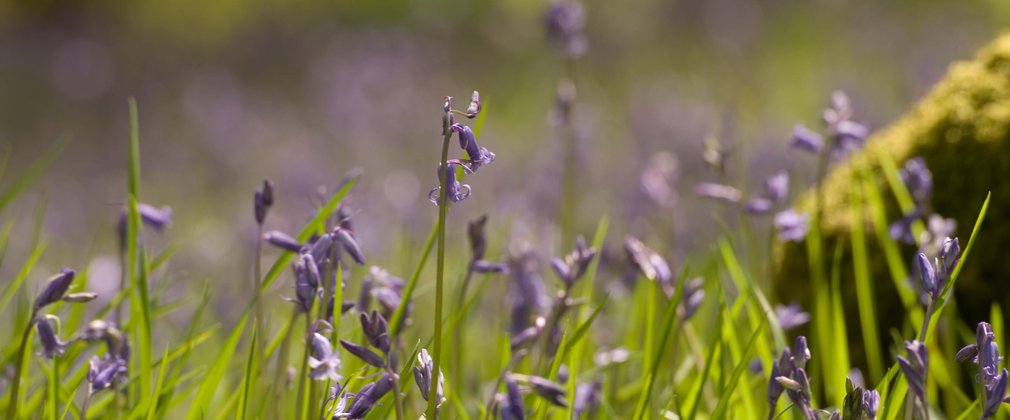 "forgotten corners can provide peace and beauty enough to recharge even the most jaded soul"
As I spend most of my working life in the main parts of Westonbirt Arboretum, when I'm off-duty I like to head to the less frequented areas. Even on the busiest days these forgotten corners can provide peace and beauty enough to recharge even the most jaded soul.
I usually start by walking past the entrance to the Stihl Treetop Walkway, but avoiding its heady delights this time, I head down the slope to the start of Willesley Drive. When the Holford family bought Silk Wood in 1840, they cut Willesley Drive through existing semi-natural woodland to create a ribbon of ornamental planting.

I pass under the walkway and appreciate its architecture – each leg is a single Douglas fir trunk carefully shaped on a massive lathe in Denmark. Just past this the space opens out to a magnificent black pine standing proudly, and opposite a fabulous (and rare) paperbark maple with its deep red/cinnamon bark that seems to glow in the right light.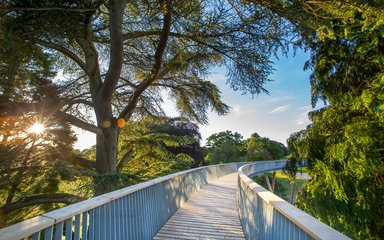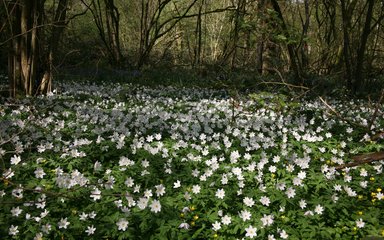 I continue walking, hugging the edge of Silk Wood the landscape turns from grass ride into woodland track. This woodland is glorious at this time of year – full of birdsong and a riot of colour thanks to a carpet of native wildflowers; primrose, lesser celandine, wood anemone and bluebells. The area is an example of native, traditionally managed woodland that pre-dates the creation of the arboretum and its many ornamental specimens. This is the ancient heart of Silk Wood.
Traditionally this area would have been managed using a system known as 'coppice with standards'. We know it has been practiced in Silk Wood for over 200 years – and probably a lot longer. It involves the cutting areas of the hazel understorey about every 7-10 years in rotation and allowing it to regrow, creating an endless supply of useful wood for fuel and other woodland crafts. The larger oaks above were also cut but on a much longer rotation. They would have supplied larger timber for construction and probably also bark for use in the leather industry.
In early spring the wood anemones can be absolutely stunning. They are among the earliest woodland wildflowers. In a good year they create a carpet of white stars across areas of Silk Wood that is every bit as fine as the sea of bluebells that comes later. They really are cheerful – the flowers turn their heads to follow the sun! Wood anemones are surprisingly slow to spread, as they do so through roots rather than the spread of its seed. As such, it is a good indicator of ancient woodlands. Now we are in late spring, another ancient woodland indicator is covering the floor. The sweetly-scented flowers that droop off the stalks of bluebells are well worth walking off the main paths to find.
Eventually the woodland path leaves the coppice behind and moves on to paths through ornamental planting and one of the Holford family's original ornamental rides. You can still see remnant oaks that allude to the fact it was also once native woodland, but today it houses a magnificent collection of maples. Although we tend to think of maples in autumn, many can be surprisingly colourful in spring, particularly when contrasted against the cool bluebells underneath.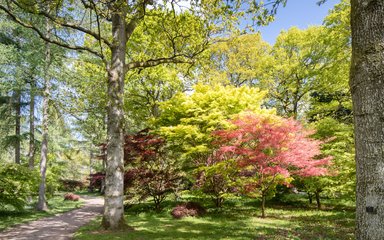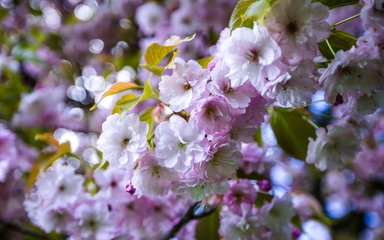 My route then turns into the open Cherry Glade. For a couple of weeks in April and May, Cherry Glade is filled with the most exquisite cherry blossom. This area is a family favourite – especially for picnics. Our daughter loves blossom, indeed flowers in general. When she was smaller she particularly liked it when the petals fell – she thought it was like snow. We had to watch her closely as she had a habit of giving the wind a helping hand by vigorously shaking each branch…
The original cherry collection at Westonbirt was donated to us by the Sir Harold Hillier Gardens and today provides a real spectacle of colour and form. Flowers of different varieties can have from five to over a hundred petals. Most are darker in bud, becoming paler as the petals expand and mature; although weather conditions can also affect flower colour. You need to be prepared to drop everything, as they are very short lived. If you didn't catch them this year you have the perfect excuse to come next spring!
My walk continues past the Silk Wood Barn. The barn was constructed in 2009 using oaks felled as part of our coppice restoration programme. Finally, I end my route with a short uphill walk back across the Downs for a well-earned coffee.
As I climb the hill, I stop to take a break on the bench part way up to admire the view back. It provides a perfect example of the historic picturesque landscape design for which Westonbirt is rightly renowned. There are numerous walks round Westonbirt to suit all tastes and abilities – one of its great attractions is the range of accessible paths available, which allow access to the best our picturesque landscape and magnificent tree collection have to offer. The restorative power of walking in nature is something everyone should experience.
Words by Ben Oliver, Learning and Participation Manager.