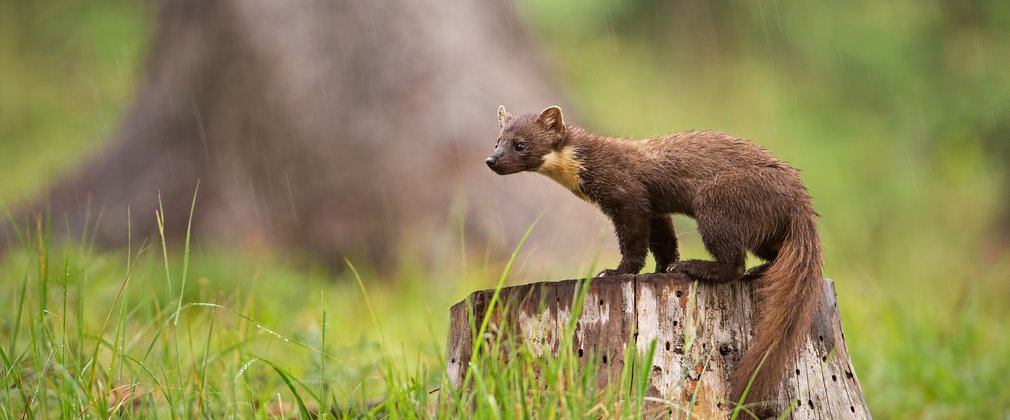 Once common in English woodlands, the pine marten became virtually extinct. But things are now looking up for these charming mammals.
Leaping metres between branches, above a vast descent to the forest floor, a pine marten navigates the tree canopy. As expert climbers, pine martens rely on forest cover for their foraging missions and to escape predation from foxes. Elusive in part due to their crepuscular nature, being active at dusk and dawn, they are rarely seen.
Pine martens (Martes martes) are a member of the mustelid family along with stoats, weasels, polecats, badgers and otters. As native omnivores, they play an important role in the balance of woodland ecosystems and feed on what is seasonally abundant, including voles, rabbits, fungi, berries and small birds. Despite their name, martens are equally at home in broadleaf woodland as well as coniferous forest. Agile creatures, they have a long body and a bushy tail with rich brown fur and a distinctive cream or yellow throat patch called a 'bib'. These charismatic creatures were once one of our most common predators. But by the late 18th century their numbers began to decline dramatically.
Pine martens were heavily hunted. Throughout the 19th century they were shot for sport, persecuted by Victorian gamekeepers and killed for their fur. The habitat pine martens depend on for their arboreal life also drastically disappeared. By 1900, 95% of the woodland cover in Britain had been removed. The pine marten quickly became one of Britain's rarest predators and considered functionally extinct in England.
Hope for the pine marten
Despite near extinction, the species hung on in remote corners of Britain. Over the second half of the 20th century, Scottish pine marten populations grew and legal protection and conservation efforts saw the species achieve a significant recovery with a healthy population of over 4,000 individuals. But south of the border the species remained all but absent, apart from a handful in northern England and Wales.
Over the last century, woodland cover has doubled in England. We have planted over one billion trees, creating new forests and harvesting sustainable timber to maintain healthy and diverse woodlands. With the breeding success in Scotland and woodland cover returning, many felt it could only be a matter of time before the pine marten population spread over the border.
In summer 2015 the first conclusive sighting of a pine marten in England in over 100 years was captured on camera near the Welsh border in Shropshire. Work was also already underway to boost the remnant population in Wales. During autumn, 20 martens were translocated under license from Scotland. By 2017 a total of 51 pine martens had been released in mid-Wales.
Return to the nation's forests
In summer 2017 an exciting development occurred. A male pine marten was captured on a wildlife camera on Forestry England land in the North York Moors through the Yorkshire Pine Marten Project, a partnership project run with NatureSpy. Forestry England ecologist Cath Bashforth was delighted:
"It was great news to have a confirmed sighting of pine marten. Supporting the Yorkshire Pine Marten Project has been exciting and to finally discover they are living within our forests after so many years was fantastic."
The following year in October 2018, camera trap images confirmed a pine marten in a remote area of Kielder Forest for the first time since tree planting began in 1926. This was evidence that the pine marten was recolonising northern England, putting pine martens back in Northumberland. Forestry England ecologist Tom Dearnley explains:
"As Kielder Forest nears 100 years in age, it is increasingly being colonised by rare and protected species. Pine marten returning to England over the Scottish border has been anticipated for some time, encouraged by the efforts we are making to create ecologically diverse forests. We are delighted to see photographic evidence of their return in a forest valued by so many people."
On the other end of England, down in the New Forest, we also had reports of individual pine martens caught on camera traps set up to look at birdlife. These outlier populations were monitored to see where they could have spread from and how they can link up with others to ensure good genetic diversity. In summer 2021, experts confirmed that pine martens have established a population in the New Forest. Senior ecologist Leanne Sargeant says:
"It is not often that we are able to talk about wildlife returning to landscapes and re-establishing their populations, so this is a really fascinating development to study. The New Forest is a unique landscape and a haven for wildlife, and through this work we hope to learn just what makes it such a good habitat for returning pine martens."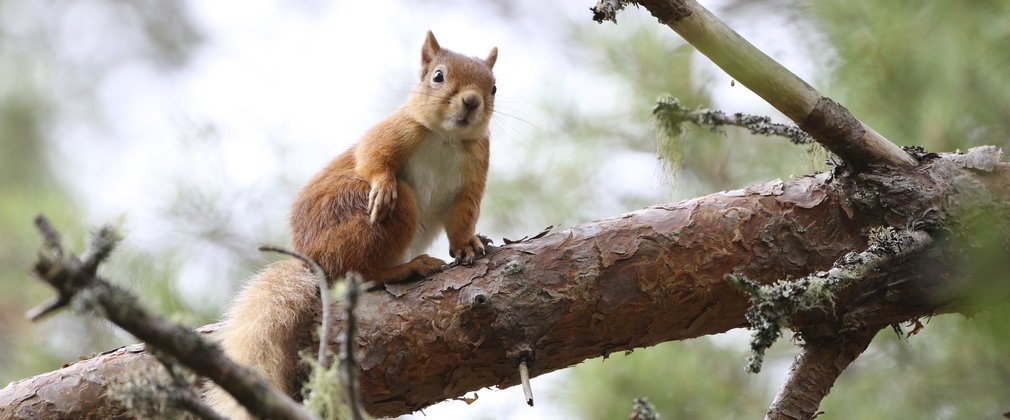 Relationship with red squirrels
The images of pine marten in Kielder were captured on cameras set up to monitor red squirrel numbers in the forest. Kielder is England's largest forest and a stronghold for our native red squirrels. Collaborating with the Vincent Wildlife Trust and Red Squirrels Northern England, we are now collecting data in the largest survey of pine martens and red squirrels ever carried out in Kielder to find out more about the distribution of these rare species. 
The introduction of the grey squirrels from North America has been a major factor in the native red squirrel's decline over the past century. As well as out-competing red squirrels for food, non-native grey squirrels carry the squirrel pox virus, which is deadly to the reds.
Evidence in some areas where pine marten numbers are recovering shows there is a decline in greys; good news for the reds. This would also be good news for forests too. Grey squirrels cause damage and kill trees such as oak, beech and sycamore by stripping their bark. Predators are a vital part of a healthy woodland ecosystem and we'll be monitoring the impact of pine martens in our forests. If martens are found to be lowering numbers in greys then there may be a future for red squirrels in areas where we have previously lost them.
Giving nature a helping hand
While northern England has some chance of slowly recovering due to the expansion of the Scottish population, dense urban areas, road networks and a lack of connectivity between woodlands mean it is unlikely to ever reach southern parts. It was time for action, to give this important part of the woodland ecosystem a helping hand in returning to England.
A number of Forestry England sites were studied for suitability and it was decided that the Forest of Dean was an ideal location for a reintroduction due to the mixed woodland and proximity to the Welsh population. In summer 2016 we teamed up with Gloucestershire Wildlife Trust and Vincent Wildlife Trust and, with support from Forest Holidays and the Woodland Trust, we began a collaborative project investigating the feasibility of reintroducing pine martens to the Forest of Dean. The project was led by Dr Andrew Stringer, now Forestry England's Head of Environment & Forest Planning.
After three years of research and feasibility studies, and extensive consultations with people living in the area, the release was given the go-ahead. In September 2019, after being absent in the area for over a century, 18 pine martens were moved from a healthy population in Scotland to a location in the Forest of Dean. The martens were kept in release pens for a few days to allow them to acclimatise to their new surroundings so that the team could monitor their progress. They were fitted with tracking collars before being successfully released into the forest.
Radio-tracking is giving us a valuable insight into the movements of the pine martens. Although the majority of the population have settled into territories within the Forest of Dean and the Wye Valley woodlands, a few pine martens have adventured further afield into woodlands to the north. This shows there is plentiful habitat within the release area, but also that good connectivity, via hedgerows and woodland, is allowing the pine martens to move into new landscapes.
Adorable pine marten kits!
The Forest of Dean project reached a major milestone in summer 2020, when a number of released females gave birth to offspring. Watch the kits getting used to life in the forest.
What next for pine martens in England's forests?
The Forest of Dean pine martens will continue to be monitored, and more will be released to allow a population to establish in the region. In time, it is hoped they will spread and link up with the Welsh pine martens so their numbers can support one another.
We also continue to work with partners and volunteers to monitor the populations in Kielder Forest. Working with conservationists Johnny Birks and John Martin, a brand new study has begun by installing 50 pine marten boxes in the forest. Ecologist Wayne Penrose explains:
"We're hopeful this project will produce solid data to help us manage the habitat. Pine martens could have made their way here from the population in southern Scotland, but one thing the forest currently lacks is natural denning sites in trees, so boxes should make up for this. Ground surveys will be carried out once a year, with scats being collected and DNA tested to determine the population. It's wonderful having this magnificent animal back in the forest."
The information we gain from surveys helps guide our work in future, not just for the benefit of pine marten but for other species including red squirrel. 
In southern England a team from Forestry England, Hampshire & Isle of Wight Wildlife Trust and Wild New Forest are studying the pine marten population in the New Forest to find out more about how these creatures are living in the region.
Connected woodland for species like pine marten is invaluable. We are making sure our forests, and all wildlife that depends on them, have the best chance in the future. We're continuing to join up woodlands across the landscape to make bigger areas of forest for wildlife to thrive.
Dr Andrew Stringer sums up:
"Restoring missing pieces of an ecosystem can be valuable not only for the conservation of the species themselves, but also for the benefit they can have on other wildlife. When we return a native predator species, we are helping to restore the entire woodland ecosystem. What could be better than to re-establish a species in a place where human activity caused it to go extinct?"  
The future looks bright for the pine marten. These charming mammals could become a familiar feature in the nation's forests once again.