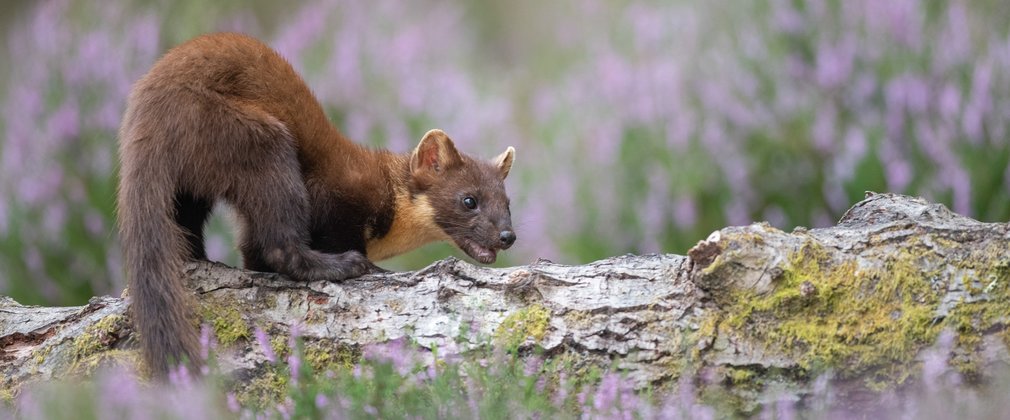 Pine martens return to the south of England
Conservationists have confirmed that pine martens, a species previously only thought to have survived largely in the North of England, have established a population in the New Forest in southern England. A team from Forestry England, Hampshire & Isle of Wight Wildlife Trust, and Wild New Forest will be studying them over the next year to find out more about how these rare creatures are living in the Forest.
Pine martens, a cat sized member of the weasel family, were once widespread across the UK. Habitat loss and human activity drastically reduced their numbers, with only a small and fragmented population remaining, mostly in Northern England, Scotland and parts of Wales. They prefer well-wooded areas with plenty of cover and largely feed on small rodents, birds, insects and fruit.
The earliest sighting of a pine marten in the New Forest was made in 1993 by the New Forest Badger Group. Over the years, a series of other sightings have been recorded including video of pine martens inadvertently captured on hidden cameras set up to monitor other species.
With clear evidence that a population of pine martens has now become established in the New Forest, the survey team will be assessing the size of the population and their breeding success. They also hope to identify the different habitats and areas of the forest where they are settling.
Leanne Sargeant, Senior Ecologist at Forestry England, said:
"It is not often that we are able to talk about wildlife returning to landscapes and re-establishing their populations, so this is a really fascinating development to study. The New Forest is a unique landscape and a haven for wildlife, and through this work we hope to learn just what makes it such a good habitat for returning pine martens." 
The team will use a range of techniques to study these nocturnal creatures including the use of hidden cameras. Every pine marten is chestnut brown in colour but each has a uniquely shaped bib – a pale yellow section of fur on its chin and throat. This makes it possible to identify and record every individual, and observing their interactions means the team will also be able to spot family groups.
Joanne Gore, of the Hampshire & Isle of Wight Wildlife Trust, said:
"Pine marten should be part of the natural ecology of the south of England but persecution and habitat loss have decimated the population. However, tantalising records over the years have hinted that a population might indeed be once again present in the forest. The Trust are therefore pleased to be part of this joint project with Forestry England and Wild New Forest to establish presence and absence, across the New Forest, of this charismatic woodland species."
Marcus Ward from the specialist conservation consultancy, Wild New Forest, said:
"Since we recorded the first video evidence of Pine Martens in the New Forest in 2016, we have been following their progress with great interest. This new project is a wonderful opportunity to assess the current status of the New Forest population and will help inform their future conservation."
The project, part funded by DEFRA, will share its findings with the national pine marten strategy focussing on the recovery of these rare creatures. The survey team are also being supported by the New Forest Badger Group and are keen for other organisations and landowners to get involved in the project.
Forestry England is supporting a range of projects across the UK to help secure the return of pine martens to England's forests and are monitoring populations in the North York Moors, Kielder and the New Forest. It is also taking part in England's first reintroduction of pine martens in the Forest of Dean. Begun in 2019, this project reached a major milestone in the summer of 2020 with the birth of the first kits.
Notes to Editor
Forestry England manages and cares for the nation's 1,500 woods and forests, with over 296 million visits per year. As England's largest land manager, we shape landscapes and are enhancing forests for people to enjoy, wildlife to flourish and businesses to grow. For more information visit

forestryengland.uk

. Forestry England is an agency of the Forestry Commission.

Hampshire & Isle of Wight Wildlife Trust want to see nature recovering, wildlife returning and ecosystems restored in our counties by 2030. With the support of our 26,000 members, we want to see 1 in 4 people on nature's side and connecting with wildlife, becoming part of Team Wilder. We are also working to transform at least a third of land and sea into wilder places where nature is recovering by 2030. We will do this by expanding our nature reserves, ensuring land outside them is working for wildlife and restoring missing species.

 

We need this rapid, positive action to tackle the climate and ecological crises and to create a wilder future for us all. 

 



We're part of the UK-wide movement of 46 Wildlife Trusts, all standing up for the natural world. Together we are the nation's most active and influential nature conservation partnership, protecting wildlife in every part of the British Isles. Each Trust works within its local community to inspire people and bring about change. 

 



Discover and protect wildlife on your doorstep with Hampshire & Isle of Wight Wildlife Trust 

www.hiwwt.org.uk

 

Wild New Forest CIC is a not-for-profit organisation established in 2019, delivering specialist wildlife survey and monitoring data that informs land managers undertaking conservation action in and around the New Forest. Wild New Forest also run and support educational activities that promote the special features of the New Forest, including guided wildlife tours and young person's wildlife camps.
Media Contact
Susan Smith, Media Officer, South Forest District, Forestry England
susan.smith@forestryengland.uk