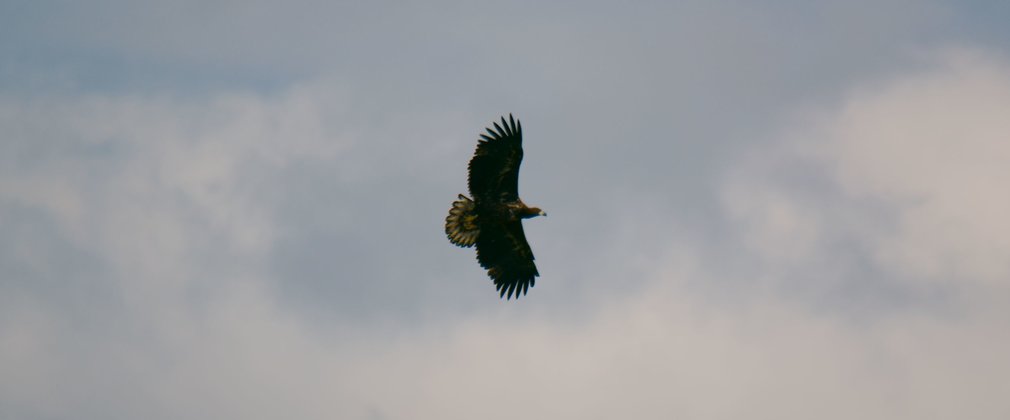 Steve, tell us about yourself and your job?
I grew up here on the Isle of Wight and it is where I've worked most of my adult life. When I heard through the island grapevine that Forestry England and Roy Dennis Wildlife Foundation wanted to release eagles here I was thrilled!

I saw white-tailed eagles in Skye two years ago and I really felt they should be in southern England. This is absolutely where they belong.
Now, it is my job to monitor these birds in the landscape and speak to a whole range of people about them – it really is a dream!
(Steve is pictured far left in the photo)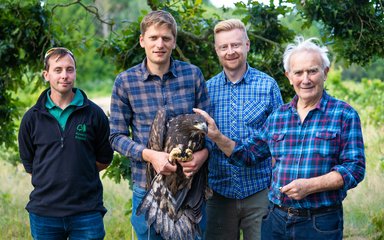 Where have the birds been since release? 
The adventures of Culver, a young male, are incredible. He's just arrived back after an amazing 680km flight around southern England, and was even spotted over central London! He flew back to Isle of Wight over Culver Cliffs, the site he's named after. 

However, it is also about time we heard a little more about how the other young eagles are doing. They have certainly been having adventures of their own. The females have so far been the least adventurous, but are steadily ranging around the island, hopping between copses and sussing out their new home.
The males have been exploring across the Isle of Wight, taking day trips to some of the island's major landmarks. Two have visited Culver Cliffs since their release. This was the last known breeding site of white-tailed eagles in southern England. One has flown over Carisbrooke Castle at an altitude of 650 metres – twice as high as the Eiffel Tower. 
The smallest male has been visiting the mainland, soaring over the skies of Portsmouth and Southampton, and ventured along the Beaulieu River. All the while proving he may be small in size but not lacking spirit. He's reached staggering heights during his journey, peaking at 1,200 metres – over a kilometre high!
Top tips for spotting your first white-tailed eagle
Be patient. An obvious statement, but sometimes you just have to be in the right place at the right time. A great deal of the time the team see nothing!
Look up when you're out and about. The birds are flying all over the place so keep an eye on the sky to make sure you don't miss one if it flies over you!
Watch other birds. Corvids and buzzards tend to mob an eagle if it's flying low. If your local buzzards are acting strangely, there might be an eagle about.
Sit and wait at a high point. With a good pair of binoculars or a telescope, you can spot one of the eagles catching the thermals - even at a distance.
Head out with a friend! It's more fun watching birds with a friend and two pairs of eyes are better than one, especially from a good vantage point.
If you do encounter an eagle, you'll never forget it.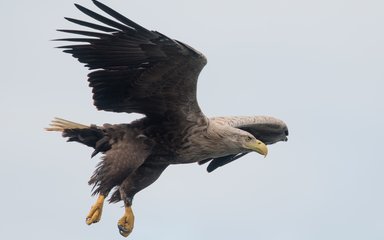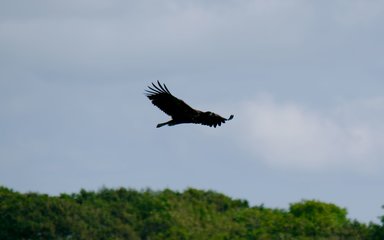 What have the birds been doing each day?
For the most part, the eagles are lazy until they need to find food. They can spend all day sat in a tree; if you're not hungry, why move? 

Satellite data gives us an idea of where they might be feeding, but observations in the field are best. Over the past few weeks several of the birds have returned to our feeding site before heading off on their next adventure, where we have supplied a buffet table filled with fish and rabbit. 

Despite our parental efforts, some of the birds have ignored us in favour of finding their own food. Some of the young birds have been finding dead fish washed up on beaches and one persuaded a heron to drop their catch. Although they look broadly similar, they all have different personalities.
Any other words of wisdom?
It really is exciting to see these birds over the skies of Southern England again. But please do not try to approach the bird for a closer look or a photograph. Undoubtedly the bird has already seen you, and approaching too close may flush it from its evening roost, or its first meal in days. 
Rest assured there will be plenty of opportunity to get great views of this spectacular bird in future years. As they become more assured in the landscape they will become more visible and eagle watch points will be set up once the birds settle. 
Even if you don't have any luck seeing the eagles, there is plenty of incredible wildlife to discover whilst you're out and about. So take time to enjoy all the sights and sounds of the Solent!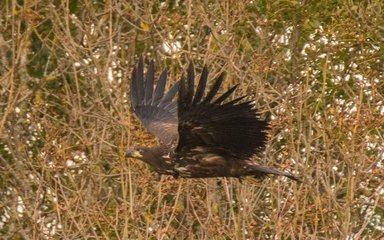 Get in touch with the project team 
Send your photos and observations to: