Horse riding at Dymock Woods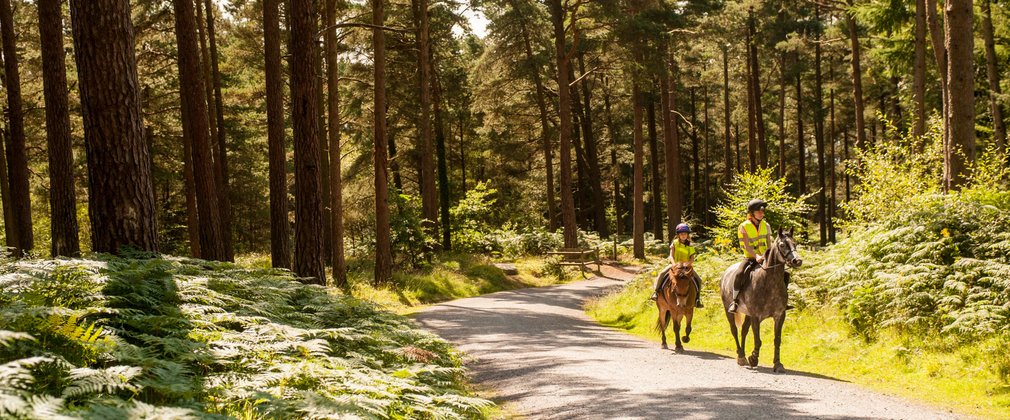 Explore the stunning scenery of Dymock Woods by horse back.
Horse Riding is welcome in Dymock Woods on hard stone tracks only.  
The Dymock Forest Greenway comprises approximately 2.5 miles of high-quality, off-road, waymarked track located within Queens Wood and Hay Wood and 4.5 miles of quiet country lanes and bridleways. The Greenway runs through the barrier entrance from the car park, it has a boulder and a barrier but horses can access around them onto the hard stoned forest road.
There is also a Greenways route which links it to Hay Wood, just the other side of the M50 and is 7 miles long. It runs on forest tracks, country lanes and bridleways.
There are additional costs for a carriage driving permit.  Please contact westengland@forestryengland.uk for more details.
For more information on our facilities, opening times and contact details, please see our visitor information.
This a working forest, from time to time you may come across a working site or encounter a vehicle traveling along a forest road.
Activity information
Dymock Woods, Linton, Forest of Dean, Herefordshire, HR9 7UT
This is a shared trail, please be aware of other forest users.
Riders can park at Queens Wood car park which is large enough to unload a horse box and has no height barrier at entrance.
Is this activity for you?
The trails mainly follow stoned road in Dymock Woods; horse riders are welcomed on these hard tracks but asked to avoid the soft paths.
https://www.bhsaccess.org.uk/dobbin/Ridingmap.php?file=southwest/Ridemaps/Foddymock