Downhill trails at Forest of Dean Cycle Centre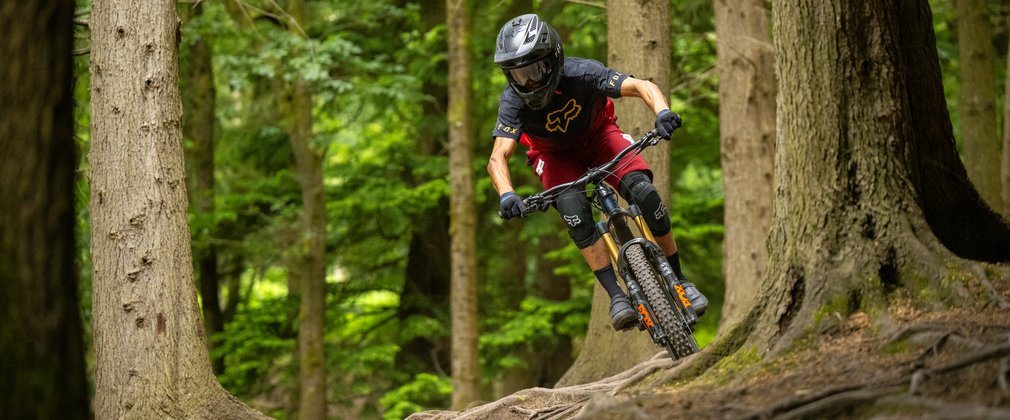 Downhill trails
14 short, fast downhill trails spread out across the hillside. Expect to find a range of drops, jumps, table tops, berms and loamy corners, off camber and rocky and rooty sections. Features range in size and technicality so be sure to check out the individual trail information before you ride. The trails can be accessed by following the push up track to the top of the hill or use our uplift service.

Blue trails 
A fantastic introduction of what is to come if you plan to take on the more advanced downhill trails. Fast and flowing with rollers and berms leading down the hill towards the top of Launchpad.
The UK's only purpose-built trail for 4-wheel bikes designed to be fully accessible for those without pedal power. A very fast and flowy trail with rollers, jumps and some very big berms. This trail will leave you with a huge grin and wanting to ride it time after time, though don't be fooled as you still need to control your speed!
Red trails
Sheepskull's little sister, this short but perfectly formed run is a blast. Fast straights into swooping corners that will have you racing back to the push up for another go.   
Twisted Sister
This trail will have you cornering like a pro in no time! A super fun flowy trail to get you used to the natural style of the other downhill trails. Starting and finishing with table tops and jumps to really get you in the zone.

Black trails
Setting off along a raised embankment with technical features into some fast and fun corners, through roots and over rocky drops into more corners and a tabletop. No sheep were harmed in the building of this trail.
Y2K
A shared start with Elephant Man down a steep roll in leading to jumps before turning through corners taking you off and away to the top of a very steep and technical chute. The trail then turns again taking down through some fast corners to the forest road.
A trail of many personalities, starting with some flowing corners that then drop you into some steep and rooty riding on out into the open where there are tabletops and jumps almost all the way back to the centre.
The name says it all, roots everywhere! Flowy corners that get more challenging as you descend on the trail across and over large rooty sections. The trail merges with Twisted Sister so you can enjoy the jumps and berms all the way to the end.
A fast and rooty start leading into twisting turns, jumps and slab drops. After the forest road crossing the trail races down the hill over roots and wooden steps finishing with a super narrow and technical group of rooty corners.
Elephant Man
Sharing a start with Y2K at the top of a steep roll in straight into to tabletops and a slab jump. The trail becomes steeper and more technical with rock drops, rock gardens and corners a plenty.
Dodger
Dodger turns off GBU before the big drops. An alternative line with steep corners and off camber, rooty sections. You can rejoin GBU and ride the jumps or turn left and head back to the push up track.  

Double black trails
The original downhill trail at the Forest of Dean! A fast technical downhill trail with steep drops over roots, flat out straights and tight corners with table tops to finish.
Cougar
Starting with some swooping turns becoming steeper and more technical, into tighter corners over roots and a 23-foot jump from the treeline out into the open. You can then hit the jumps on the last section of GBU or turn off and head back

up the push up track for another run.
A fast and flowing downhill trail with large jumps, tabletops and drops. Don't fancy the big slab drop? Turn off on to Dodger and re-join GBU before the big finale with the largest tabletops and road gap.
Trails information
Forest of Dean Cycle Centre, B4234, Cannop Valley, GL16 7EH
Full face helmets and body armour is highly recommended.


Grade Blue = Moderate. Expect: A mixture of climbs and descents with moderate gradients, technical features like tree roots and rock steps; jumps and berms. Rollable features at controlled speed. Variable surfaces.
Grade Red = Difficult. Expect: A mixture of steep climbs, descents and / or avoidable features. Larger jumps, berms and rollable features at controlled speed. Technical features such as tree roots, drop-offs and large rocks. Very variable surfaces.
Grade Black = Severe. Expect: Long, steep climbs, descents and jumps. Numerous hazards including drop-offs, sharp corners and difficult features. Rapid rate of surface change. Commitment required.
Grade Double-black = Extreme. Expect: Very fast and steep descents. Large drop-offs, jumps and unavoidable obstacles that require high levels of skill and commitment. Extreme level of exposure or risk. Rapid rate of surface change.
From 0.3 miles (0.5km) to 0.9 miles (1.5km).