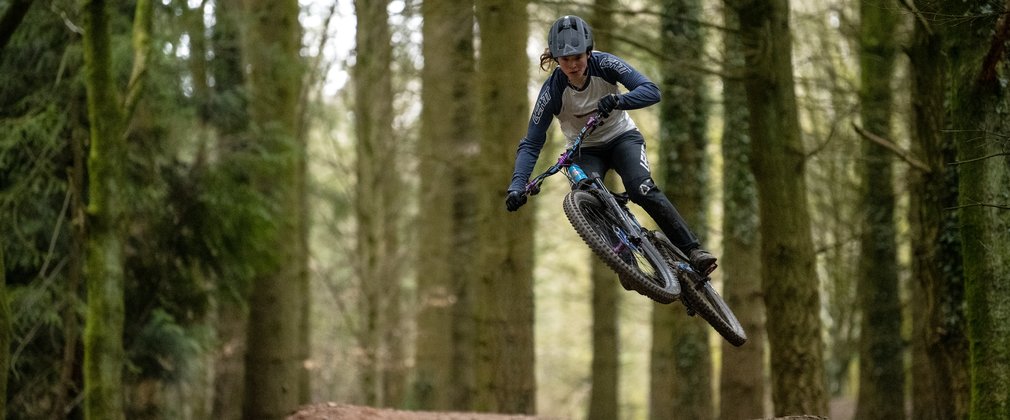 Downhill trails
Expect to find a range of severe drops, jumps, table tops, berms and loamy corners, off camber and rocky and rooty sections.
The Dean Trail Volunteers have developed and maintain many of the trails so there are now a good mix of natural and manmade tracks which are super fast with tight switchbacks..
1 spot trails 
These trails requires a good level of riding ability. There are jumpable features for advanced riders, but everything is rollable, and the trails are generally wider and smoother. These trails are designed to be ridden without the need to pedal, and have the potential to be VERY fast, so don't underestimate them!
2 spot trails
These trails require a high level of riding ability. Expect bigger jumps, steps, roots, rocks, steep drops, and natural surfaces that change with the weather and evolve over time.
3 spot trails
These trails require an advanced level of riding ability. Expect unavoidable large features which can't be rolled - you will need to be able to jump and drop with confidence. Not for the beginner!
Y2K
Elephant Man
Dodger
Cougar
Please use the push-up track to the top of the hill, not the downhill tracks themselves. Or use Flyup Downhill, the official MTB uplift service. 
Countdown and Launchpad are the first of trails in the UK specifically designed for 4-wheeled gravity bikes, but are a lot of fun for 2-wheeled bikes too. You do not need to pedal on these trails, they are extremely fast and designed to take you downhill without your own pedal power. Both of these trails were newly refurbished in 2021.
The Sallowvallets area at the Cycle Centre is the only place in the forest where downhill mountain biking is permitted.  Please stick to these trails and keep the rest of the forest for wildlife and other users.
To find out about mountain bike hire, contact our on-site hire specialists.
Trails information
Forest of Dean Cycle Centre, B4234, Cannop Valley, GL16 7EH
Full face helmets and a high quality bike are all essential and body armour is recommended.
Grade - Orange: Bike Park
Bike parks are suitable for riders aspiring to an elite level of technical ability; incorporates everything from full on downhill riding to 'big air' jumps.
From 0.3 miles (0.5km) to 0.9 miles (1.5km).