Pump track and Skills areas at Forest of Dean Cycle Centre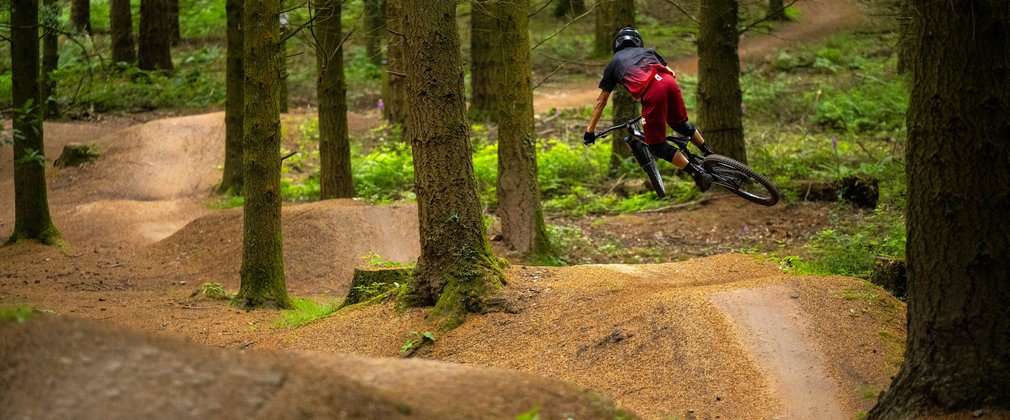 Pump track and skills areas
Before heading out on the trails make sure you check out our pump track and skills area.
Pump Track
Located on the way out to the trails from the main starting point in the car park. A short loop trail with undulating rollers and small berms to help develop some of the skills you need for mountain biking.
Skills Areas
There are 3 different skills areas around the Forest of Dean Cycle Centre:
Beginner Skills Area (Grade: Green/Easy). 

Located just over the bridge on the Family Cycle Trail. A short loop that has some very small rollers, corners and a slab rock at the exit. This is a great place to start for any new rider.

Intermediate Skills Area (

Grade: Blue/Moderate). 

Located next to the main trail starting point from the car park. This area is a short loop that starts with a gentle climb and slab rocks into flowing corners and finishing on a series of large berms. This will give you a good taste of what is come before you head out on to the trails.

Advanced Skills Area (Grade: Black/Severe). Located next to the Pump Track with the trails starting a little further up the hill. There are two trails to choose from, one that focusses on drops with a series of slabs that grow in size as you follow the trail down to a bermed finish, and one that focusses on Jumps with rollers and tabletops which also grow in size as you progress along the trail. They are mini downhill trails that will enable you to practice the skills you will need to ride the main downhill trails.
Trail information
Forest of Dean Cycle Centre, B4234, Cannop Valley, GL16 7EH
Grade Green = Easy. Expect: Relatively flat, wide and smooth trails. Gentle climbs, descents, rollers and berms, with easy to avoid features such as rocks and potholes. Surface might be loose, uneven or muddy at times.
Grade Blue = Moderate. Expect: A mixture of climbs and descents with moderate gradients, technical features like tree roots and rock steps; jumps and berms. Rollable features at controlled speed. Variable surfaces.
Grade Red = Difficult. Expect: A mixture of steep climbs, descents and / or avoidable features. Larger jumps, berms and rollable features at controlled speed. Technical features such as tree roots, drop-offs and large rocks. Very variable surfaces.
Grade Black = Severe. Expect: Long, steep climbs, descents and jumps. Numerous hazards including drop-offs, sharp corners and difficult features. Rapid rate of surface change. Commitment required.
Grade Double-black = Extreme. Expect: Very fast and steep descents. Large drop-offs, jumps and unavoidable obstacles that require high levels of skill and commitment. Extreme level of exposure or risk. Rapid rate of surface change.