Inside Out Dorset at Moors Valley Country Park and Forest 2023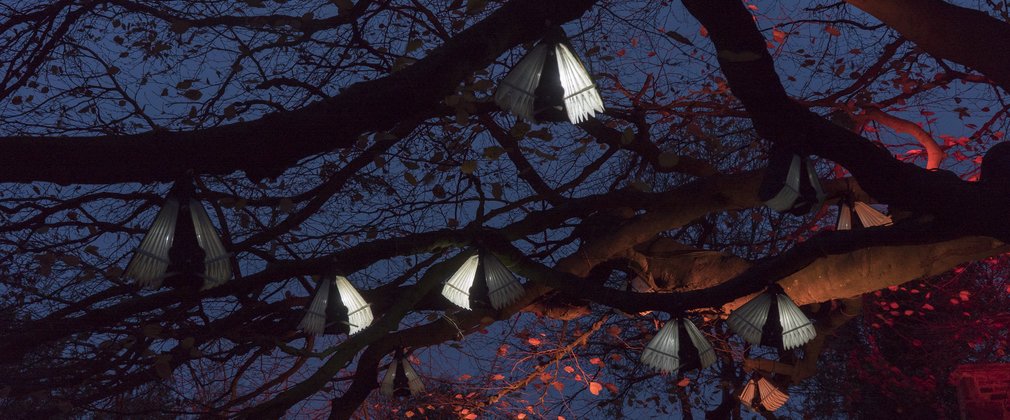 From Friday 15 – Sunday 24 September, Inside Out Dorset will wow audiences at Moors Valley Country Park & Forest. An art trail featuring four beautiful sound installations offers a new way to experience the forest that will leave you pondering some big questions and feeling reflective.
Installations hidden in the forest will give you the chance to explore nature in new and intriguing ways. Two of the pieces are from Artmusic founder Helen Ottaway. Lachrymae is inspired by Ted Hughes' adaptation of Ovid's Metamorphoses. As you make your way into the woodland, music floats in the air and flashes of amber glimpse through the trees. And new commission Saeflod is a requiem – for all of our losses, for our environment, for our planet. You are invited to interact with a series of sound boxes placed amongst the trees. Walk, listen, pause and move. Join us for a live choral performance on Saturday 16 and Sunday 17 September at 3pm and 7pm.
Kathy Hinde's Chirp & Drift is a playful piece that asks 'Do birds sing purely because they enjoy making music?'. Two trees in the forest are inhabited with other-wordly bird-like instruments. Listen carefully and you'll hear the chatter of morse code, birdsong and music.
And Jane Pitt's Everyone Says… brings together a multitude of voices. You'll hear various different languages spoken in our local area, played out digitally through speakers on stilts. They mingle and interconnect with each other and the forest.
The park will be open late on Friday 15, Saturday 16 and Sunday 17 September. You're welcome to explore the artworks until 10pm and experience the forest in a new and unique way. Atmospherically lit, the sound installations will enrich the ever-present vibrant nighttime sounds of the forest.
For those who want a quieter experience, there will be a Relaxed Hour on Saturday 23 and Sunday 24 September from 10am-11am. This is designed to be inclusive of people who prefer or need their environments to be more accommodating of sensory processing differences. We encourage all curious people to make use of these sessions and bring what you need to be comfortable, such as headphones, blankets, sunglasses, digital or stim devices. The installation sound will be lower and there will be a quiet space available nearby.
Inside Out Dorset promises extraordinary events in extraordinary places. As well as Moors Valley Country Park & Forest, the festival will have events in Wimborne, Poole, Weymouth and Bere Regis.
Inside Out Dorset is produced by Activate Performing Arts and brought to you in partnership with Forestry England.
Inside Out Dorset Festival at Moors Valley 2023
Moors Valley Country Park and Forest, Horton Road, Ashley Heath, Nr Ringwood, BH24 2ET