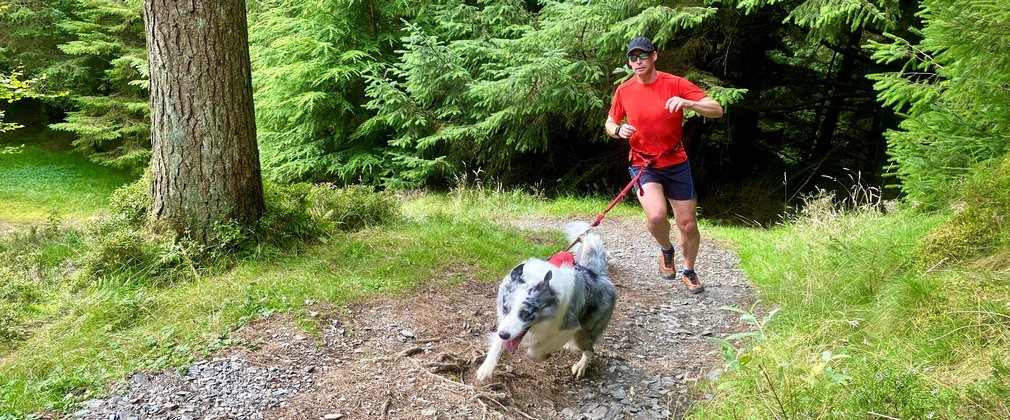 A new series of canicross races, held in England's only mountain forest. The perfect location for you to enjoy stunning scenery and a fully marked course on forest roads and trails.
The route is a five mile course at Whinlatter including 1200ft of ascent. It reaches the summit of Seat How along a mix of forest roads and narrower walking trails with stunning scenery across the whole course.
Also on offer is a shorter three mile option recommended for those just starting out or looking for an easier run. This equally beautiful route avoids the summit of Seat How and involves just 800ft of ascent. The second half of both routes is identical, allowing all participants to finish together. It is possible to select your route on the day of your event. 
Event Dates 
Sunday 2 Oct 2022
Sunday 6 Nov 2022
Sunday 4 Dec 2022
Sunday 8 Jan 2023
Sunday 5 Feb 2023
Sunday 5 March 2023
Sunday 2 April 2023
Sunday 7 May 2023
Sunday 4 June 2023
Sunday 2 July 2023
Sunday 6 Aug 2023
For more information contact Lakeland Paws via their website www.lakelandpaws.com 
Events at Dodd Wood
Monday 8 May 2023
Lakeland Paws are delighted to be bringing their first Lakeland Paws event based at Dodd Wood. Dodd is just on the opposite side of Bassenthwaite Lake from Whinlatter Forest, with a backdrop of Skiddaw and stunning views across Derwentwater and Bassenthwaite Lake to the Coledale Fells. 
The event will follow the same format as their Whinlatter ones, starting at 9am with individual starts for each athlete so that all dogs have the space they need to start safely. The course is on a mix of forest roads and trails, some sections are narrower, but much of the course is wide so the team are happy to allow people to run with two dogs who must both be run on a suitable harness. Please be aware that some sections of the course are steep. Runners are welcome to compete without dogs too.  All runners must be responsible for their own safety and that of their dogs at all times.
There are two course options. The longer option is a 5 mile loop with roughly 1000ft (8K and 330m) of ascent, running around Dodd, but not actually going to the summit. There is a shorter option of 3 miles which avoids some of the ascent but does miss some of the best views.  It is 3 miles with approx 800ft (5k and 240m).
Entries for Dodd Wood events are £16 per person and you can enter here
Essential Information
Whinlatter Forest, Whinlatter Pass, Keswick, CA12 5TW
£15 per person, booking essential

Bulk booking discount: six events for the price of five (£75 total) - offer expires 4 March 2023

Visit the event provider website for more essential information on dogs & kit.