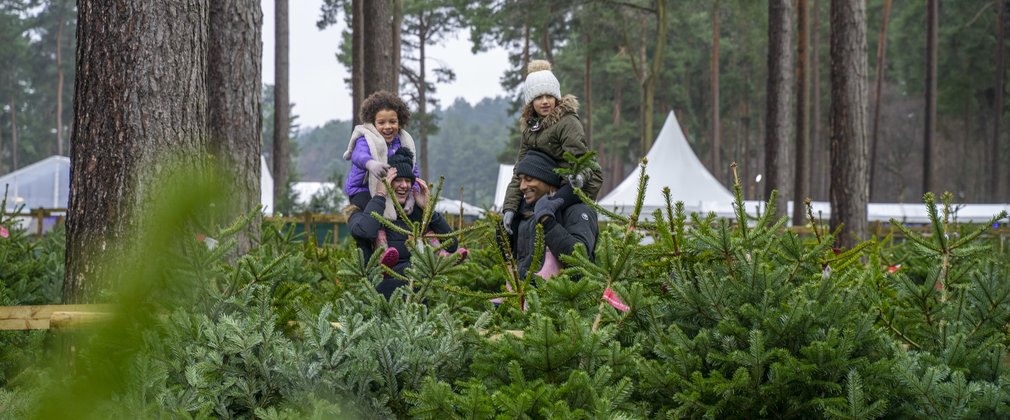 Your Christmas begins at Haldon Forest Park
Looking for a real Christmas tree near you in Devon?
Buy your real Christmas tree from Haldon Forest Park, Exeter this year for a wonderful experience and the highest quality, British Christmas trees. Tree sales at Haldon Forest Park are managed by the multi-award winner, Dartmoor Christmas Trees.
From 26 November to 23 December, the tree team will be on hand to help you choose from hundreds of spruces and firs in the fresh, wintery air of our beautiful forest.
To ensure you have the widest possible selection of trees to choose from, it is recommended you buy your tree on or before 13 December. Don't worry if you want to put your tree up later, as long as you store it somewhere cool it will stay fresh.
Our trees
Low drop 3 - 15ft
Norway Spruce 3 - 10ft
Potted trees
What makes our Christmas trees so special?
Quality: Our high-quality trees are grown in Britain - so you can be proud of your superior quality tree
Experience: Choose your tree from a beautiful forest location to kick off your Christmas celebrations 
Expertise: With 100 years of forestry experience, our experts can help you choose the right tree for your home
Support your forests: The money raised from your Christmas tree helps us maintain the forests for wildlife, for you, and for future generations
Treasured family traditions make Christmas extra special so join us this festive season to make choosing the perfect tree part of yours. Wrap up warm, pull on your boots and make it a day for everyone to remember at Haldon Forest Park.
Haldon Forest Park, Bullers Hill, Kennford, Exeter, EX6 7XR
Open 26 Nov to 23 Dec, 9am-5pm, 7 days a week
Choose a tree to match your budget, size and species requirements.
Free for 30 mins if you buy a tree