Running trails at Mallards Pike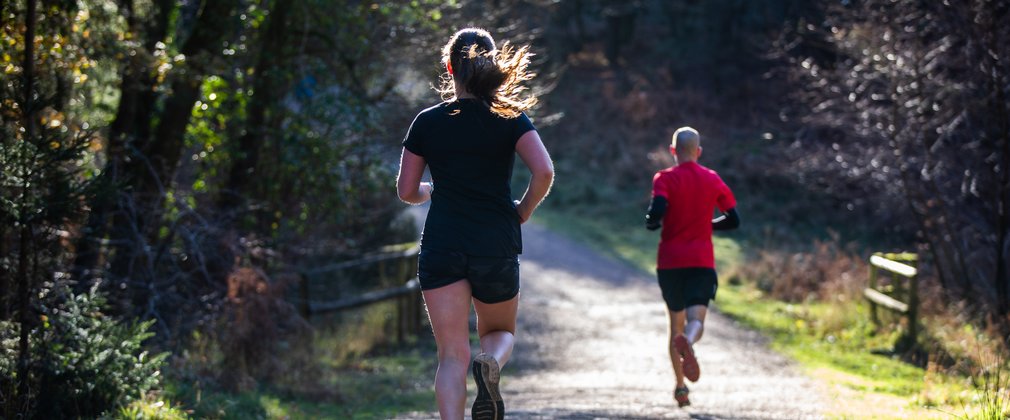 Running trails at Mallards Pike
Whether you've just bought your first pair of trainers, or have 1000's of miles under foot, the trails at Mallards Pike offer opportunities for all runners. Lengths vary from 2km to 10km and they all start from just beyond Go Ape.
2km Running Trail
Follow the grey waymarkers.
The perfect way to start your running journey, the 2km trail is a great route for beginners looking for a step up from the lakeside path.
The trail is wide with a stone surface underfoot. It heads out along the same route as the 3km and 5km routes, before turning left and returning along the Family Cycle Trail.
3km Running Trail
Follow the purple waymarkers.
The trail heads out into the forest, following the same route as the 5km. The route is gently undulating along forest roads. When you get to a junction, the 5km will turn left and the 3km will carry on up a short, narrow uphill section which can be muddy in wet weather. Once this is complete it is downhill for most of the journey back to the lake. 
5km Running Trail
Follow for the pink waymarkers.
Our 5km trail follows forest roads with hard, solid surfaces. It heads out into the forest along the same route as the 3km trail, before carrying on gradually climbing uphill. The good news is, once you've reached the furthest point, it is mostly downhill all the way back!
10km Running Trail
Follow the turqoise waymarkers.
Looking for a challenge? Our 10km trail takes you away from the busy areas of the forest to more remote woodland. It feels like an adventure and you may even spot some local wildlife, such as deer.
The trail is mainly hard stone track, however some areas can become wet and muddy. Suitable running shoes are recommended.
All our trails share sections with other forest users, such as bicycles and horse riders.
More information
Mallards Pike, Parkend, Gloucestershire, GL15 4HD
Supported by Sport England and using National Lottery funding, the network of marked trails make running through the forest more accessible.
To help you plan your work out, purchase a pocket sized trail running guide from Mallards Cafe or from the Tourism Information Centre in Coleford.