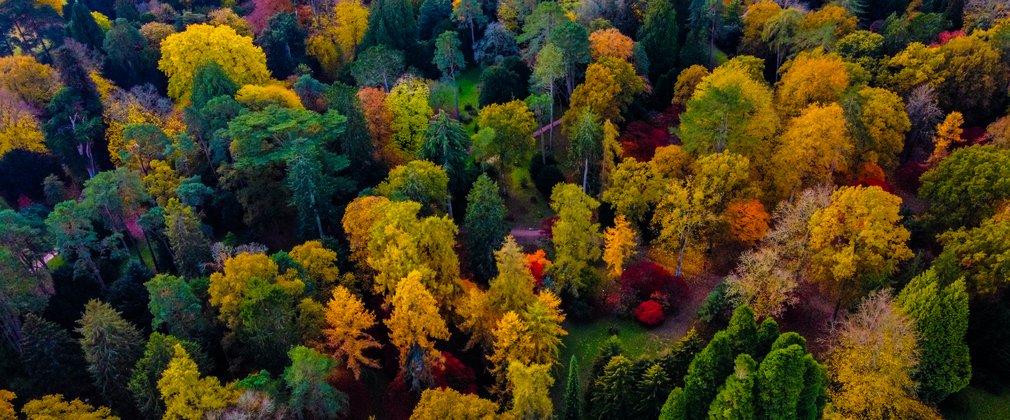 Autumn still to arrive say Forestry England experts
The first day of September marks the start of autumn according to the meteorological calendar. And although we have already seen various signs that could be mistaken as autumn, such as leaf drop, Forestry England experts say autumn is still yet to arrive.
The very high temperatures experienced this summer, coupled with lots of sunshine and lack of rain means that some tree species such as leatherwood, hazel, witch alder and bladdernut are showing signs of stress, also known as 'summer leaf drop'. However, Forestry England experts are reassuring visitors that we can still expect impressive displays of vibrant autumn hues this year 
Andrew Smith, Director at Forestry England's National Arboretum at Westonbirt, Gloucestershire, explains: 
Many factors contribute to when leaves will change colour and drop. Shallow soils and drought can cause stress to some tree species, triggering some leaves to change colour and drop early. 

This is known as 'summer leaf drop' where trees are reacting to their environment and adapting their growth accordingly. When it's hot and dry, a tree realises it is losing too much water so drops some of its leaves. This can be mistaken as a 'false autumn' but typically only 20% of a tree's leaves are lost which means there are still plenty left to put on a spectacular autumn show.

If we continue to experience warm days in early autumn, along with spells of rain and cooler nights then we could still see a spectacular show of seasonal colour in our nation's woodlands.
It can be misleading, noticing leaves turning yellow and dropping everywhere, however Forestry England say it's important not to confuse signs of stress in individual trees with the full arrival of autumn.
Andrew continued:
Here at Westonbirt, we are noticing signs of autumn earlier each year. We have recorded leaf colour change at the arboretum since 2010 and we are already seeing earlier colouration of leaves and later dates of full leaf fall. I like to think of autumn as a firework display that rolls on with different colours appearing over several weeks. Climate change means that display is now lasting longer.

If we have some spells of rain in the coming weeks and continue to experience above average temperatures, the climate will be ideal for maintaining sugar levels. This means that the leaves will stay attached to trees for longer and will have time to develop their autumnal shades.

The length of display relies heavily on the weather throughout autumn. If it continues to be mild the leaves will have time for the build-up of chlorophyll to entirely fade and their dormant pigments to fully take over.
To ensure that autumn is kept colourful for future generations and to increase the resilience of our nation's forests in the fight against climate, Forestry England is working hard to plant lots of different species of trees in many woodlands which will fare well in the climate conditions predicted over the next decades. Sycamore, wild cherry, hornbeam, small-leaved lime, and oak to name a few should bring a riot of colour to our countryside for visitors to enjoy well into the future. 
Notes to Editor
Images are available

here

. Please credit Forestry England/ Crown copyright

Andrew Smith,

Director at Forestry England's National Arboretum at Westonbirt

is available for interview

Forestry England manages and cares for the nation's 1,500 woods and forests, with over 363 million visits per year. As England's largest land manager, we shape landscapes and are enhancing forests for people to enjoy, wildlife to flourish and businesses to grow. For more information visit

forestryengland.uk

.

Forestry England is an agency of the Forestry Commission.
Media Contact:
Rebecca Ulewicz e: media@forestryengland.co.uk t: 07771 971813