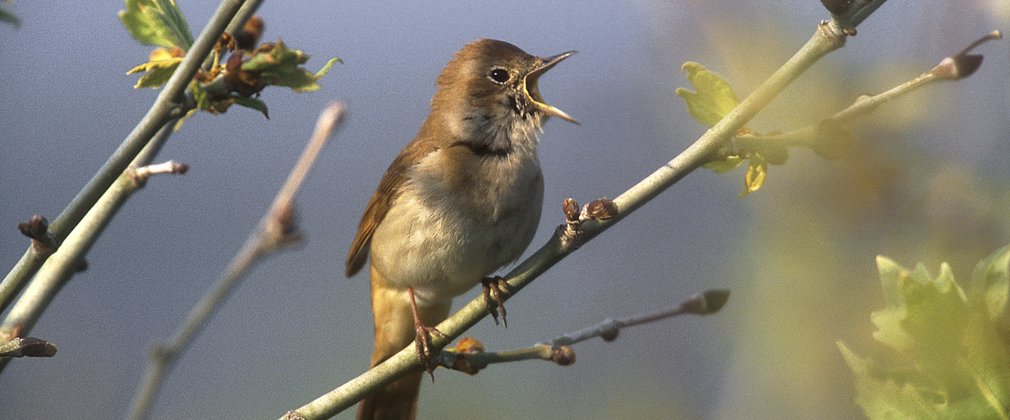 Birdsong topped the polls!
To celebrate this year's Sound of the Year awards, Forestry England asked its visitors what their favourite sounds of spring in the forest are. Birdsong topped the polls with nearly 70% of the votes, and with brilliant singers such as nightingales and blackbirds making the nation's forest home, it's easy to understand why it's such a popular choice.
The Sound of the Year Awards is a celebration of everyday sound in all its forms and the awards are presented by The Museum of Sound in partnership with The New BBC Radiophonic Workshop. They aim to highlight the rapidly growing international community of sound professionals and enthusiasts as the value of good sound, listening, and healthy sonic environments are becoming recognised as a vital part of our lives. Forestry England judged the best naturally occurring sound category in this year's awards, with the winner, Fabian Holzinger, capturing the sound of beaver kits by an Austrian riverbank.
Matthew Herbert, Creative Director of the New BBC Radiophonic Workshop and Chair of Judges for Sound Of The Year Awards, said:
"We're thrilled to see so many responses and to hear how sound is so important to people. A chance to be away from the sound of traffic or aeroplanes or piped music is as valuable as green spaces themselves. However, one of the hardest things is also to hear sounds that aren't there. As the crisis in biodiversity loss continues, the absence of the sounds of native tree species or birds such as the willow tit is changing the soundscape around us. Part of the Sound of the Year Awards and the Museum of Sound's brief is to capture some of these amazing sound worlds before they vanish and to draw attention to the need to preserve them. And, of course, to take sound seriously as we seek a more harmonious and holistic relationship with the natural world."
Birdsong, along with everyday sounds that surround our lives are becoming increasingly recognised as a vital part of our wellbeing and according to a recent study led by a team at the University of Exeter, just hearing the sounds of nature calms us. In the study, data was collected from 7,500 people who listened to sounds from a range of natural environments, including coastal and woodland settings in the United Kingdom and a tropical rainforest in Papua New Guinea.
Research also shows that forests offer a unique sensory experience, they are a haven to escape and are especially restorative environments.
Ellen Devine, Forestry England's Wellbeing manager says:
"It's amazing how just tuning into the sounds of the forest on your walk can make you feel less stressed. The sounds, sights and smells of the forest play are so powerful! They all play a role in bringing our blood pressure down, calming our thoughts and helping us see our thoughts more clearly."

"A woodland setting has great acoustic qualities, meaning even the quietest birdsong is audible so it's no wonder it's a favourite amongst our visitors.
Other popular spring sounds amongst Forestry England visitors were a running stream, the sound of rain on leaves and animals scurrying along the forest floor. With spring being such a noisy time for nature in the forest, now is the perfect time to head to your local forest to take in the sounds of nature and give your wellbeing a boost.
Visit forestryengland.uk/activities/walking-trails-and-routes to find the perfect spring walk
Notes to Editor
Images available on request.
1. Forestry England manages and cares for the nation's 1,500 woods and forests, with over 296 million visits per year. As England's largest land manager, we shape landscapes and enhance forests for people to enjoy, wildlife to flourish and businesses to grow. We are continuing the work we have already started to make the nation's forests resilient to climate change and by 2026 we will:
· create at least 6,000 more hectares where we integrate wilding activities in our productive forests.
· increase the diversity of visitors to the nation's forests and have one million hours of high-quality volunteer time given to the nation's forests
· plant at least 2,000 hectares of new, high quality, predominantly broadleaf woodlands
· For more information visit forestryengland.uk Forestry England is an agency of the Forestry Commission.
Media Contact:
Rebecca Ulewicz, Media Relations Officer | e: rebecca.ulewicz@forestryengland.uk |t: 07771 971813|