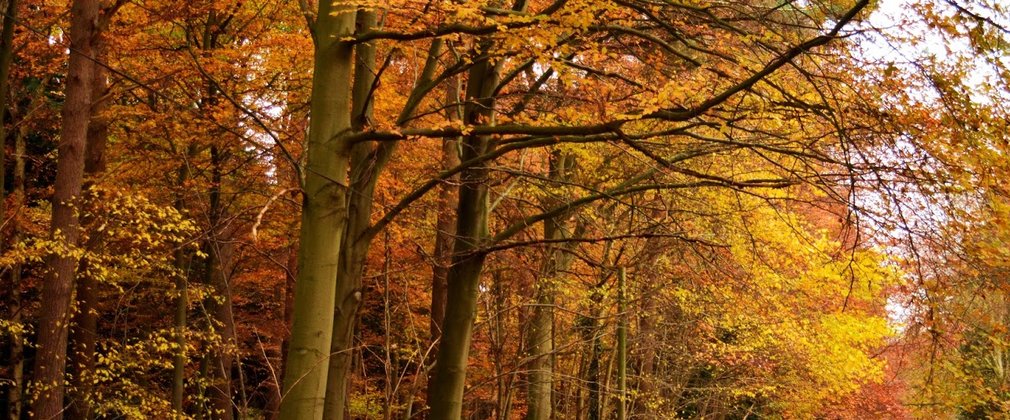 Breathtaking autumn: Forestry England's Top 10 Instagram gems!
As autumn arrives in the nation's forests, a beautiful transformation takes place. The once green leaves on the trees change to a stunning mix of yellows, reds, oranges, and gold colours. This is a dream come true for photographers, whether they are beginners or experts. This year, instead of just looking at the amazing pictures on Instagram and wishing you were there, Forestry England wants everyone to experience this magical season for themselves by visiting their local forest and capturing the beauty of autumn.
To make the most of the incredible autumn display, Forestry England has put together a list of the top 10 locations across the country that are perfect for Instagram-worthy photos. These spots have been carefully chosen because they provide breathtaking backgrounds for your autumn pictures, ensuring that  your images will be nothing less than extraordinary. It's time to swap your digital daydreams for a real-life autumn adventure in the heart of our nation's forests.
Westonbirt Arboretum, Gloucestershire 
With over 200 hectares of colour to capture, Westonbirt Arboretum in a must if you want to capture the perfect autumn photo. The arboretum is one of the most important plant collections in the world with 15,000 specimens, and 2,500 species of tree from all over the world. Head for the acer glade or the national collection of maples. Autumn is the time to see them in all their breathtaking glory.
Mallards Pike, Forest of Dean, Gloucestershire 
Head to Mallards Pike on a sunny autumn day to see bright orange needles and golden leaves reflected on the lake, creating the perfect autumnal picture. If you get there early , you may be lucky enough to capture the early mist rising above the still water.
Bedgebury Pinetum and Forest, Kent 
Home to the national conifer collection, Bedgebury Pinetum and Forest  has an amazing selection of autumn colours to enjoy. Bring your camera or phone and be amazed at all the photographic opportunities this glorious location has to offer.
Dalby Forest, North Yorkshire
 Even though Dalby Forest is mainly evergreen, it looks absolutely beautiful in autumn. If you head to Staindale Lake, you can take pictures of the amazing mix of colours from the trees that surround it. It's a dream backdrop for photographers.
Cardinham Woods, Cornwall 
The mixture of ancient woodland and timber plantation guarantees a jaw-dropping multicolour display at Cardinham Woods. Catch the light twinkling through the trees along the streamside Lady Vale Walk or head uphill to admire the forest canopy stretching across the valley slopes above Cardinham Water.
Whinlatter Forest, Cumbria 
Are you ready to be wowed? Discover the story of Whinlatter as you explore through the trees, taking in the wildlife hide, forest bathing area and new viewpoint, with stunning autumnal views across to Noble Knott's oak woodland as the leaves reveal a rainbow of colours.
Symonds Yat, Forest of Dean, Gloucestershire 
Go to the view point at Symonds Yat Rock to photograph the mist in the morning over the River Wye, and enjoy watching the early sun make the lovely autumn tree colours glow.
Moors Valley, Hampshire 
To take beautiful pictures of the autumn scenery, go to the Lookout at Moors Valley. You'll find breathtaking views of the valley, making it a perfect spot for photographers.
Lynford Arboretum, Thetford Forest, Suffolk 
The arboretum becomes a picturesque wonderland for photographers in autumn. The leaves on the diverse collection of trees and shrubs transition from vibrant greens to a rich tapestry of reds, oranges, yellows and golds, making it a stunning sight to capture!
Delamere Forest, Cheshire 
Delamere Forest is beautiful in autumn. Climb steeply up to Old Pale and be rewarded with far-reaching autumnal views. The ideal spot to capture the perfect autumn panorama!
Notes to Editor
Images are available here. Please credit Forestry England/Crown copyright.

Forestry England manages and cares for the nation's 1,500 woods and forests, with over 291 million visits in 2022/23

. As England's largest land manager, we shape landscapes and enhance forests for people to enjoy, wildlife to flourish and businesses to grow. We are continuing the work we have already started to make the nation's forests resilient to climate change and by 2026 we will:   
create at least 6,000 more hectares where we integrate wilding activities in our productive forests. 

increase the diversity of visitors to the nation's forests and have one million hours of high-quality volunteer time given to the nation's forests 

plant at least 2,000 hectares of new, high quality, predominantly broadleaf woodlands 
For more information visit forestryengland.uk. Forestry England is an agency of the Forestry Commission.
Media Contact:
Rebecca Ulewicz, Media Relations Officer | media@forestryengland.uk