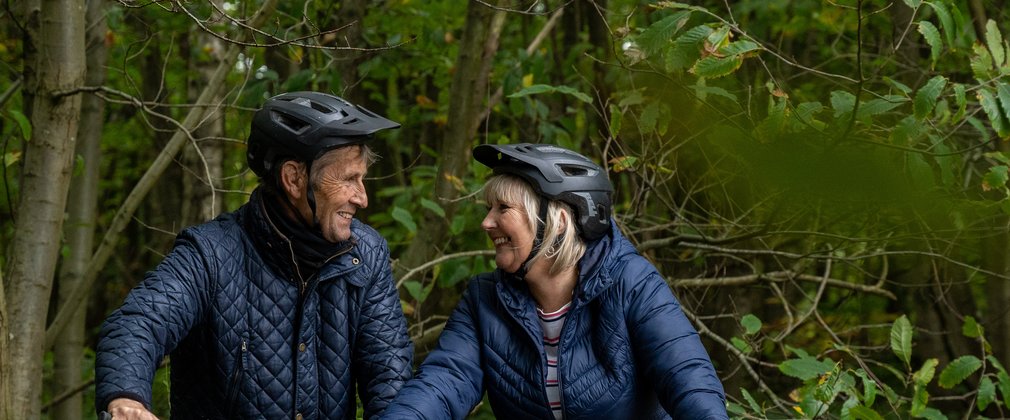 Celebrate Older People's Day with a Forestry England bike ride
Cycling is one of the most enjoyable ways to enjoy the nation's forests and is also great for your health as you grow older. The NHS recommends it as a great way to get fit and stay healthy, with regular cycling known to reduce the risk of chronic illnesses including heart disease and stroke. And it can even boost your mood!
To celebrate Older People's Day, Forestry England reveal how they are making it easier for everyone to get on their bike and share their top ten introductory bike rides for older people to enjoy!
Hayley Skipper, Director of Operations said:
"Keeping active is one of the simplest and most rewarding ways we can improve our physical and mental wellbeing as we get older, and we are determined to help more people cycle in the nation's forests."

"It's an excellent way for people to visit new places and to connect with the environment around them. Forestry England has over 2,500km of trails across the country, so there are plenty of trails to explore."

"You also don't need to have all the equipment to give it a go, as we offer bike hire at many of our sites. And we also offer e-bike hire at selected sites, which offers a great opportunity for those that want to travel further or steeper to take in the great forest views."
Here are Forestry England's top ten routes for older people who are new to cycling or are looking for a great day out with grandchildren:
The Borderline Trail, Kielder Forest, Northumberland
This flat and easy to ride trail runs along a former railway line and is perfect for older people looking to build confidence on off-road trails. Bike hire is available.
Adderstone and Ellerburn Green Cycle Trails, Dalby Forest, Yorkshire 
This trail provides a gentle route around the top of the forest. Perfect for keeping active while taking in some lovely views! Bike hire is available.
Wood Farm Trail, Hicks Lodge, Leicestershire 
Offering a great introduction to off-road cycling, this beginners mountain bike route leads you through the forest on specially built winding tracks.
Maid Marion Trail, Sherwood Pines, Nottinghamshire 
Taking just over one hour to complete at a leisurely pace, this trail is ideal for newcomers to cycling or those just wanting a leisurely quiet hour in the forest.  Picnic benches are dotted around the trail, which provides the perfect resting stops or somewhere to enjoy a picnic. Bike hire is available.
Family Trail, Fineshade Wood, Northamptonsire 
This trail is a great option for those looking for a safe, off-road, family friendly cycle. Why not bring your grandchildren for the perfect family day out. Bike hire is available.
Family Trail, Salcey Forest, Northamptonshire 
This trail provides a fantastic opportunity for cycling with grandchildren and spending some quality time in the great outdoors! The route is relatively flat, wide, and smooth and a safe and relaxing way to enjoy the countryside.
Family Trail, Forest of Dean, Gloucestershire
This circular trail, mainly on former railway lines has connecting routes to villages and picnic sites making it the perfect day out for older people who like to enjoy the fresh air! Bike hire is available.
The Shepherd Trail, Thetford Forest, East Anglia 
A peaceful trail, offering relatively flat, wide open forest road, tracks and rides perfect for older people who are just starting out. Bike hire is available.
Family Trail, Alice Holt, Surrey 
Leading you through ancient mighty oaks as well as wildflower rich open spaces, this gentle trail is the perfect way for you to see and connect with the wider forest. Bike hire is available from the Activity Centre.
Discovery trail, Haldon Forest, Devon 
This is a great trail for beginner cyclists. The surfaced trail has stunning views to enjoy and regular resting points. Visitors with limited mobility can hire one of our three off-road mobility Trampers to also enjoy the trail. Bike hire is available, including discounted e-bike hire for over 50's.
Cycling can be one of the best exercises for our bodies and with some of the best off-road cycling in the country, you will find easy to moderate trails to suit your ability whilst keeping your heart healthy. For those looking for more adrenaline filled rides visit https://www.forestryengland.uk/cycling
Notes to Editor
Images are available here. Please credit Forestry England/Crown copyright.

Forestry England manages and cares for the nation's 1,500 woods and forests, with over 363 million visits per year. As England's largest land manager, we shape landscapes and enhance forests for people to enjoy, wildlife to flourish and businesses to grow. We are continuing the work we have already started to make the nation's forests resilient to climate change and by 2026 we will:   
create at least 6,000 more hectares where we integrate wilding activities in our productive forests. 

increase the diversity of visitors to the nation's forests and have one million hours of high-quality volunteer time given to the nation's forests 

plant at least 2,000 hectares of new, high quality, predominantly broadleaf woodlands 
For more information visit forestryengland.uk. Forestry England is an agency of the Forestry Commission.
Media contact
Rebecca Ulewicz e: media@forestryengland.co.uk t: 07771 971813