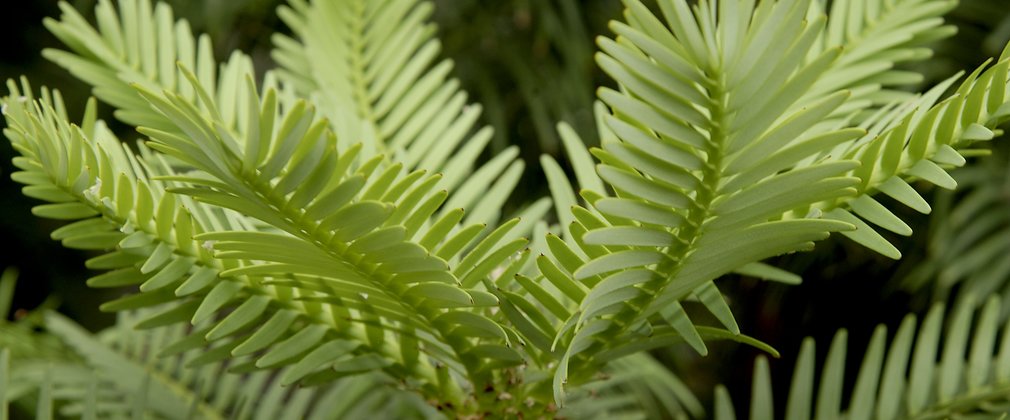 Dinosaur trees' from Australia begin new life in UK
Botanist James Wong joins Forestry England to plant critically endangered Wollemi pine trees - the first global 'metacollection' to save the iconic species from extinction
31 October 2023
Botanist and broadcaster, James Wong, joins Forestry England at Bedgebury National Pinetum and Forest in Kent today to help plant six critically endangered Wollemi pine trees. The planting event is the first stage of an international conservation effort to establish a flourishing, genetically diverse population of these rare trees across the world.
More than 170 young Wollemi pine trees grown by Botanic Gardens of Sydney were shipped from Australia and have been carefully looked after at Forestry England's tree nursery at Bedgebury. Six will be planted there today to become part of the living collection at the National Pinetum, while the remaining trees have been distributed to 28 botanic gardens across the UK and Europe. Separate collections of trees have been sent direct from Sydney to five Australian botanic gardens and one in Atlanta in the USA.
Wollemi pines have been dubbed the 'dinosaur tree' because fossil records show they were living 200 million years ago alongside the dinosaurs. It was thought they had become extinct between 70 and 90 million years ago until a chance discovery in 1994, when a small group of living trees was found by an Australian explorer and botanist, David Noble, growing in a remote gorge in the Wollemi National Park in New South Wales. This moment is considered one of the greatest botanical discoveries of our time. The tree species is now classified as critically endangered on the IUCN's red list, an important indicator of the world's biodiversity which sets out the risks of extinction for plant and animal species.
Since its discovery, there has been a concerted effort to insure the species against the loss of the remaining wild trees, with fewer than 100 left growing in a gorge 150 kilometres from Sydney. These wild trees are increasingly vulnerable to threats from diseases and wildfires and narrowly escaped being destroyed by wildfires in 2019-2020 which burnt more than 10 million hectares of land in eastern Australia.
Recent advances in genetic techniques have enabled Australian plant science and conservation experts to identify and breed genetically diverse Wollemi pines. For the first time, these genetically diverse collections of saplings are being made available to botanic gardens across the world. Locations have been chosen with a suitable climate, best suited for the trees to survive climate changes ahead. Together they will create a metacollection, a botanical collection shared by separate organisations but cared for collaboratively to research and conserve the species for the future. Growing the trees worldwide in this way preserves the widest range of genetic diversity found in the wild population and aims to safeguard Wollemi pines from becoming extinct.
Working in partnership, teams from Forestry England, Botanic Gardens of Sydney, and Botanic Gardens Conservation International (BGCI) identified botanic gardens where the climate will best suit the Wollemi pines. They were helped by data from a global citizen science project led by Botanic Gardens of Sydney and Australia's national science agency, CSIRO, which asked people to share their knowledge about Wollemi pines already growing in private gardens and parks across the world. Wollemi pines have been grown in private gardens and parks since 2005, though these trees are distinct from the trees forming the metacollection and lack their genetic diversity. As the metacollection becomes established, the teams will continue to monitor the trees as they grow and mature.
Mike Seddon, Forestry England Chief Executive, said:
"Discovering the lost Wollemi pines in the wild was a truly astounding moment for international tree conservation and to be a leading partner nearly thirty years later in launching this important new metacollection on UK soil is an exciting moment for Forestry England. The six trees we've planted today are among the rarest plants in the world and are now taking their place amongst the world-class conifer collection we have at Forestry England Bedgebury. This has been a complex project and today's achievement reflects the strong partnership between us, Botanic Gardens of Sydney and BGCI.

"As we care for the Wollemi pines we plant today, we'll be able study the way they grow, learning with the other botanic gardens how they flourish outside Australia. The climate crisis means that across all continents many trees like Wollemi pines are facing urgent threats to their survival. We know that 34 per cent of conifers are now endangered and our ongoing work to research, propagate and save tree species is more vital than ever."
James Wong said:
"Since I first heard the story about the incredible rediscovery of the Wollemi pines, these trees have captured my imagination. Knowing they grew in the landscape of the dinosaurs 200 million years ago takes us back through time in an extraordinary way. It also brings us closer to the fragility of important species like these and how vital it is to find solutions to the threats they now face from climate change. I'm excited that through this project these majestic conifers, one of the most botanically fascinating trees on earth, are set to continue not just surviving but thriving into the future."
Denise Ora, Botanic Gardens of Sydney Chief Executive, said:
"Botanic Gardens of Sydney is dedicated to advancing fundamental knowledge of flora and driving effective conservation solutions to ensure the survival of plants, and all life that depends on them. Since the remarkable discovery of the Wollemi Pine almost 30 years ago, the world fell in love with this curious conifer, and we have been dedicated to safeguarding this rare species from extinction.

"Over the last three decades, our scientists and conservation horticulturists have assembled a population of Wollemi Pines in our living collection and seedbank, which represents the full range of its genetic diversity in the wild. Genetically diverse plantings aim to maximise health, longevity, and adaptive resilience to climate change and are crucial for the long-term success of ex-situ and restoration projects.   

"Having genetically diverse Wollemi Pines growing in botanic gardens around the world is a great example of how collaborative international conservation efforts will help provide a vital insurance policy against the extinction of this iconic tree in the wild."
            Paul Smith, Botanic Gardens Conservation International Secretary General said:
"Protecting and learning more about the world's threatened tree species is a global undertaking. As keystone species, at the centre of the web of life that supports humanity and millions of other species, we cannot afford to allow the extinction of any of the world's 60,000 tree species. I'm delighted that Bedgebury National Pinetum is at the forefront of this vital work."
To help protect the biodiversity of wild trees, Forestry England Bedgebury National Pinetum grows more than 2,000 tree and shrub seedlings every year. Some are planted into the living collection, and others distributed to other botanic gardens and safe sites across the UK and Europe. As well as offering visitors beautiful, awe-inspiring trees to walk amongst and enjoy, many of Bedgebury's species are a 'living gene bank' of trees. They provide vital seeds, genetic material and research opportunities and help provide resilient future forest trees, well adapted to changing climate conditions and pests and diseases.
As well as collecting tree seed from conifers growing at Bedgebury, the expert team also collects seeds from endangered species from all over the world. They use some of these seeds to grow new trees and give others to the Millennium Seed Bank. Coordinated by Royal Botanic Gardens, Kew, this is a collection of over 2.4 billion seeds from around the world which acts a bank to conserve plant species for the future.
Notes to Editor
Images and video footage from Forestry England are available here. Please credit Forestry England/Crown copyright. Images and footage from Botanic Gardens of Sydney are available here. Please credit Botanic Gardens of Sydney.

Forestry England manages and cares for the nation's 1,500 woods and forests, with over 291 million visits per year (2022-2023). As England's largest land manager, we shape landscapes and enhance forests for people to enjoy, wildlife to flourish and businesses to grow. We are continuing the work we have already started to make the nation's forests resilient to climate change and by 2026 we will:   
create at least 6,000 more hectares where we integrate wilding activities in our productive forests. 

increase the diversity of visitors to the nation's forests and have one million hours of high-quality volunteer time given to the nation's forests 

plant at least 2,000 hectares of new, high quality, predominantly broadleaf woodlands 
For more information visit forestryengland.uk. Forestry England is an agency of the Forestry Commission.
Bedgebury National Pinetum and Forest is cared for by Forestry England. Bedgebury National Pinetum is home to the National Conifer Collection and is recognised as one of the most significant collections of conifers on one site anywhere in the world. There are approximately 12,000 trees, including threatened and historically important specimens. The mix of conifers and broadleaved specimens contained in 141 hectares of rolling Wealden countryside is awe-inspiring in its size and grandeur. Amongst these trees, you will find the planet's largest living organism - the giant redwood or Wellingtonia (Sequoiadendron giganteum), and the tallest - the coast redwood (Sequoia sempervirens). Bedgebury's team travel worldwide to collect seeds from rare species natural habitats for propagation and conservation. For more information visit forestryengland.uk/bedgebury

Botanic Gardens of Sydney is a purpose-driven organisation founded on a passion for botanical science and horticulture, connecting people to nature, and rich cultural heritage. Our key pillars are:
Royal Botanic Garden Sydney: One of Australia's most-visited international tourist attractions and Australia's oldest scientific institution.
Australian Botanic Garden Mount Annan: 416 hectares of Australian flora in South West Sydney and the flagship campus of the Australian Institute of Botanical Science.
Blue Mountains Botanic Garden Mount Tomah: Australia's highest cool-climate botanic garden within the Blue Mountains World Heritage Area.
The Domain Sydney: Sydney's leading outdoor live entertainment and activation precinct.
Australian Institute of Botanical Science: Australia's premier botanical research institute encompassing the education, science, conservation and collections of the Botanic Gardens. 
Botanic Gardens of Sydney aims to inspire people to discover the power of plants and the inherent value they provide to our everyday lives by improving the quality of people's lives through joyous connection at its three world-leading botanic gardens and The Domain Sydney. 
The Gardens' vital role in botanical science is also recognised through ongoing and dedicated research and education programs under the Australian Institute of Botanical Science, which reinforces the organisation's purpose of providing solutions to critical environmental challenges facing all life on Earth. We recognise that our understanding of plants and their environment is informed by thousands of years of knowledge generated by First Nations peoples in plant taxonomy, ecology and ecosystem engineering. We believe in harnessing both First Nations and scientific perspectives in order to sustainably manage the landscapes of Australia.
Botanic Gardens Conservation International (BGCI) is a membership organisation, representing botanic gardens in more than 100 countries around the world. It is an independent UK charity, established in 1987 to link botanic gardens of the world in a global network working on plant conservation. We aim to support and empower our members, and the wider conservation community, so that our knowledge and expertise can be applied to reversing the threat of extinction facing plants.
Our vision is a world in which plant diversity is valued, secure, and supports all life. Our mission is: to mobilise botanic gardens and engage partners in securing plant diversity for the wellbeing of people and the planet. The BGCI network of botanic gardens includes globally significant living plant collections, covering approximately a third of known plant diversity; world class seed banks, glass houses and tissue culture infrastructure, and technical knowledge networks covering all aspects of plant conservation policy, practice, and education.
BGCI is in a prime position to promote an efficient, cost-effective, and rational approach to plant conservation in botanic gardens. As outlined in BGCI's Strategic Framework (2021-2025), we achieve this by focusing on 5 key areas:
1.         Saving plants

2.         Inspiring and leading people

3.         Sharing knowledge and resources

4.         Addressing global challenges through public engagement and education

5.         Ensuring an effective and resilient BGCI.
You can learn more about our work by visiting our website: www.bgci.org
In addition to Forestry England Bedgebury, 28 botanic gardens in the UK and Europe have received and will plant six Wollemi pines as part of the metacollection. Five botanic gardens in Australia and one in North America will also plant trees in this first phase of the metacollection.
UK and Europe
The Yorkshire Arboretum;
University of Oxford Botanic Garden and Arboretum
RHS Garden Wisley;
Forestry England Westonbirt, the National Arboretum;
Royal Botanic Gardens Kew Wakehurst Place
Royal Botanic Gardens, Kew;
Windsor Great Park;
RHS Rosemoor;
Sir Harold Hillier Gardens;
Royal Botanic Gardens, Edinburgh (and Logan), Scotland;
National Botanic Garden of Wales;
The National Trust – Bodnant Garden, Wales;       
Plantentuin Universiteit Gent, Belgium;
Jardin des Plantes de Paris et Arboretum de Chevreloup, France;
Botanischer Garten und Botanisches Museum Berlin, Germany;
JFK Memorial Park and Arboretum, Ireland;
National Botanic Gardens, Kilmacurragh, Ireland;
Hanbury Botanic Garden, Italy;
Arboretum of Arco - Former Archduke Park, Italy;
Orto Botanico di Napoli, Italy;
Bergen Botanical Garden, Norway;
Parques de Sintra, Portugal;
University Botanic Gardens Ljubljana, Slovenia;
Arboretum-Pinetum Lucas Augusti, Spain;
Gothenburg Botanical Garden, Sweden;
Conservatoire et Jardin botaniques de la Ville de Genève, Switzerland;
Utrecht University Botanic Gardens, The Netherlands;
Pinetum Blijdenstein, The Netherlands;
Australia
Australian National Botanic Garden
Botanic Gardens & State Herbarium
Inala Jurassic Garden
Royal Botanic Gardens Victoria
Royal Tasmanian Botanical Gardens
North America
Atlanta Botanical Garden      
Wollemi pine (Wollemia nobilis), a coniferous tree in the family Araucariaceae, was discovered in 1994 in a temperate rainforest wilderness area of the Wollemi National Park, a about 150 kilometres to the north-west of Sydney, Australia. Fewer than 100 wild trees are left growing in the wild and their location is kept a secret to prevent the spread of pests and diseases. The species is classified as critically endangered on the IUCN's Red List and has been a signature conservation project for the Botanic Gardens of Sydney for almost three decades. The trees can grow to a height of 42 metres in their natural habitat and they have light-green, needle-like leaves which darken with age. Its bark has a rough texture which resembles bubbling chocolate and is unique to the species. Male and female cones appear on the same tree and produce thin, winged seeds. They also use a survival trick known as 'self-coppicing' which allows them to spontaneously sprout multiple trunks from the base. This is to protect the tree in case a trunk gets damaged.
Media Contact: Naomi Fuller, Media Relations Officer | media@forestryengland.uk