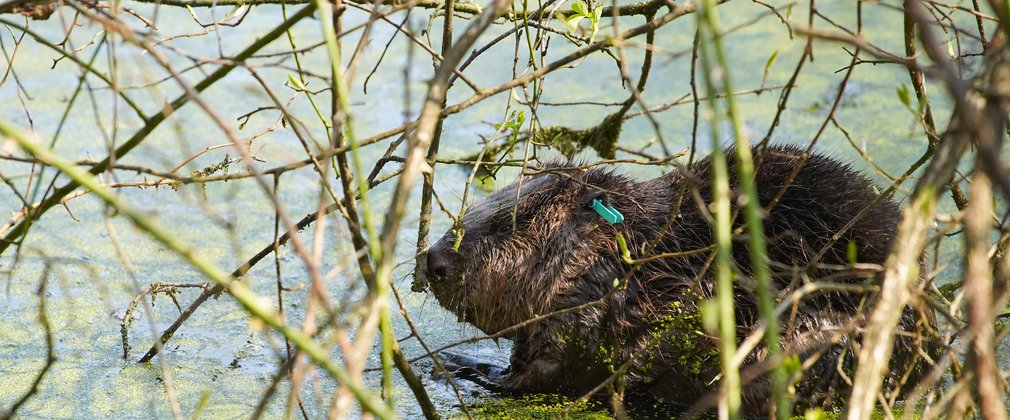 Don't forget to write! Yorkshire beaver moves to a new home down south
A three-year-old female Forestry England beaver has left her first home in Cropton Forest, North Yorkshire, for a new home in the south of England. The juvenile has been paired with a Scottish male in the hope that they will successfully breed and establish a new colony. She has gone to an enclosure at Sculthorpe Moor Nature Reserve in Norfolk, marking a significant milestone in the five-year Forestry England trial which began in 2019 to assess the impact of beavers' activity on flood management, biodiversity and ecosystems in Cropton Forest.
Beavers naturally stay with their parents for at least two years, after which they will either stay with the family living as an extended family group or disperse and look for their own territory. So, the three-year old, born to the original Cropton pair released in 2019, was ready to pair and breed with a mate in a new location.
Forestry England worked with partners including Beaver Trust on the careful logistical planning needed to move the female to her new home and the health checks needed before she left North Yorkshire.
 Eight beavers remain in the 10-hectare enclosure in Cropton Forest where the original adult pair are thriving alongside their remaining six offspring. Kits have been born every year since they first arrived, and Forestry England is hoping for more to be born this summer.
The beavers' ecosystem engineering has created significant improvements to the biodiversity in the forest, with many species increasing in number, including frogs, toads, otters and kingfishers. Since the original adult pair were released and began breeding, the beavers have built a large dam over two metres tall and almost 100 metres wide, which has significantly raised water levels upstream, enabling them to burrow into the banks and create an underwater entrance to their riverbank lodge. Data suggests the risk of flooding downstream has been reduced with heavy rainfall moving through the site much more slowly.
Cath Bashforth, Forestry England ecologist, said:
"It was a proud moment seeing the first Cropton beaver move on and start her own territory many miles away from where she was born, and though I do admit to a pang of sadness when she left, it's a real sign of success for this enclosed reintroduction trial.

"It will be fascinating to see how she puts the dam building skills she's learnt so well from her parents into practice at her new home, helping to create in Norfolk some of the incredible biodiversity benefits we're experiencing here. The numbers and types of wildlife species we're now seeing in such a short space of time is amazing, from the blue flash of kingfishers, the still silhouette of a hunting heron over the water and the wonderful sight of the dusk flight of the noctule bats now using bat boxes put up for them 30 years ago.

"The project is only possible through the partnerships we have with universities, volunteers and other organisations including Beaver Trust who worked hard to find our beaver her new home. We're grateful to all of them for helping make this reintroduction such a success."
Forestry England is working with researchers from the universities of Leeds, Hull, Teesside and Exeter and more than 40 volunteers to monitor the wildlife and ecosystem impacts of the trial. Monitoring is giving detailed data on the water quality and flow rates in the wetland area upstream and downstream from the beavers' dams, and aerial imaging is being used track changes to the site which the beavers have created. Camera-trap video is building a clear picture of the beavers' behaviour, and dedicated volunteers are doing regular on the ground biological monitoring, putting in more than 1,000 hours to the trial so far.
Forestry England will keep monitoring the Cropton Forest beavers over the remaining two years of the trial, assessing the impact they continue to have on biodiversity and flood management. Other juveniles may be relocated if the right homes are found for them.
Notes to Editor
Images of the Cropton Forest beavers, their dams and aerial views of the site, are available here. Video is available here. Please credit Forestry England/Crown copyright.

Forestry England manages and cares for the nation's 1,500 woods and forests, with over 296 million visits per year. As England's largest land manager, we shape landscapes and enhance forests for people to enjoy, wildlife to flourish and businesses to grow. We are continuing the work we have already started to make the nation's forests resilient to climate change and by 2026 we will:   
create at least 6,000 more hectares where we integrate wilding activities in our productive forests. 

increase the diversity of visitors to the nation's forests and have one million hours of high-quality volunteer time given to the nation's forests 

plant at least 2,000 hectares of new, high quality, predominantly broadleaf woodlands 
For more information visit forestryengland.uk. Forestry England is an agency of the Forestry Commission.
Several species have been recorded in Cropton Forest since the beavers arrived including noctule bats, which though present before, are now using bat boxes for the first time. Daubenton's bats have also been seen hunting for insects over the pond created by the beavers' dams. Populations of frogs, toads, golden-ringed dragonflies and azure and large red damselflies have also increased since the beavers arrived, as well as otters and woodland and wetland birds including grey wagtails, kingfishers and herons.

The Eurasian Beaver is a large semi-aquatic native mammal that was once widespread throughout Britain. They were hunted to extinction by the beginning of the 16th Century for their meat, fur and scent glands. Beavers are a 'keystone species' - playing an important role in wetland ecology by creating ecosystems that provide habitats for many other plant, insect and mammal species. Few other animals, aside from humans, have the ability to so drastically modify and shape their surrounding environment. For this reason, beavers are often referred to as "ecosystem engineers".

Funding for the Yorkshire project was secured in part by grants from Forest Holidays, North York Moors National Park, and North Yorkshire County Council with support from Naturespy, Flamingo Land Zoo, The Environment Agency, Scottish Natural Heritage and the Derwent Catchment Partnership.


 
Media Contact: Naomi Fuller e: 

naomi.fuller@forestryengland.uk

 t: 07825 255618