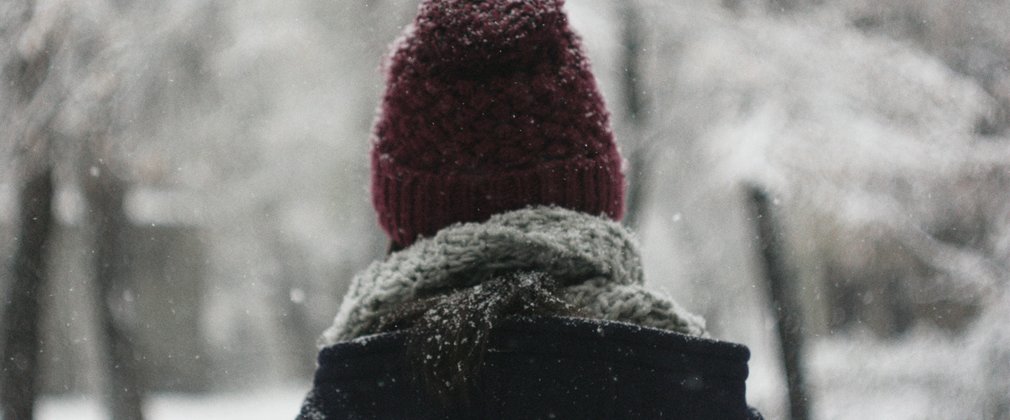 Expert advice for a happier, healthier Christmas  
Latest research has shown the important role that trees, woodlands and wider nature can play in supporting and protecting people's wellbeing under the very difficult circumstances of a global pandemic. The shorter days and colder weather around Christmas can make it hard to motivate ourselves to get outside and this can leave us feeling disconnected from each other and the world around us.
That's why Forestry England's Wellbeing Project Manager, Ellen Devine has put together three ways you can stay connected to nature and people this winter. Based on neuroscience, advice from an expert psychiatrist, and guidance from Mind, here are Ellen's three tips are for a kinder, more connected Christmas.
Be mindful in your movement
Although it may be tempting to retreat indoors over the winter months, connecting with nature is key to looking after our mental and physical health. Studies show that visiting forests can provide a wealth of social, mental and physical health benefits, including stimulating the mind, boosting the immune system, improving cognitive function and mood, and reducing the possibility of poor mental health.
Ellen says:
"From a forest bathed in mist to the crisp frost of a winter's morning, even at this time of year the forest is full of magical moments. While it can be tempting to retreat when the days are shorter, it's so important to keep going outside and keep exploring. Even a short visit to the woods can work wonders for how we feel."
"It's easy to be mindful as you move around every day, you don't even need to break a sweat. The great news is that studies show forests make physical activity feel easier and more enjoyable compared to getting active indoors."
Be Still
The run up to Christmas can be both joyous and stressful explains Ellen.
"The Christmas hype, especially after a difficult year, can feel overwhelming. But nature tells us that the winter months are a time to slow down - during winter trees go into dormancy which is similar to hibernation – and we can take inspiration from, and comfort in, the peaceful atmosphere of the forest in winter."
Dr Alan Kellas, a psychiatrist interested in nature-based approaches to supporting people's mental health has said that noticing the way trees grow and mature and change through the seasons, can actually help slow our ruminating thoughts and help us see our place in the wider web of life.
One simple method of being calm and quiet that we can all try is Forest Bathing says Ellen.
"This Japanese practice is a process of relaxation; known in Japan as shinrin yoku. It's a simple method of being calm and quiet amongst the trees, observing the nature around you whilst breathing deeply. It can help both adults and children de-stress and boost health and wellbeing in a natural way."

"It can be part of any woodland walk or even try it in experienced your home, garden or local park."
Be Kind
Research by Mind, the mental health charity, has shown that by doing something kind once a week over a six-week period can boost your wellbeing.
Neuroscience suggests that giving activates the 'reward' area of our brains which means that we feel good by making others feel good!
There are lots of little acts of kindness we can do to care for ourselves and each other. Of course, remember to maintain a social distance when you do!
Ellen suggests:
•Smile at or say hello to someone as you pass them on your woodland walk – you might be the first person to smile at them that day and that small act of kindness could make a big difference to their wellbeing.
•Take a photo of something beautiful that captures your attention and send it to a friend or loved one to brighten up their day.
•Treat your loved ones to a year of memories in the forest by gifting them membership to their chosen forest. All the money made through membership is reinvested into caring for the nation's forests, so it's a great way to be part of growing, shaping and caring for forests for the benefit and enjoyment of everyone.
The nation's forests, car parks and essential facilities are open to you for outdoor recreation and exercise. We should all be trying to reduce how much and how far we travel and spending time or exercising outdoors should be done locally. Make sure you plan-ahead and follow the latest national restrictions for travel, outdoor spaces, and meeting people from outside your household.
Notes to editor
Images available here. Please credit Forestry England/Crown copyright
Forestry England manages and cares for the nation's 1,500 woods and forests, with over 235 million visits per year. As England's largest land manager, we shape landscapes and are enhancing forests for people to enjoy, wildlife to flourish and businesses to grow. For more information visit forestryengland.uk. Forestry England is an agency of the Forestry Commission.
Media Contact:
Rebecca Ulewicz
Media Relations Officer
e: Rebecca.ulewicz@forestryengland.uk.com
t: 07771971813