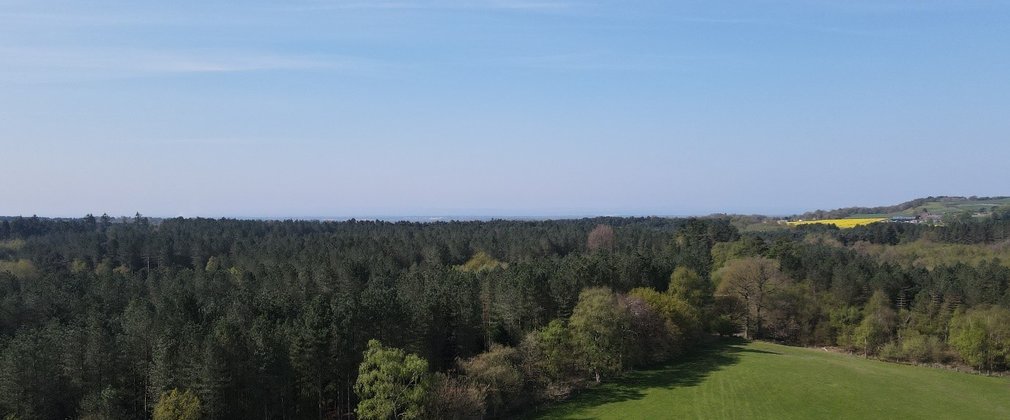 Forestry England to create new woodland to expand Delamere Forest
Forestry England is creating a new 40-hectare woodland which will join on to Delamere Forest in Cheshire and provide more space for people to enjoy, improved habitat for wildlife and a sustainable supply of home-grown timber. Hondslough Wood at the northern edge of Delamere Forest is currently farmland and Forestry England is buying the land from Cheshire West and Chester Council to create a thriving woodland which will be planted with mixed conifer and broadleaf trees, specially selected to be resilient to future climate conditions.
The woodland will be managed as part of Delamere Forest, which covers 753 hectares and welcomes around 750,000 visitors each year to enjoy the walking and cycling trails and other recreation opportunities. The forest is home to a variety of wildlife including white-faced darter dragonflies, tawny owls, common lizards and long eared and pipistrelle bats. It also produces around 6,000 cubic metres of sustainably grown timber each year, carefully managed alongside the recreation opportunities and biodiversity activities. The new area of woodland will have public access to enable visitors to Delamere Forest to explore a quieter forest landscape.
Paddy Harrop, Forest Management Director, said:
"This new area of woodland for Delamere Forest is going to be a wonderful forest landscape for visitors to enjoy in every season. And creating this woodland next to established forest also means we'll be expanding existing wildlife habitats to provide greater benefits for biodiversity.

"We're now deciding the right mix of trees to plant here to support wildlife and flourish in the decades ahead. Our design will incorporate some areas of open space and shrubs so that we have a rich mosaic of different habitats supporting a range of wildlife including birds, insects and amphibians. I'm delighted that we're able to move ahead quickly with creating this new woodland and will be planting the trees this coming autumn and winter."
Councillor Louise Gittins, Leader of Cheshire West and Chester Council, said:
"The Council is committed to tackling climate change, including the creation of more woodland across the borough. Hondslough Farm will be in excellent hands with Forestry England and this land will provide additional areas to explore and enjoyment for the thousands of visitors to Delamere Forest.

"I'd encourage as many people as possible to look at the plans that Forestry England are sharing and I'm sure they will agree that this will be a very welcome addition to the already magnificent Delamere Forest."
One area of Hondslough Wood will be planted as a seed stand, an area specially managed to grow trees and collect their seeds, which will supply Forestry England's nursery based close to Delamere Forest at Lobslack. The nursery grows around seven million trees each year to plant in the nation's forests, either to replant areas where trees have been harvested for timber, or to create new areas of woodland. The new seed stand at Delamere will support Forestry England's work ensuring we have a home-grown and diverse supply of tree seeds for future forests and woodlands to flourish.
The new woodland is one of many Forestry England is planting by 2026 which together will cover more than 2,000 hectares and support Government targets to increase tree planting across the UK. It is the second 'Coronation Wood' Forestry England is planting to celebrate the Coronation of King Charles III; the first, Clipsham Wood, is being planted at a site on the border between Rutland and Leicestershire. Forestry England is creating this and other Coronation Woods through the Government's Nature for Climate Fund.
Forestry England corporate partner AstraZeneca is funding the tree planting for the new woodland site as part of their AZ Forest global reforestation and biodiversity programme. AstraZeneca are working with Forestry England to fund the planting and care of over one million trees across England by the end of 2025.
People will have a chance to give their views and feedback on the woodland design through a public consultation event taking place on Tuesday 10th October at Delamere visitor centre from 4pm to 7pm. There is also an opportunity to submit views online. The online consultation will close on 22nd October.
Notes to editor
Forestry England manages and cares for the nation's 1,500 woods and forests, with over 363 million visits in 2021/22. As England's largest land manager, we shape landscapes and enhance forests for people to enjoy, wildlife to flourish and businesses to grow. We are continuing the work we have already started to make the nation's forests resilient to climate change and by 2026 we will:   
create at least 6,000 more hectares where we integrate wilding activities in our productive forests. 

increase the diversity of visitors to the nation's forests and have one million hours of high-quality volunteer time given to the nation's forests. 

plant at least 2,000 hectares of new, high quality, predominantly broadleaf woodlands 
For more information visit forestryengland.uk. Forestry England is an agency of the Forestry Commission.
Forestry England is creating this and other Coronation Woods through the Government's Nature for Climate Fund. The Government has committed to increasing tree planting rates across the UK to 30,000 hectares per year by the end of this Parliament and intend to spend over £500 million of the £640 million Nature for Climate Fund on trees and woodlands in England between 2020 and 2025 to support this ambition.

AZ Forest is AstraZeneca's global initiative to plant and maintain 200 million trees by 2030 across six continents, in collaboration with expert delivery partners and local communities. AZ Forest projects support climate action and human health, delivering socio-economic co-benefits to local communities and are part of AstraZeneca's science-based net zero strategy, Ambition Zero Carbon.
Creation of an accessible woodland in this area is part of the continued establishment of The Mersey Forest, a series of woodlands and green spaces stretching across Merseyside and Cheshire that are helping to transform the landscape to improve peoples' lives and support the economy.  
Media Contact
Naomi Fuller, Media Relations Officer | media@forestryengland.uk  |T: 07825 255618|