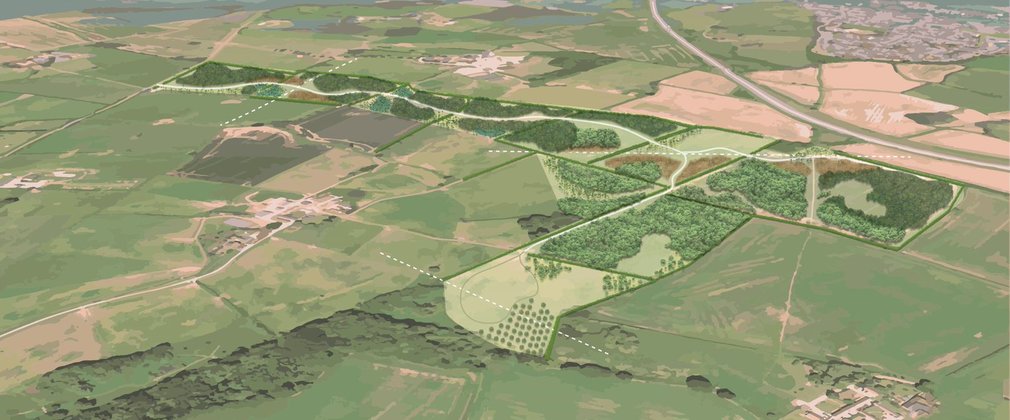 Forestry England partners with Buckinghamshire Council to plant new woodland
Plans to plant a brand-new woodland in Wing have been given the green light in a joint project between Forestry England and Buckinghamshire Council. The new Wing Wood will see 132,000 trees planted on land owned by Buckinghamshire Council, creating an inspiring green space for local people, a valuable habitat for wildlife and a sustainable source of timber.
The decision to create the new woodland on the 51-hectare site follows a public consultation last year and local and national organisations were also involved in discussions over the woodland plan. Wing Wood will include a mix of tree species suited to the locality, five new wildlife ponds and a community orchard as well as accessible paths for walking and cycling. As part of the woodland design, Forestry England hope to link the new Wing Wood with Long Spinney Wood, creating clear paths and an easy connection between the two areas.
Forestry England will begin planting this year and aim to get most of the trees in the ground before the end of April with the rest planted in the autumn and winter. The 132,000 trees will form part of the council's pledge to plant 543,000 trees, one for every resident in Buckinghamshire by 2031, as part of its Climate Change Strategy.
Gareth Williams, Buckinghamshire Council's Cabinet Member for Climate Change and Environment, said:
"We are really pleased to be able to join forces with Forestry England to develop this new countryside space in Wing. Not only will it provide an additional green space for people to enjoy, but it will also create a welcome new haven for wildlife, enhance and enrich the existing countryside and help us to work towards our net zero carbon goal for the future."
Bethany Cambridge, Head of Woodland Creation at Forestry England, commented:
"Expanding the nation's forests is an important part of Forestry England's work and is supported by the Government's Nature for Climate Fund. We are delighted to be partnering with Buckinghamshire Council to grow an inspiring woodland for local people to explore and enjoy.

"As it grows and matures, Wing Wood will bring health and wellbeing opportunities to local people and benefits to the wider landscape by providing thriving wildlife habitats to boost biodiversity, improving air quality and helping prevent soil erosion and flooding."
Forestry England will hold volunteer planting days in the autumn for local people to help plant the community orchard trees and learn more about the woodland design and plans. News and updates on Wing Wood will be shared at www.forestryengland.uk/wing-wood-community-woodland.
Wing Wood is the second woodland Forestry England is creating through their Forestry England Woodland Partnership which offers a guaranteed rental income to landowners in return for a long-term lease. York Community Woodland was the first site under the scheme and planting is well underway to create the 78-hectare woodland west of York. 
Notes to Editor
Buckinghamshire Council is a local government authority in the county of Buckinghamshire, England. It provides a range of services to the residents of the area, including waste management, planning and development, road maintenance, education and social care. The council serves the needs of over 500,000 residents and is responsible for the well-being and development of the local communities within its jurisdiction.

Forestry England manages and cares for the nation's 1,500 woods and forests, with over 363 million visits per year. As England's largest land manager, we shape
landscapes and enhance forests for people to enjoy, wildlife to flourish and businesses to grow. We are continuing the work we have already started to make the nation's forests resilient to climate change and by 2026 we will:   
create at least 6,000 more hectares where we integrate wilding activities in our productive forests 

increase the diversity of visitors to the nation's forests and have one million hours of high-quality volunteer time given to the nation's forests 

plant at least 2,000 hectares of new, high quality, predominantly broadleaf woodlands
For more information visit forestryengland.uk. Forestry England is an agency of the Forestry Commission.
Forestry England is creating Wing Wood through the Government's Nature for Climate Fund. The Government has committed to increasing tree planting rates across the UK to 30,000 hectares per year by the end of this Parliament and intend to spend over £500 million of the £640 million Nature for Climate Fund on trees and woodlands in England between 2020 and 2025 to support this ambition.
Media contacts:
Buckinghamshire Council: Craig Todd, News & Media Officer | communications@buckinghamshre.gov.uk
Forestry England: Naomi Fuller, Media Relations Officer | media@forestryengland.uk