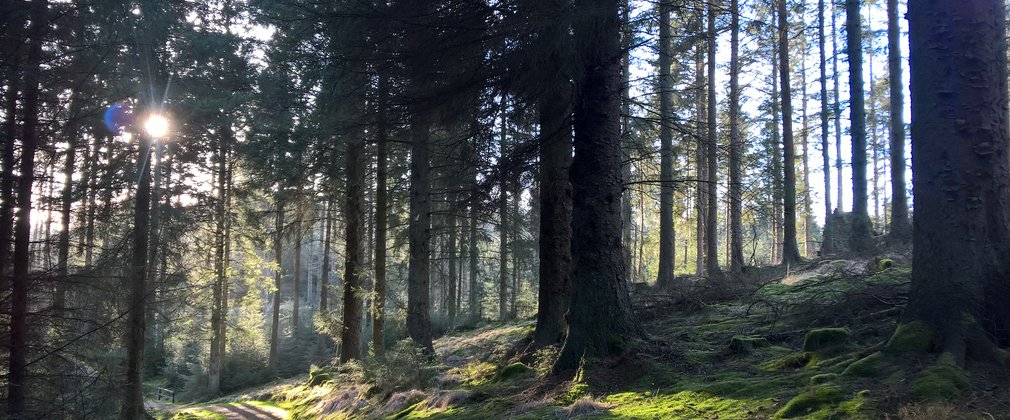 Forestry England partners with Forest Holidays to create a step-change for nature recovery in Kielder Forest
Forestry England and Forest Holidays have joined forces to improve biodiversity in Kielder Forest in Northumberland, paving the way for new conservation work to restore natural processes so that wildlife can thrive and expand. The five-year partnership – Forestry England's founding biodiversity corporate partnership - will see Forest Holidays contribute £250,000 of funding for a nature recovery project in Kielder Forest.
It's important to track how the biodiversity will change over time so the partnership has already taken some samples of eDNA to analyse. Using innovative environmental DNA (eDNA) metabarcoding technology will give a vital baseline dataset on the wildlife already in the forest ecosystem.
The results of the Forest Holidays funded eDNA sampling will inform Forestry England's decisions on which activities will best improve biodiversity at Kielder.
Kevin May, Forestry England Director, said:
"We are delighted to have Forest Holidays as our first major biodiversity corporate partner, with their support over the next five years helping us unlock some incredibly useful information about the range of wildlife species already present in Kielder Forest. This will in turn guide our work to increase the range and number of species and create a rich and diverse, fully functioning ecosystem across this vast landscape in support of nature recovery.

"The significant investment Forest Holidays are making in our science-led approach to improve biodiversity means we can be truly innovative in creating a step change for this important landscape. The nature recovery interventions we make must be tailored to each forest and the precise information the eDNA analysis will give us, will help us get this right for Kielder Forest and ensure it remains a science led, wildlife-rich example of modern forestry into the future."
Andrew Brook, Forest Holidays Director, said:
"Our business is intrinsically linked to Forestry England's conservation work through our long-standing partnership of 50 years. As their trusted partner, we are stewards of 244.5 Hectares of forest which we carefully manage to provide wildlife rich habitats that benefit our forests, customers, and the planet.

Our two organisations share a sustainable vision for the nation's forests and our work extends beyond our cabin locations. Our support gives Forestry England the ability to deliver landscape-scale nature recovery projects, explore opportunities to revolutionise the way we think about forest ecosystems and create a step change for wildlife in this country. We're excited to embark on this journey and watch the landscape evolve through this project."
Forest Holidays – now a certified B-Corp company with the highest scoring Land and Wildlife Impact Business Model score in the UK - was founded by the Forestry Commission in the 1970s to meet the growing demand for sensitively placed accommodation in forest locations. The long-standing partnership between Forestry England and Forest Holidays provides a sustainable income stream to help manage the nation's forests for people to enjoy and explore, wildlife to thrive and to enable a sustainable source of timber for the future.
Notes to editor
Images are available here. Please credit Forestry England/Crown copyright.

Forestry England manages and cares for the nation's 1,500 woods and forests, with over 363 million visits per year. As England's largest land manager, we shape landscapes and enhance forests for people to enjoy, wildlife to flourish and businesses to grow. We are continuing the work we have already started to make the nation's forests resilient to climate change and by 2026 we will:   
create at least 6,000 more hectares where we integrate wilding activities in our productive forests. 

increase the diversity of visitors to the nation's forests and have one million hours of high-quality volunteer time given to the nation's forests. 

plant at least 2,000 hectares of new, high quality, predominantly broadleaf woodlands 
For more information visit forestryengland.uk. Forestry England is an agency of the Forestry Commission.
Forest Holidays offers short breaks in 12 forest locations across the UK, helping people experience and reconnect with nature, each other, and rural communities. 80% of the land Forest Holidays occupies is for conservation; protecting and enhancing habitats to support native species and increase biodiversity.
Forest Holidays long-standing partnership with Forestry England, Natural Resources Wales and Forestry & Land Scotland supports the economic, social and environmental wellbeing of Great Britain's forests, as well as providing a sustainable income stream which helps them to manage forests to the highest standards on behalf of us all.
Kielder Forest is England's largest forest, covering 650 square kilometres, with open space making up a quarter of its landscape, including the largest area of blanket bog in the country. The conservation work funded by Forest Holidays in Kielder Forest supports Forestry England's strategic aims to tackle the biodiversity crisis and help nature recover across large landscapes. Future forest management activities will be underpinned by eDNA analysis to understand how different habitats in Kielder change over time, meaning wildlife species can be measured with new accuracy.

Environmental DNA is a high-tech method of assessing biodiversity in which samples are taken from the environment via water, soil or air and DNA is extracted and sequenced. It allows a vast number of wildlife species to be detected, giving a fuller understanding about woodland and landscape biodiversity and compared to traditional wildlife surveys the results are vast, quick and low-cost. A recent collaboration between Forestry England and Forest Research detected more than 2,000 species of fungi and more than 200 species of invertebrate from just 86 soil samples collected within Forestry England forests in Yorkshire.
Media Contact:
Naomi Fuller, Media Relations Officer | media@forestryengland.uk  |T: 07825 255618|