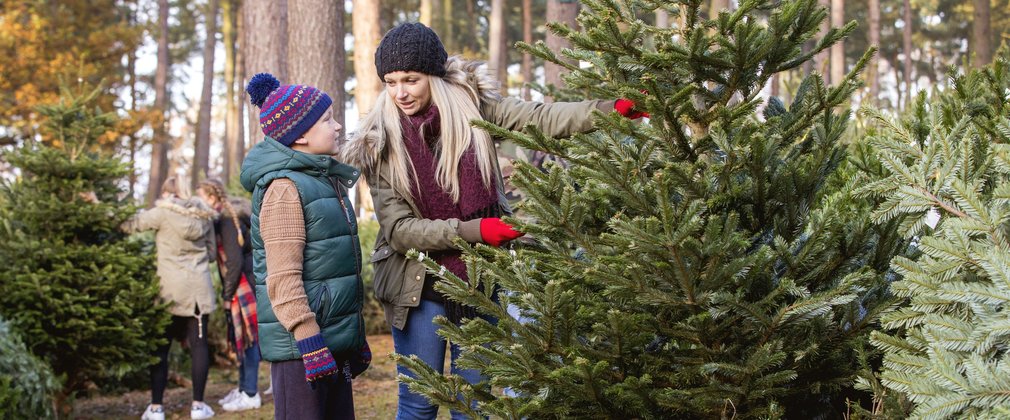 Forestry England's guide to choosing the perfect Christmas tree
Christmas comes but once a year and choosing your Christmas tree is undoubtedly one of the highlights of the festive season. But how do you choose the best Christmas tree for your family and keep it looking good throughout Christmas and into the New Year?
Forestry England's Christmas tree expert Rob Lamb reveals his top tips to picking the perfect Christmas tree and how to look after it.
Choose the best variety for you and your family
For trees that are grown in Britain, Rob recommends three species: Norway spruce, Nordmann fir and Lodgepole pine. 
"Each of these tree species is a bit different in size, shape and scent, so choosing one is really down to personal preference", says Rob.

"If you appreciate the traditional look and smell of Christmas then the Norway spruce is for you. Spruce is a magnificent scent that will make your home smell all Christmassy.

"If you have young children the soft, big needles of the lodgepole pine is a great choice. Though it is a bit less common than other varieties, it's a fantastic tree with lush green needles and a wonderful pine scent.

"And for keeping needles off the carpet, you can't beat the Nordmann fir. It's has soft foliage and an even shape and extra strong branches make it a real joy to decorate."
Once you have decided which tree is your perfect match, the real fun begins. Our British-grown Christmas trees are available across the nation's forests – find your nearest location.
Accessorise
Before leaving the house to pick out your new tree, it's a good idea to pull out your decorations to make sure you have everything you need. At the very least, Rob recommends finding your tree stand:
"There's little more frustrating when buying a Christmas tree than returning home with your tree only to realise you've misplaced your tree stand, or that it's broken. Avoid awkward improvisations or unnecessary trips by doing a quick check that everything is in order before you leave."
Don't have a stand or need a new one? Rob recommends choosing a Christmas tree stand that can keep the tree well-watered:
"Your Christmas tree needs to be kept in water all the time, so finding a base with a good well that you can fill is important."
Location, location, location
Trees don't like fluctuating temperatures or to be too hot, which can cause them to dry out very quickly. Rob's advice: keep it cool.
"Your tree's natural habitat at this time of year is out in the cold air", he says. "Minimise the shock of moving it inside and keep your tree happy by giving it some space away from the radiator."
Rob also recommends checking your tree's water supply every day and make sure the trunk is nicely submerged.
Make it magical
Most importantly, make choosing your tree even more magical by getting it from the heart of the forest.
Rob explains:  
"I love visiting forests during winter. From cold, crisp, frosty mornings to chilly starlit evenings they are a magical place to be and the perfect place to pick your home-grown Christmas tree."
Forestry England is opening Christmas tree sales centres across the country, offering high-quality real Christmas trees from the heart of the forest. All trees are grown in the UK and certified by Grown in Britain, and all Norway spruce trees are certified by both Grown in Britain and the Forest Stewardship Council (FSC).
There will also be a range of events from illuminated trails to stargazing for the whole family to enjoy, offering the perfect location for a Christmassy day out.
To find your nearest sales centre and find more information on events across England visit www.forestryengland.uk/christmas
Notes to Editor
Photos can be downloaded here. Please credit: Forestry England/Crown Copyright
Forestry England manages and cares for the nation's 1,500 woods and forests, with over 230 million visits per year. As England's largest land manager, we shape landscapes and are enhancing forests for people to enjoy, wildlife to flourish and businesses to grow. For more information visit forestryengland.uk. Forestry England is an agency of the Forestry Commission.

Forestry England sells around Grown in Britain and potted Christmas Christmas trees across the country:
Christmas tree sale centres:
Sherwood Forest, Nottinghamshire

Cannock Chase, Staffordshire

Delamere Forest, Cheshire

Dalby Forest, North Yorkshire

Guisborough Forest, North Yorkshire

Hamsterley Forest, Durham

Whinlatter Forest, Cumbria

Rothbury Forest, Northumberland

Bedgebury Pinetum, Kent

Queen Elizabeth Country Park, Hampshire

New Park, Hampshire

Moors Valley Country Park, Dorset

Wyre Forest, Worcestershire
Media Contact:
Hayley Coristine, Media Relations Officer | hayley.coristine@forestryengland.uk 
T: 0300 067 4972