Christmas tree sales have now finished for 2018.
Real Christmas trees for sale near you - sustainably grown in the UK
Christmas tree sales have now finished for 2018. 
Our sustainable, UK-grown Christmas trees are available at a forest near you.
Remember to mark the start of the festive season with your family in our forests when you buy your Christmas tree. Many of our sites will have a full range of activities for the kids, and a chance to enjoy a festive workshop. You may even get to meet Santa in his grotto!
You'll receive a free Christmas tree sapling when you purchase one of our sustainable UK-grown Christmas trees. It's part of our mark to celebrate Christmas sustainably.
What makes our Christmas trees so special?
Buy your real Christmas tree from the experts this year. We provide high quality, sustainably-grown British Christmas trees for the perfect Christmas.
Quality: Our high-quality trees are Grown in Britain certified - be proud of your superior quality tree
Experience: Choose your tree from a beautiful forest to kick off your Christmas celebrations - look out for special events
Expertise: With 100 years of forestry experience, our experts can help you choose the right tree for your home
Altruism: The money raised from your Christmas tree helps us maintain the forests for wildlife, for you, and for future generations
That's why Santa has given our trees his stamp of approval!
Search for Real Christmas trees at a forest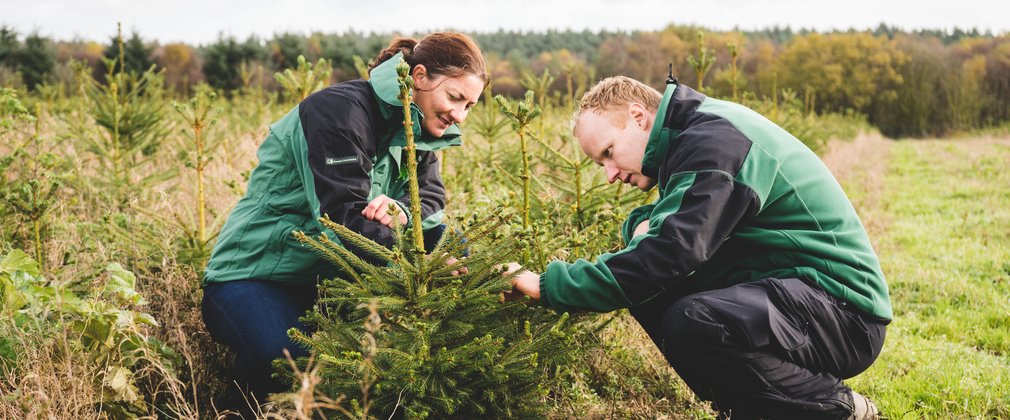 Which Christmas tree is right for you?
Norway spruce, Nordman fir, or lodgepole pine? Take the quiz to help you choose the right Christmas tree, as you mark the start of the festive season.