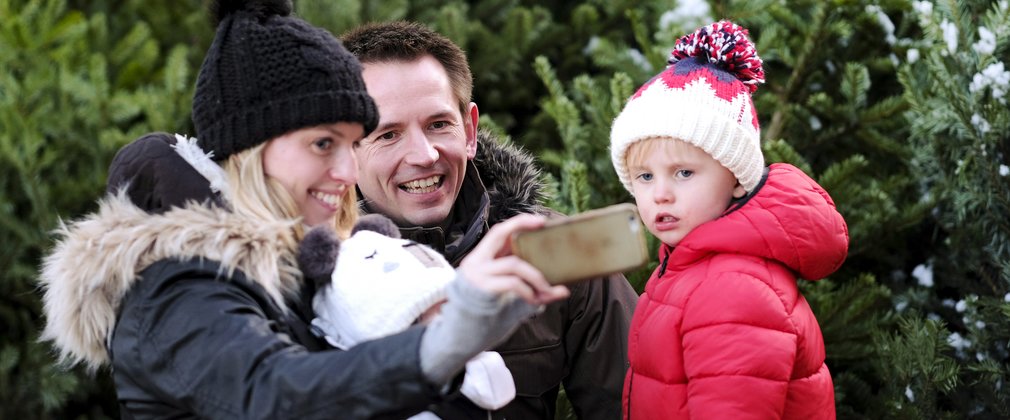 Forestry England's guide to choosing your perfect Christmas tree
Christmas comes but once a year and choosing your Christmas tree is undoubtedly one of the highlights of the festive season. But how do you choose the best Christmas tree for your home and keep it looking good throughout Christmas and into the New Year?
Forestry England's Christmas tree expert Simon Butcher reveals his top tips to picking the perfect Christmas tree and how to look after it.
Choose the best variety for you and your family
For trees that are grown in Britain, Simon recommends three species: Norway spruce, Nordmann fir and Lodgepole pine. 
"Each of these tree species is a bit different in size, shape and scent, so choosing one is really down to personal preference," says Simon.

"If you appreciate the traditional look and smell of Christmas then the Norway spruce is for you. Spruce has a magnificent scent that will make your home smell wonderfully Christmassy.

"If you have young children the soft, big needles of the lodgepole pine make it a great choice. Though it is less common than other varieties, it's a fantastic tree with lush green needles and a wonderful pine scent.

"And for keeping needles off the carpet, you can't beat the Nordmann fir. It's soft foliage and even shape with extra strong branches make it a real joy to decorate."
Once you have decided which tree is your perfect match, the real fun begins. Our home-grown Christmas trees are available in many of the nation's forests – find your nearest location here.
Care for your tree
To keep your real Christmas tree looking and smelling fresh throughout Christmas it is important to look after it.
Simon explains:
"Once you have chosen your real Christmas tree, think about where you are going to put it in your home. Your tree's natural habitat at this time of year is out in the cold so try and minimise the shock of moving it inside and keep your tree happy by giving it some space away from the radiator."
Simon also recommends checking your tree's water supply every day and make sure the trunk is nicely submerged.
"Once you have got it home saw two and a half centimetres or an inch off the trunk. This will rid your tree of any hardened sap and make sure it can absorb lots of water. Water is key to keeping your tree alive throughout the festive season. You'll be surprised just how thirsty they can be, drinking upwards of two or three pints a day!"
Accessorise
For many, unboxing and dusting off Christmas tree decorations marks the start of the holiday season. If you find you need extra decorations to spruce up your spruce, why not get crafty with your family. Forestry England has some great ideas for making the perfect decorations!
Support our forests
We know are climate is in crisis and that trees, woods and forests are vital for the on-going success of our environment and our overall health and wellbeing. Buying your real Christmas tree from Forestry England helps to look after the nation's forests and also boosts your wellbeing with a magical day out. 
Simon says:
"I love visiting forests and particularly during winter. From cold, crisp, frosty mornings to chilly starlit evenings they are a magical place to be."
Forestry England is opening 13 Christmas tree sales centres across the country, offering high-quality real Christmas trees from the heart of the forest. All trees are grown in the UK and certified by Grown in Britain, and all Norway spruce trees are certified by both Grown in Britain and the Forest Stewardship Council® (FSC).
There will also be a range of events from illuminated trails to Gruffalo hunting for the whole family to enjoy, offering the perfect location for a Christmassy day out.
To find your nearest sales centre and find more information on events across England visit www.forestryengland.uk/christmas
Notes to Editor
Photos can be downloaded here. Please credit: Forestry England/Crown Copyright
 

An interview can be arranged with Forestry England's tree expert, Simon Butcher


 

Forestry England manages and cares for the nation's 1,500 woods and forests, with over 296 million visits per year. As England's largest land manager, we shape landscapes and enhance forests for people to enjoy, wildlife to flourish and businesses to grow. We are continuing the work we have already started to make the nation's forests resilient to climate change and by 2026 we will:  
create at least 6,000 more hectares where we integrate wilding activities in our productive forests.

increase the diversity of visitors to the nation's forests and have one million hours of high-quality volunteer time given to the nation's forests

plant at least 2,000 hectares of new, high quality, predominantly broadleaf woodlands

For more information visit forestryengland.uk Forestry England is an agency of the Forestry Commission.
Forestry England sells around Grown in Britain Christmas trees and potted Christmas trees across the country:
Christmas Tree sales centres
Dalby Forest, North Yorkshire

Guisborough Forest, North Yorkshire

Hamsterley Forest, Durham

Whinlatter Forest, Cumbria

Rothbury Forest, Northumberland

Queen Elizabeth Country Park, Hampshire

New Forest, Hampshire

Moors Valley Country Park, Dorset

Westonbirt, the National Arboretum, Gloucestershire

Cardinham Woods, Cornwall

Haldon Forest, Devon

Alice Holt, Surrey

Cannock Chase, Staffordshire
Media Contact:
Rebecca Ulewicz, Media Relations Officer
e: rebecca.ulewicz@forestryengland.uk t: 0300 067 4107