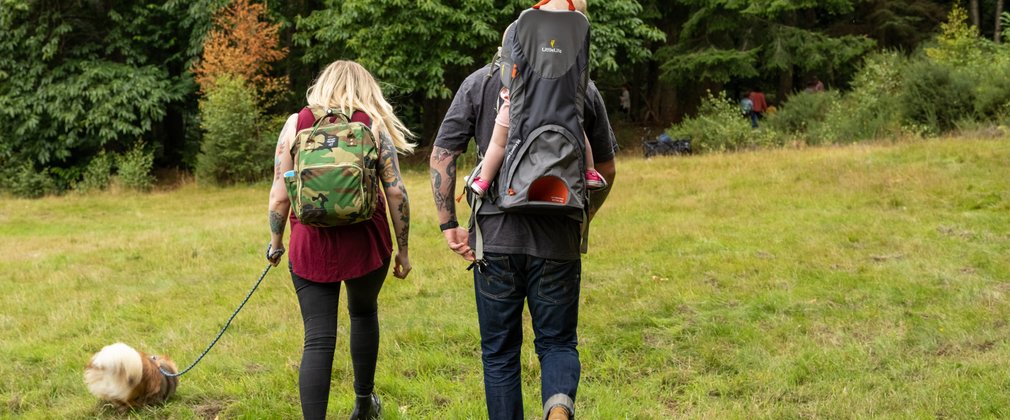 Forestry England's guide to visiting the nation's forests this Easter
As coronavirus (COVID-19) restrictions ease, many people are looking forward to being able to visit the nation's forests again this Easter.
Forestry England is the country's biggest landowner and manages and cares for 1,500 woods and forests. To make sure their staff, volunteers and visitors stay safe, and the local environment and wildlife are looked after, Forestry England is asking everyone to plan their visit and follow coronavirus guidelines.
The nation's forests have seen large number of people visiting throughout the pandemic, and at times have been very busy, leading to some car parks temporarily closing. Forestry England anticipate sites remaining busy as restrictions ease and warmer weather makes an appearance.
While high visitor numbers are helping to support Forestry England's work and the local economy, there are challenges – ranging from some visitors parking thoughtlessly and leaving litter behind, to forgetting to be considerate to staff and each other.
To help everyone to enjoy their visit, and to support staff and local businesses to manage this extra demand, Forestry England has created a guide to visiting their woods and forests this Easter: 
Keep following government coronavirus guidance
If you are considering visiting one of our forests, please continue to follow government guidance when planning your visit, including when planning the size and makeup of your group. 
Plan your visit and make alternative arrangements in case you need to turn around
Some forests have become incredibly busy and car parks will be closed if they are full. Please do not try and park close by – you may block emergency routes or damage the local environment. 
It's a good idea to bring your own wipes, hand sanitiser and a face covering. 
Take your litter home with you or use the onsite bins
This helps protects the forest wildlife and gives staff more time to focus on helping you to have a great visit. 
Be kind, patient and considerate
Staff want to help you enjoy your day out and they are working hard to make all our forests safe and welcoming. Forestry England supports the Institute of Customer Service's campaign for 'service with respect'.
Sorry, but we cannot allow BBQs at this time
This is to help support social distancing.
Follow Forestry England's

dog code
Your dog will love the freedom of the forest, but please keep them under close control; bag, bin and take home their waste, and be mindful that birds are entering nesting season and should not be disturbed. 
Check what's available and what cannot take place right now
Forestry England is working with onsite partners and businesses to re-open facilities and re-start some activities; this will happen within government guidelines and if it can be done safely. You may need to wait a bit longer for some activities to restart – thank you for your patience.
Do you need to visit our most popular forests?
Forestry England manages over 1,500 woods and forests. Some may be less busy than others. Find your local forest on our website.
Have a great time! 
Woods and forests are fantastic places to exercise, relax and heal from life's stresses. Enjoy your visit and help others to enjoy theirs too. 
Our forests are all different. If you are considering visiting, please check what is available onsite before you arrive.
You must stay at home if you have coronavirus symptoms or are self-isolating.
Notes to Editor
Images available here. Please credit Forestry England/ Crown copyright.
Forestry England manages and cares for the nation's 1,500 woods and forests, with over 235 million visits per year. As England's largest land manager, we shape landscapes and are enhancing forests for people to enjoy, wildlife to flourish and businesses to grow. For more information visit forestryengland.uk. Forestry England is an agency of the Forestry Commission.
Media Contact:
Rebecca Ulewicz
Media Relations Officer
t: 07771 971813
e: rebecca.ulewicz@forestryengland.uk