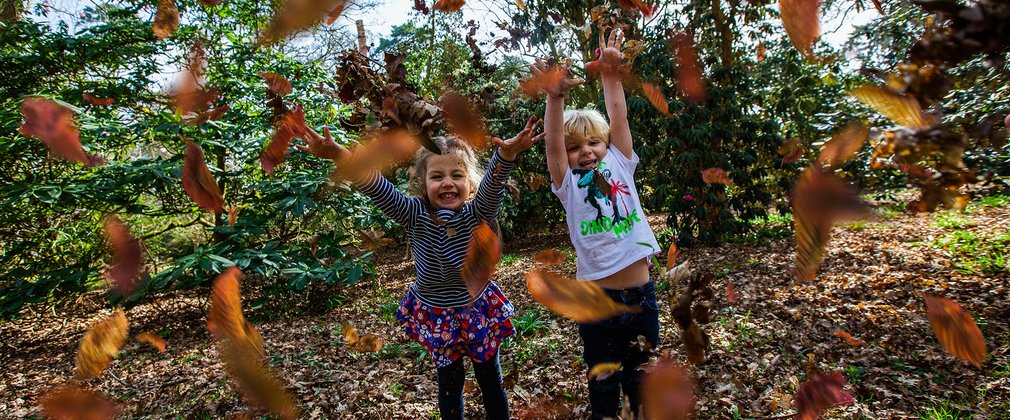 Forestry England's ultimate list of low-cost, fun activities to do this autumn half-term
For getting out and about with the kids, the seasons don't get much better than autumn. From conker collecting to jumping in leaf piles, there are so many brilliant, low-cost autumnal activities for the whole family to enjoy.
So, whether you looking to whizz through the kaleidoscope of leaf colours on your bike, or to fly off on a forest adventure with Julia Donaldson's much-loved character Zog, Forestry England has plenty of activities to keep all ages entertained this half-term. And the best thing is, they won't break the bank with many activities being free!
Gruffalo sculpture trail, various forests
Set off on a memorable day out and venture into the deep dark wood with your family to find the Gruffalo character and his friends from Julia Donaldson's classic story.Each sculpture has been hand-carved and placed in different positions. Can you find them all?
Your little ones will love meeting Mouse, Owl, Fox, Snake and Squirrel as well as the Gruffalo and the Gruffalo's child!
 Zog activity trail, various forests
Fly over to your local forest and enjoy a low-cost family adventure this autumn, where  you'll find an activity trail based on Julia Donaldson's much loved Zog. Grab a Zog trail activity pack for only £4 at the visitor centre before starting the trail and setting off for a fun forest adventure. Children can channel their inner Zog by donning a pair of wings and completing fun challenges to collect golden stars. 
Reconnect with nature on a wellbeing trail, various forests
Autumn is a fantastic time to look, listen and reflect on the things all around you. Did you know that simply taking time to be mindful can be good for children's health and happiness? 
During half-term, spend some quality time away from screens with your family and connect with nature on one of Forestry England's wellbeing trails.
In addition to the wellbeing trails, families can also give forest bathing a go. Simply find a quiet spot where your kids feel safe and relaxed and start practicing the art of forest bathing with Forestry England's downloadable activity sheets.
Terrifying treasure hunt, Dalby Forest, North Yorkshire
Calling all witches and wizards! Dalby Forest is offering a spooky adventure for children this half-term with its terrifying treasure hunt. Children are invited to find the cauldrons hidden in the play area, and collect special ingredients to make the perfect witch's potion.
Whilst there, there are lots of other activities to keep the family entertained. From natural play areas, to safe off-road cycling, there is plenty to keep the whole family busy this half-term.
The Ballad of Birtha, family trail, Westonbirt Arboretum, Gloucestershire
This trail, made just for Westonbirt Arboretum by kids' author and artist Duncan Beedie, is a fun activity for the whole family to enjoy this autumn.
Birtha is the woodland spirit of autumn and she's feeling a bit under the weather.
To help Birtha get back to her colourful self, follow the trail to find her woodland friends,  who are all ready to help her!
Pumpkin carving, Beechenhurst, Forest of Dean, Gloucestershire
Bring your little ones along for this fun pumpkin carving activity, the perfect half-term  activity for kids this Halloween. This is great for kids of all ages to get creative but most of all have fun. Children can even come dressed in their Halloween fancy dress to make the occasion even spookier.
Family cycle trails, various forests
Cycling is an excellent way to experience autumn and can be enjoyed by the whole family. With over 2,500 km of trails to enjoy, Forestry England has got your family cycling adventure covered.
Discover dedicated cycling trails, skills areas and beginner mountain bike trails perfect for starting your children on their cycling journey. So, grab your helmet and head out for a beautiful cycle ride this autumn.
Stomp through leaves, various forests
In autumn deciduous trees lose their leaves, leaving a carpet of red, yellow and orange leaves spread across the forest. On your family walk, try gathering as many fallen leaves as you can, and have a competition to see who can build the tallest pile. Or just take the opportunity to roll, jump and play in them!
Remember to bring a picnic. It might not be as warm as the summer, but autumn can be the perfect time for a picturesque family lunch. Wrap up warm, dust off your picnic blanket and pack all your favourites into your picnic basket, you could even try including something warm, like soup in a flask!
Here is Forestry England's ultimate guide of autumn walks to enjoy.
Go batty at Bedgebury, Bedgebury Pinetum, Kent
Schools out! It's time to go batty at Bedgebury! Did you know Bedgebury National Pinetum is home to at least six different bat species?
Flap your way around the natural play trail this half term with your free bat facts activity sheet. Find out more about our furry flying friends living at Bedgebury Pinetum and around the world.
Can you answer all the quiz questions to unlock the secret spooky word?
Download free autumn activity sheets
Inspired by and featuring characters from Room on the Broom, inside you'll find autumn activities to bring sights, sounds and smells of the forest to life.
Craft 

witchy autumn wands to capture the magic of forests

Explore

 the spectrum of autumn colours and spot them in the woods

Hunt

 for forest treasure on a Halloween scavenger hunt

Create 

forest art, inspired by nature

Listen 

to the sounds of the season, and make an autumn sound map.
Notes to Editor
Images available here. Please credit (Photographer name) Forestry England/Crown copyright
Forestry England manages and cares for the nation's 1,500 woods and forests, with over 291 million visits in 2022/23. As England's largest land manager, we shape landscapes and enhance forests for people to enjoy, wildlife to flourish and businesses to grow. 
We are continuing the work we have already started to make the nation's forests resilient to climate change and by 2026 we will:   
create at least 6,000 more hectares where we integrate wilding activities in our productive forests. 

increase the diversity of visitors to the nation's forests and have one million hours of high-quality volunteer time given to the nation's forests. 

plant at least 2,000 hectares of new, high quality, predominantly broadleaf woodlands 
Media Contact:
Rebecca Ulewicz, Media Relations Officer | media@forestryengland.uk