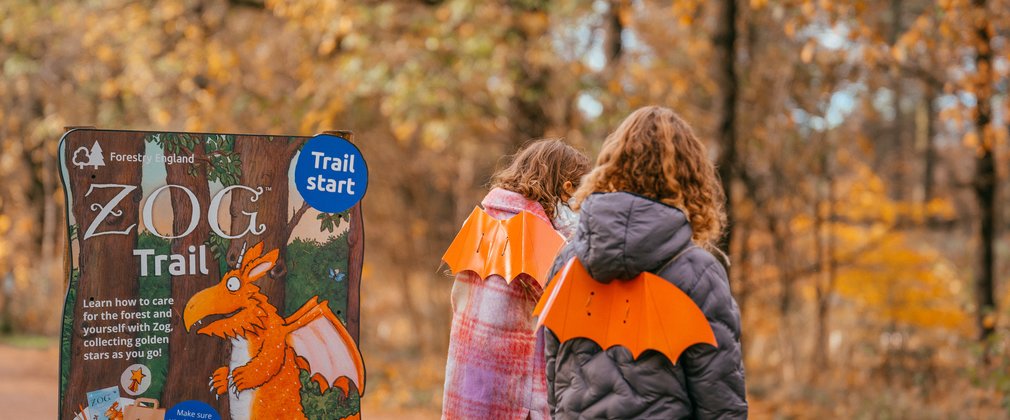 Join Zog on a magical forest adventure
The latest exciting partnership between Forestry England and Magic Light Pictures see's everyone's favourite dragon – based on the eponymous book by Julia Donaldson and Axel Scheffler - returning to a Forestry England forest near you! Launching on 30 January 2023, the new family activity trail and a free interactive app, developed by Arcade, will encourage your little dragons to learn about how they can care for the forest and how the forests can care for them!
Zog is a loveable, if somewhat clumsy dragon at Madam Dragon's school who is always striving to win a golden star. Zog learns lots of essential dragon skills including flying, roaring, and capturing princesses! Forestry England are once again inviting children into the forest to learn essential lessons just like Zog.
Connecting with nature is essential for children's wellbeing and the new interactive family trail and app invites children to play in the nation's forests. Whilst playing, children will find out more about forests and have the chance to interact with Zog and some of his fellow dragon students!
Grab a Zog trail activity pack for only £4 before starting the trail for lots of fun things to do on your forest adventure. Children can channel their inner Zog by donning a pair of wings and completing fun challenges to collect golden stars.  They can also pop on the magic glasses to look for hidden letters along the way to solve a word puzzle. When reaching the end of the trail, they complete a crayon rubbing to get their certificate and take a selfie with Zog!
To complement the trail and to take your dragon training to the next level, there is also a brand new augmented reality app, 'Zog: A Forest Adventure', that is free to download. The app has lots of bonus activities to complete including a roar-ometer, a dance challenge and the chance to become Zog.
Ellen Devine, Wellbeing Projects Manager said:
"It's so exciting to see that the new family activity trail is helping children to develop skills to care for their wellbeing and care for our forests! Playtime is so integral to children's mental health, and they can also learn so many valuable lessons through play. The new Zog trail provides an excellent opportunity for children to get out in nature and to learn all the lessons that little dragons need to know!

"We are very excited to be working with Magic Light Pictures again and are looking forward to families having a new and exciting reason to visit the forest throughout the year."
Alex Sanson, Senior Brand Manager at Magic Light says:
"Forestry England sites offer the perfect classroom for budding little dragons. The new Zog trails offer a great opportunity to young explorers to learn about all the wonderful ways our forests can look after us and how we can look after them. The AR app adds a fun extra element so that children can explore the character, the story and the forest in a new way."
Jon Meggitt, CEO at Arcade says:
"Several of us at Arcade have young children and know first-hand just how much Zog means to them. Bringing him and his friends to life in magical AR, and giving families even more reasons to get out into forests across the country, has been one of the most exciting and rewarding projects we have worked on. We're very proud of the result and can't wait to see all the little dragons earning their golden stars just like Zog!"
Further details of trails, app and free downloadable activity sheets are available from www.forestryengland.uk/zog
Notes to Editor
Photos can be downloaded from here All photos should be credited to Forestry England/ Crown copyright.

Zog trail activity pack includes:
Kraft bag to colour in
Dragon wings to decorate and wear
Zog glasses
Stickers
Trail leaflet
Pencil and crayon
Forestry England manages and cares for the nation's 1,500 woods and forests, with over 363 million visits per year. As England's largest land manager, we shape landscapes and enhance forests for people to enjoy, wildlife to flourish and businesses to grow. We are continuing the work we have already started to make the nation's forests resilient to climate change and by 2026 we will:  
create at least 6,000 more hectares where we integrate wilding activities in our productive forests.
increase the diversity of visitors to the nation's forests and have one million hours of high-quality volunteer time given to the nation's forests
plant at least 2,000 hectares of new, high quality, predominantly broadleaf woodlands
For more information visit www.forestryengland.uk. Forestry England is an agency of the Forestry Commission.

Magic Light Pictures is an award winning brand-building company with a strong background in production, creating rich and imaginative experiences for families worldwide.
The company, founded in 2003, directly manages film production, licensing, global distribution and marketing. The company balances its brand-building work with film making of the highest quality.

Magic Light's key brand is The Gruffalo, based on the best-selling picture books by co-creators Julia Donaldson and Axel Scheffler. Magic Light produced the Oscar and BAFTA-nominated half-hour animated films, The Gruffalo and The Gruffalo's Child, and has sold them to over 180 broadcasters worldwide.  Magic Light also runs a cross-category international merchandising programme for The Gruffalo brand, with over 80 licensees and hundreds of products that capture the charm of the original books. Magic Light also produced Room on the Broom, Stick Man, The Highway Rat, Zog, The Snail and the Whale, Zog and the Flying Doctors Superworm and The Smeds and The Smoos films – all have premiered on BBC One, Christmas Day.
In 2016 Magic Light produced two half-hours based on Roald Dahl's Revolting Rhymes. They were watched by 9.3million viewers and have won numerous awards including a BAFTA for Best Animation.
In 2021 Magic Light released its first children's series based on the collection of books by Axel Scheffler and Camilla Reid, Pip and Posy. The show premiered on Milkshake and is also available on Sky Kids and NickJr.
For more information visit www.magiclightpictures.com. Follow on Twitter and Instagram @MagicLightPics
Arcade is one of the UK's leading immersive experience agencies, on a mission to 'connect people to place through play'. Founded in 2016 and with offices in London and Amsterdam, they have built an extensive catalogue of work with clients across the globe. They cover multiple sectors including sports, entertainment, brands and marketing, in addition to many high profile location-based arts and culture experiences.
Highlights to date include: The Keeper of Paintings and the Palette of Perception, an immersive adventure for 7-11 year olds and their families set within The National Gallery in London; A Vixen's Tale, designed with Welsh National Opera to introduce audiences of all ages to an unexpected side of opera; The Hundred Avatars, working with Sky Sports and ECB to bring the superstars of cricket's newest and most exciting competition to life in AR; and now Zog: A Forest Adventure.
Arcade has won many awards for its work from bodies including Broadcast Sport, Creative Review and Creativepool, and was identified as one of the UK's 'Ones to Watch' by the Creative Industries Council in 2019 and 2020. They became founder members of Immerse UK in 2020. Arcade's founder team were named amongst 2020's best creative industries business leaders by Great British Entrepreneurs, were awarded a fellowship by Royal Holloway's StoryFutures, and will be part of the UK Trade Mission to SXSW in 2023.
For more information visit www.arcade.ltd Twitter & Instagram: @ArcadeLtd
List of participating sites:
Haldon Forest Park, Devon

Cardinham Woods, Cornwall

Moors Valley Country Park, Dorset

Alice Holt Forest, Surrey

Bedgebury Pinetum, Kent

Grizedale Forest, Lake District

Whinlatter Forest, Cumbia

Beechenhurst, Forest of Dean, Gloucestershire

Wyre Forest, Worcestershire

Haughmond Hill, Shropshire

Westonbirt Arboretum, Gloucestershire

Dalby Forest, North Yorkshire

Guisborough Forest, North Yorkshire

Delamere Forest, Cheshire

Fineshade Woods, Northamptonshire

Hicks Lodge, Leicestershire

Cannock Chase Forest, Staffordshire

Sherwood Pines, Nottinghamshire

Salcey Forest, Northampton

Jeskyns Community Woodland, Kent

Hamsterley Forest, Durham

Wendover Woods, Buckinghamshire

Thames Chase Community Forest, London

Gisburn Forest, Lancashire

High Lodge, Thetford Forest, Suffolk

Kielder Forest, Northumberland
Media Contact:
Rebecca Ulewicz, Media Relations Officer, T: 07771 971813, E: Rebecca.ulewicz@forestryengland.uk