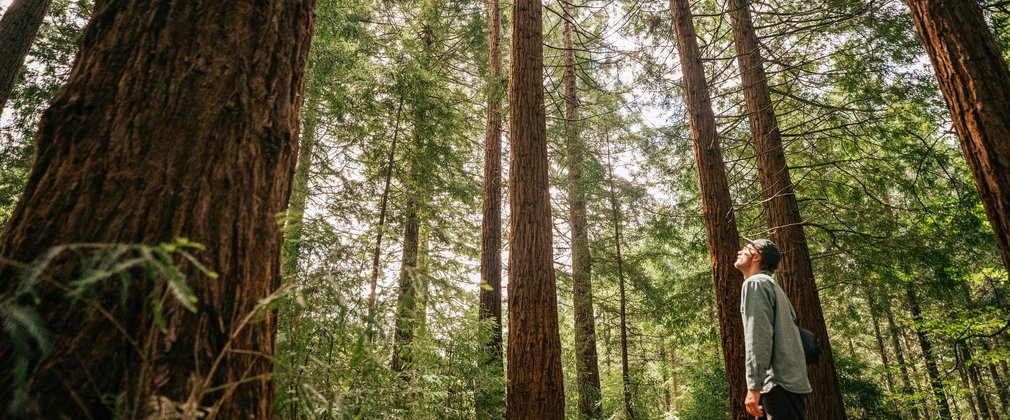 Over half a million of nature's giants in the nation's forests!
Every so often, whilst wandering through the forest, you may come across a ginormous coniferous tree with a reddish, thick, fibrous bark. You are in the company of a redwood tree, the largest and tallest organism on the planet. These were often planted many years ago by Victorian landowners who loved planting unusual tree species. Today, thanks to planting by our foresters, there are now over half a million redwoods to discover in the nation's forests and Forestry England are inviting people to get out and discover them with a new map, designed to help people get up close to nature's giants.
Attracting the attention of the early Victorian plant hunters, both coast redwoods (Sequoia sempervirens) and giant redwoods (Sequoiadendron giganteum) made it to the British Isles in the 1800s.  These largest (giant redwoods) and tallest (coast redwoods) trees have since been given much thought by Forestry England as they consider alternative tree species that can be grown in the face of a changing climate.
With now over half a million redwoods in the nation's forests,sequoias and sequoiadendrons in England are steadily increasing which is good news for the species' long-term survival. Having been thriving, fire-resistant ecosystems for millions of years, unfortunately over exploitation for timber during the 1800s and climate change have both had a detrimental effect on the species in their native range in the Sierra Nevada mountains, California. The International Union for the Conservation of Nature (IUCN) now regard coast redwood as 'Endangered' and giant redwood as 'Vulnerable'.
Forest Research studies show that western and southern areas of England could be a good fit for the survival of these species long term, as part of diverse forest mix, due to its temperate climate, moderate rainfall, and avoiding extremes of wind exposure, summer drought and winter cold.
Wally North, Forestry England's Head of Forestry and Timber says:
"By diversifying and growing different types of trees, including sequoias and sequoiadendrons, in the nation's forests, we are giving our forests the best chance to thrive."

"Both coast redwoods and giant redwoods are very resistant to forest fires because of their thick, insulating bark and they also play an important role in mitigating climate change.

"We believe it is important to include these trees in the wider mix available to our foresters as we design forests that will be resilient in the face of a changing climate."
Alongside safeguarding our forests for the future, sequoias and sequoiadendrons are magnificent trees to look at, offering a unique visual experience for visitors to the forest.
Bridgette Hall, Forestry England's Head of Recreation says:
"Visitors do not need to go to California to experience the wonder that nature's giants can deliver.

"Although still very young and quite a bit smaller than their Californian cousin, the giant and coast redwoods that in our forests are still magnificent.

"Not just for their phenomenal size, but also for their shape, their structure, and their soft sponge like bark."
With now over half a million to discover in the nation's forests, why not head to your local forest to see if you can discover one of nature's giants! You can see magnificent examples of coast and giant redwoods at Forestry England sites across England, more information can be found here.
Notes to Editor
Forestry England manages and cares for the nation's 1,500 woods and forests, with over 296 million visits per year. As England's largest land manager, we shape landscapes and enhance forests for people to enjoy, wildlife to flourish and businesses to grow. We are continuing the work we have already started to make the nation's forests resilient to climate change and by 2026 we will:  

create at least 6,000 more hectares where we integrate wilding activities in our productive forests.

increase the diversity of visitors to the nation's forests and have one million hours of high-quality volunteer time given to the nation's forests

plant at least 2,000 hectares of new, high quality, predominantly broadleaf woodlands
Images available here. Please credit Forestry England/Crown copyright
For more information visit forestryengland.uk Forestry England is an agency of the Forestry Commission.
Media Contact
Rebecca Ulewicz, Media Relations Officer | media@forestryengland.uk  |T: 07771 971813|