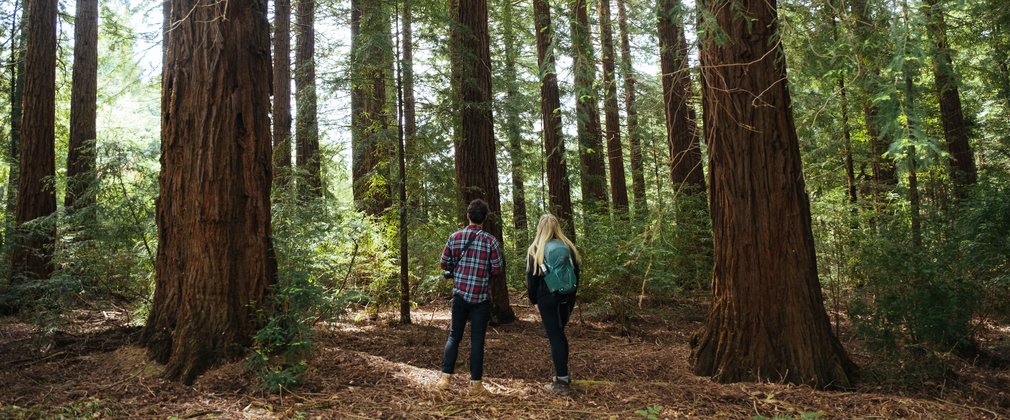 Feeling small in a forest comes with the territory. But every so often, while wandering among the trees, you may come across a huge conifer with reddish, thick and fibrous bark. You are in the company of a redwood tree, the largest and tallest living organisms on the planet. 
Giant and coast redwoods have long found home in the nation's forests. Redwoods were originally planted in the 1800s by Victorian plant hunters on return from their native California.
Now these giants might have a role to play in our future forests. Studies are showing their suitability to a changing climate through their various adaptations and good timber potential.

We're inviting you to experience these giants of nature for yourself.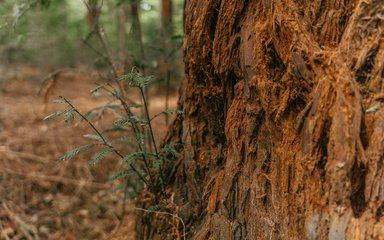 History of redwoods in the nation's forests
There are now over half a million redwoods planted across the nation's forests. The oldest are single monumental trees and avenues dating back to stately homes from the Victorian era, where they were planted as a status symbol or in tree collections for interest to science by plant hunters.

During the mid 1900s, research projects planted trial plots of redwood groves in different locations to explore the impacts of different soils and climate on the trees' health. The learning from these trials and growing understanding of future climatic conditions has increased recent planting, diversifying the mix of species across the nation's forests. 

While they can't yet compete in age or size of their Californian cousins, the redwoods in the nation's forests are unique and magnificent in the landscape for their shape, structure and unusual, soft, sponge-like bark.
The tallest tree in the world is a coast redwood, standing at 116 metres (taller than Big Ben!)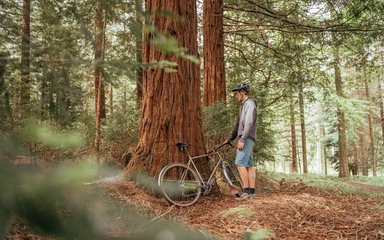 Discover redwoods
It's possible to find some magnificent examples of coast and giant redwood in the nation's forests, with many established research groves dating back over 70 years. 

From the shade they provide, to the dappled orange hue that glows amongst their trunks, standing under one of nature's giants is a unique sensory experience.

Use our map below, head out and cycle, hike or run to find redwoods near you. Our redwoods competition is now closed but continue to share your autumn adventures with the #RouteForRedwoods hashtag.
Choose a location on the map and use the what3words combination to help you pinpoint one of the redwood locations we've selected across the nation's forests. Use your favourite navigation tools or app to plan your route to take in the redwood location. 

These locations are not necessarily linked to our visitor hubs or waymarked trails. When planning your route to a location, please respect the Forest Code.
What to expect and look for
Each location is different - the nation's redwoods are made up of single monumental trees, avenues, groves and redwoods planted in among other tree species.
The trees on the map range in age from 10 to 157 years old, so remember to think about the size of tree(s) you might be looking for noted at the map marker.
In some cases you might need to leave the forest track at the map marker to identify the redwood(s) at that location.
Redwoods can be most easily identified by their reddish-brown, fibrous bark and slightly drooping branches, often above a carpet of orange needles.
Know before you go
These locations are not on a set or waymarked route from a visitor hub. You will need to navigate your own way to the redwood location details on the map. 
If you're driving to the forest, check the suggested parking locations.

Park in safe spaces and keep forest access barriers and road verges clear.

Head out in suitable footwear and clothing.

If you leave the main forest tracks, please look out for and respect wildlife.

Pests and diseases can be transported in dirt on your shoes and bike and put trees at risk. Clean your footwear and tyres before and after your forest adventures.
Fighting the climate
Past research trials and recent scientific climate modelling has shown redwoods could be suitable to future conditions in southern areas of England. This is good news for these species, as their narrow native range in the Sierra Nevada mountains of California comes under increasing threat from climate change and wild fire. 

Redwoods' size and fast-growing nature means they store a lot of carbon as they grow. When used for timber the carbon stays locked up, and the trees have good potential as a sustainable timber source in England. The wood produces wide boards that can be easily cut and great for cladding exteriors because of its resistance to rot. As a result of their size, redwoods also provide a complex micro-ecosystem, supporting over 250 plant species in their native habitat. 

Redwoods also carry some unique characteristics that make them more resilient to the impacts of climate change. Their insulating bark is adapted to wildfire, reducing its impact. To protect them from high winds in storms, root systems also knit with neighbouring trees. Currently there are no major threats to the trees' health from pests and diseases either, unlike some other species.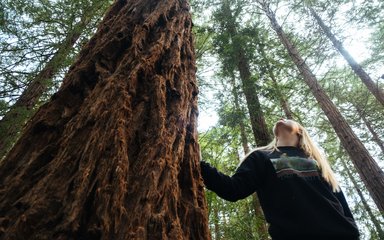 The largest giant redwood in the world, General Sherman in California, has a trunk that's 31 metres in circumference. That's a lot of people holding hands!