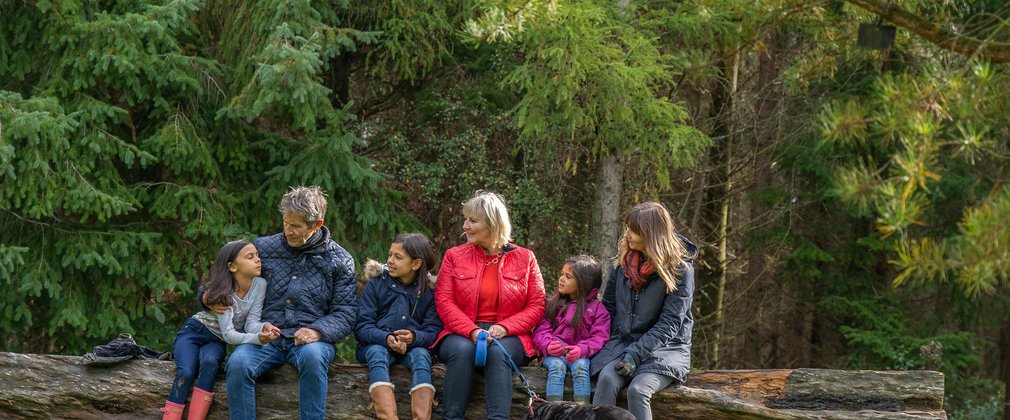 Record number of visits made to the nation's forests during a year of lockdown
Forestry England, the country's largest land manager, has recorded the highest ever number of visits to the nation's forests across England over the last year. Some 296 million visits took place – an increase of 77 million (or 35% percent) compared to the previous year. While gyms, cinemas and indoor entertainment had to close for extended periods due to Covid restrictions, the nation's 1,500 forests were always available. They were more popular than ever as places for people to relax, exercise, meet family and friends when guidelines allowed, and cope with the challenges of the last year.
Forestry England saw an increase in visitors from all adult age groups, including people visiting forests and woodlands for the first time, although it was clear the younger generation were visiting more than usual.
Despite the challenges involved in adapting to the restrictions and many more people, Forestry England staff were able to keep forests safe and in good condition since the first lockdown in March 2020. They continued to welcome people, maintain walking and cycling trails, play equipment and other facilities, and help visitors maintain social distancing by adapting facilities and systems. Of the many new visitors who enjoyed coming to forests for the first time during lockdown, the overwhelming majority were positive about their experience, with 91% of new visitor survey respondents rating their visit as 'good' or 'excellent'.
The increased demand from visitors did put extreme pressure on the most popular forest sites and at peak times some car parks had to shut because they were full. Recent weeks have continued to see large numbers of visitors, particularly at peak times, and Forestry England is encouraging people to visit at quieter times including early morning or evenings and explore more of the nation's forests nearby.
As Covid-19 restrictions have eased further with indoor venues reopening and larger groups permitted to meet outdoors, Forestry England is focusing on helping people continue to visit and enjoy the forests and woodlands they explored during lockdown.
Hayley Skipper, Forestry England Director of Operations, said:
"We know how important forests have been to people during lockdown, and our staff have worked incredibly hard to keep these special places welcoming and well looked-after. A wealth of research shows how much green spaces benefit people's health and wellbeing and we saw for ourselves the vital place the nation's forests play in people's lives for relaxation, exercise, children's play and to connect with wildlife and the natural environment.

"It's particularly important to us that we saw people visiting forests for the first time and could help them experience the beauty and wellbeing benefits of spending time in the forest landscape. We hope they'll deepen their connection to forests and woodlands and enjoy them much more often in the future. The nation's forests are for everyone, and this astounding number of visits shows the value they hold."
Forestry Minister Lord Goldsmith said:
"Many of us have seen first-hand during this difficult time the benefit that connecting with nature can have on our health and wellbeing, and I am delighted so many people have been able to seek solace in our nation's forests.

"We have recently set out plans to protect and grow our nation's forests, and how we will connect more people to nature. We will continue to work with Forestry England to encourage visitor numbers so more people can enjoy the benefits that our trees and woodlands bring."
Forestry England are also busy behind the scenes preparing to restart organised activities with larger groups which had to be put on hold during the lockdown. Forest sites expect to continue seeing high visitor numbers over the coming months despite other indoor and outdoor venues opening. More events like running, cycling, orienteering and other organised sport and recreation activities are beginning to take place where staff can manage them safely.
Notes to Editor
Images are available here
 
Forestry England manages and cares for the nation's 1,500 woods and forests, with over 296 million visits per year. As England's largest land manager, we shape landscapes and are enhancing forests for people to enjoy, wildlife to flourish and businesses to grow. For more information visit forestryengland.uk. Forestry England is an agency of the Forestry Commission.
 
The visit data is gathered through a survey which goes out four times a year to a representative sample of adults living in England, asking them about visits they have made to Forestry England forests over the previous three months. The figure of 296 million visits covers visits made from April 2020 to March 2021 and represents an increase of 35% against the previous year's figure of 219 million visits. This is one of Forestry England's Key Performance Indicators which were officially published on 17 June 2021.
 
A report published by Forest Research, a research agency of the Forestry Commission, explored people's connection with trees, woodlands and wider nature before and during the Covid-19 pandemic. The study showed an increased connection to nature amongst people already interested in the outdoor environment. More than 80% of respondents reported being in their garden more, while more than 50% reported an increase in appreciation of trees in their street, garden, park, along footpaths, and in woodlands. Two-thirds of people reported an increase in 'time taken to appreciate nature', 'level of happiness when in nature' and 'feelings of connection to nature'. The report – Engaging with Nature and Covid-19 Restrictions - https://www.forestresearch.gov.uk/research/engagement-nature-and-covid-19-restrictions/
 

In addition to the visit data survey, during the summer of 2020 Forestry England captured information about visitors to forests through anecdotal observation by staff at sites, an online survey which more than 10 thousand people responded to, and insights into website users to discover demographic data about visitors, what motivated them to visit and their intentions around future visits.
Media Contact:
Naomi Fuller e: naomi.fuller@forestryengland.co.uk t: 07825 255618