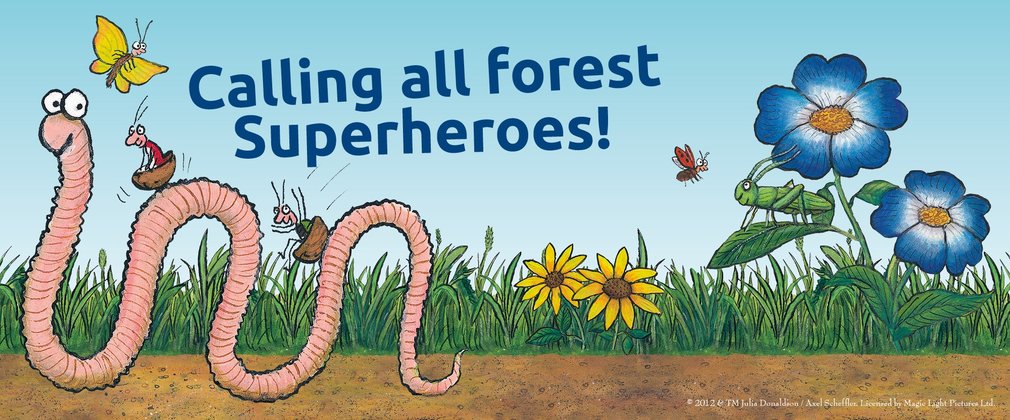 Hip, hip, hooray for SUPERWORM! Superworm returns to England's forests with an exciting new family activity trail
From the creators of The Gruffalo, the hugely popular children's picture book Superworm returns to Forestry England's woods and forests in January 2022 with a brand-new family activity trail. Launching on 5 January 2022, the new Superworm trails follow the premiere of the animated special from Magic Light Pictures, which aired on BBC One on Christmas Day.
In the latest exciting partnership between Forestry England and Magic Light Pictures, the Superworm trail showcases the unsung heroes of the forest. Based on the children's picture book written by Julia Donaldson and illustrated by Axel Scheffler, the trail highlights the small but mighty creatures in the Superworm story, such as toad, beetle and Wizard Lizard, and shows their amazing abilities as they make their home in the forest.
The Superworm activity trail can be found at 26 of the nation's forests across England and with lots of fun activities to complete, the new self-led trail will encourage children to become superheroes of the forest themselves. Families will discover brightly illustrated panels, packed with amazing activities designed to get children thinking about these unsung heroes. Questions along the self-led trail will inspire children to think about the everyday heroic feats of the minibeasts of the woods and forests around them. The trail should keep the young ones entertained for around an hour leaving plenty of time to find more fun and explore the forest.
Special Superworm trail packs are available to buy on sites for £3.50 with additional activities, including stickers, a superhero mask, creature fact cards, at-home activity sheet, pencil and crayon.
Bridgette Hall, Recreation Manager for Forestry England says:
This is such a fun trail that offers children the chance to become a hero of the forest, just like the much loved and heroic creatures within the Superworm story. You'll get to learn about our minibeasts and the important jobs they do for the nation's forests. With trails opening across the country, it's the perfect winter's day out.
Alex Sanson, Brand Manager at Magic Light says:
Forestry England sites are the perfect home for Superworm and all his friends. These trails offer a great opportunity to young explorers to learn about all the heroic feats that worms and other minibeasts achieve.
Superworm trail launch dates differ between forests, for more details please visit www.forestryengland.uk/superworm
Notes to Editor
Photos can be downloaded from here All photos should be credited to Forestry England/ Crown copyright.
Forestry England manages and cares for the nation's 1,500 woods and forests, with over 296 million visits per year. As England's largest land manager, we shape landscapes and enhance forests for people to enjoy, wildlife to flourish and businesses to grow. We are continuing the work we have already started to make the nation's forests resilient to climate change and by 2026 we will:

create at least 6,000 more hectares where we integrate wilding activities in our productive forests.
increase the diversity of visitors to the nation's forests and have one million hours of high-quality volunteer time given to the nation's forests
plant at least 2,000 hectares of new, high quality, predominantly broadleaf woodlands

For more information visit www.forestryengland.uk. Forestry England is an agency of the Forestry Commission.
Superworm is based on the delightful book written by Julia Donaldson and illustrated by Axel Scheffler, the UK's best-selling pictures book duo. It was first published by Alison Green Books, an imprint of Scholastic in 2012. Superworm is Magic Light's ninth animated adaptation of a picture book by the award winning creators. The previous films have secured their places firmly as family favourites at Christmas time on BBC One. For more information visit www.magiclightpictures.com
Magic Light Pictures makes imaginative entertainment for audiences, families and children worldwide. The BAFTA winning and 4-time Oscar nominated company creates high quality films and products and has built the wonderful Gruffalo brand over many years. Magic Light directly manages production, licensing, global distribution and marketing. It runs an international merchandising programme with over 80 licensees and hundreds of products. For more information visit www.magiclightpictures.com.
Media contact
Rebecca Ulewicz, Media Relations Officer
T: 07771 971813
E: Rebecca.ulewicz@forestryengland.uk
List of participating sites:
1. Alice Holt Forest, Surrey
2. Bedgebury National Pinetum and Forest, Kent
3. Beechenhurst, Forest of Dean, Gloucestershire
4. Cannock Chase Forest, Staffordshire
5. Cardinham Woods, Cornwall
6. Dalby Forest, North Yorkshire
7. Delamere Forest, Cheshire
8. Fineshade Wood, Northamptonshire
9. Gisburn Forest, Lancashire
10. Grizedale Forest, Cumbria
11. Guisborough Forest, North Yorkshire
12. Haldon Forest Park, Devon
13. Hamsterley Forest, County Durham
14. Haughmond Hill, Shropshire
15. Hicks Lodge, Leicestershire
16. High Lodge, Thetford Forest, Suffolk
17. Jeskyns Community Woodland, Kent
18. Moors Valley Country Park, Dorset
19. Salcey Forest, Northamptonshire
20. Sherwood Pines, Nottinghamshire
21. Thames Chase Forest, London
22. Wendover Woods, Buckinghamshire
23. West Walk, Forest of Bere, Hampshire
24. Westonbirt Arboretum, Gloucestershire
25. Whinlatter, Cumbria
26. Wyre Forest, Worcestershire