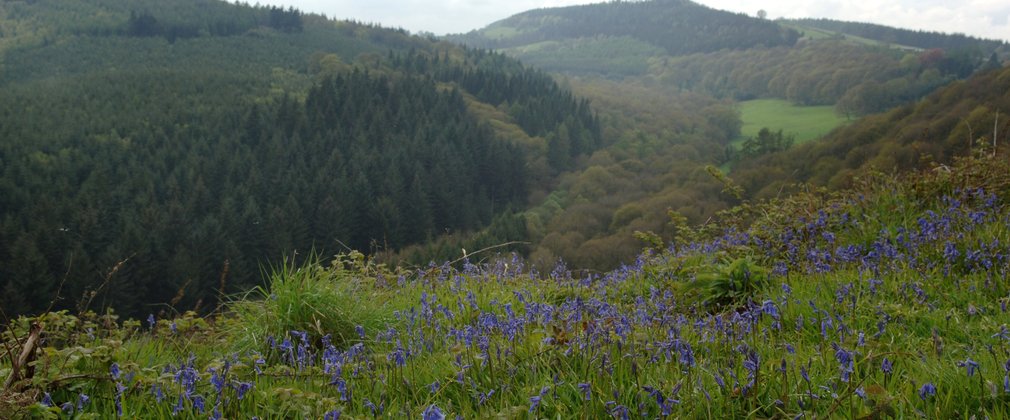 Top picnic spots in the nation's forests for spring wellbeing
As the days lengthen and spring sunshine brings gentle warmth, it's the perfect time of year to emerge from our winter hibernation, venture outdoors for longer, and restore wellbeing. And there's plenty to observe in nature as plants, trees and animals all increase activity with flowers blooming, trees budding, birds nest-building and insects looking for pollen and nectar.
A woodland picnic with family or friends is the perfect way to soak up these sights and sounds. As well as wildflowers and new green leaves on trees, if you're lucky you might hear the song of the cuckoo and see swallows and house-martins having returned from their winter migration – all tell-tale signs of spring.
Ellen Devine, Wellbeing Manager, Forestry England, says;
"The dark and cold of winter can make it much more challenging to be outside regularly and a spring walk – preferably with a delicious picnic halfway – can be so beneficial for our wellbeing and help us get back into the habit of getting outside. Tuning in to the sights and sounds of the forest, from the gentle breeze rustling the new leaves in the tree canopy, to birdsong, and the blanket of blue or white as we gaze at a carpet of bluebells or wild garlic flowers on the woodland floor, can really benefit our mood. There's so much evidence now of the health and wellbeing benefits of spending time in woodlands, and they are especially restorative as well as beautiful environments."
So, pack up your picnic rug, flask and sandwiches and choose from one of our top spring picnic spots from the nation's forests – or head to your local Forestry England woodland for your own spring outing.
Enjoy these perfect picnic spots:
Lodge Pond Trail, Alice Holt Forest, Hampshire
Get away from the hustle and bustle and enjoy a peaceful picnic at Lodge Pond. Explore Lodge Pond Trail as it passes through beautiful mixed broadleaf woodland and open mature pine forest. It is believed that Lodge Pond was created as one of a series of fisheries by Medieval monks. They would have used it to breed carp which formed an important part of their diet. Picnic tables are available.
Victory Glade, Westonbirt, The National Arboretum, Gloucestershire
In a secluded clearing, between Main Drive and Loop Walk, you will discover the picturesque Victory Glade. The most prominent feature of this glade is the felled Douglas fir that rests in the middle. This tree holds the reason behind the Glades name… If you count the rings on the Douglas fir from when it was felled it confirms that it was planted in 1856 –the end of the Crimean war. It is also the perfect place to pause for a picnic and spot some wildlife – it is not uncommon to see a roe deer walk by.
Mortimer Forest, Herefordshire/Shropshire
Straddling the border of Herefordshire and Shropshire, Mortimer Forest is the perfect place to visit in the spring. The spectacular goshawk can be seen hunting here, and small birds such as pied flycatcher and warblers are often seen. Open spaces within the forest provide warm spots for butterflies and places for reptiles to bask in the sun. Also, keep an eye out for the unique long-haired fallow deer that live in the forest, the only place in the world where they can be found. There are three car parks for the forest, each one offering the perfect spot for a picnic.
The Elephant Trail, Salcey Forest, Northamptonshire
This ancient woodland between Northampton and Milton Keynes is an ideal location for an al-fresco feast. Work up an appetite with a stroll along the Elephant Trail, named after the circus animals that helped in the war effort moving timber in the forest during World War Two. If you've arrived without the all-important picnic, the on-site Grounds Café can offer a range of food and drinks.
The Blue Walk, Lynford Arboretum, Norfolk
Lynford Arboretum near Thetford is noted for its variety of bird life, spring flowers and an important collection of over 200 species of trees. It's the perfect place to enjoy some peace and quiet. Starting from the Lakes carpark, the Blue Walk passes through Sequoia Avenue, one of the special features of the area. This double-rowed avenue of Sequoias was planted in the 1800s to honour the Duke of Wellington.
Staindale Lake, Dalby Forest, North Yorkshire
Set in the heart of Dalby Forest, Staindale Lake is the perfect spring picnic spot, and the Lakeside Walk is an accessible trail with plenty of spring sights and sounds to enjoy as you walk or sit including migrating birds back from their over wintering journeys.
National Pinetum, Bedgebury, Kent
Plant yourself on a fallen log amongst the shade of the giant redwoods along Dallimore Valley at Bedgebury National Pinetum. The Redwood glade is just a short walk from the visitor centre along the Pinetum Trail. Spot the earliest blooms of magnolias and cherry blossom as they begin to appear during the spring months and enjoy the reflections of new growth on Marshal's Lake and the ponds on this accessible waymarked trail.
Whinlatter Forest, Cumbria
Picnic at Whinlatter, England's only mountain forest. Explore winding paths through the trees as you find the perfect spot to stop and take in the nature around you. Keep an eye out for the local wildlife, including red squirrels. Climb to Bob's seat, a stunning viewpoint along forest roads and enjoy the views across to Grizedale Pike, the town of Keswick and beyond.
To help prevent forest fires and keep visitors and wildlife safe, Forestry England is limiting BBQs in the nation's forests this spring and summer and asking people to follow simple rules on their use, so picnics are a great alternative. Single-use, disposable BBQs are not permitted.  Forestry England's bookable BBQs are available at specified sites, and you can check what's available before you visit.
Notes to editor
Images are available here. Please credit Forestry England/Crown copyright.

Forestry England manages and cares for the nation's 1,500 woods and forests, with over 296 million visits per year. As England's largest land manager, we shape landscapes and enhance forests for people to enjoy, wildlife to flourish and businesses to grow. We are continuing the work we have already started to make the nation's forests resilient to climate change and by 2026 we will:   
create at least 6,000 more hectares where we integrate wilding activities in our productive forests. 

increase the diversity of visitors to the nation's forests and have one million hours of high-quality volunteer time given to the nation's forests 

plant at least 2,000 hectares of new, high quality, predominantly broadleaf woodlands 
For more information visit forestryengland.uk. Forestry England is an agency of the Forestry Commission.
Media Contact:
Naomi Fuller, Media Relations Officer |e: naomi.fuller@forestryengland.uk  |t: 07825 255618|