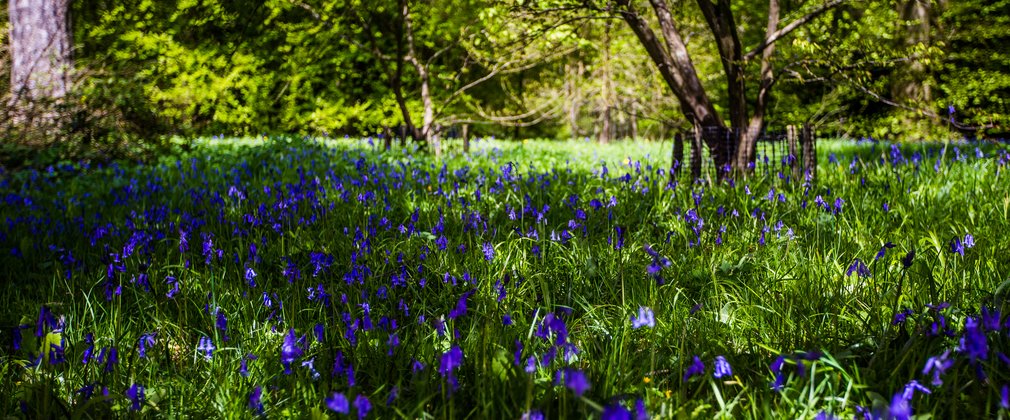 Top woodland wildflower spots to put a spring in your step
As the days get longer the sunshine brings us, as well as some of our wonderful wildlife, out of hibernation, and it's time to put a date in the diary to go out and enjoy the woodland wildflowers on show this spring in the nation's forests. Carpets of bluebells, the delicate pale-yellow petals of clumps of primroses and the brilliant white flowers of wild garlic are all beautiful sights to take in as you walk in the dappled sunlight of a woodland this season.
As well as being a feast for the senses, the presence of wildflowers including bluebells and primroses shows a site has been wooded for a long time and has a valuable range of trees of different ages providing habitat for wildlife. Look out for the insects emerging on a warm spring day to pollinate wildflowers like bluebells and primroses. Bumblebees and butterflies depend on them as a food source and Forestry England works year-round to manage woodlands to support these important species and boost their habitats.
Openings in the forest, called glades, supply warm, sheltered spots for butterflies. And clearings where mature trees have been harvested allow caterpillar foodplants to grow. Thinning out trees, before they mature, also opens up the canopy and encourages plants including the favourite spring flowers we all love to see.
So, pack a flask and enjoy a wildflower walk near you. Here's our list of Forestry England top spots to choose from:
Bedgebury National Pinetum and Forest, Kent
Great swathes of bluebells carpet Forestry England Bedgebury in springtime including beautiful, tucked away spots within the conifer conservation plots on the outskirts of the pinetum. There's a bench where you can sit and be completely hidden away and surrounded by the sea of blue. The 'Glory Hole' area of the pinetum displays glorious colour in springtime from the many azaleas and rhododendrons. This area was once an old quarry and tip but is now a feast for the eyes and a tranquil place to visit.
Grizedale Forest, Cumbria
Daffodils nestling on the slopes of Grizedale Forest in the heart of the Lake District are a stunning sight on a spring day. Breathtaking views of the surrounding fells, an extensive network of walking and cycling trails and inspiring sculptures by some of the leading names in contemporary art make this is a wonderful forest to discover.
Riccal Dale, North Yorkshire
Riccal Dale is a wonderful woodland ravine close to the village of Pockley near Helmsley. As well as having a chance to see a sea of bluebells in the woodland, you'll also pass through some wonderful views of Rydale and the River Riccal. There are some great walks on public paths and bridleways which cross private and public land. Depending on the route you choose there can be some steep climbs and at this time of year the path is likely to be muddy, so stout shoes are a must.   
Mortimer Forest, Shropshire
Mortimer Forest puts on a stunning display in springtime as the bluebells emerge on Climbing Jack Common. Best seen in May, follow the Climbing Jack Trail to cross the common and enjoy the sea of colour. If the weather is good, make your way to the summit of High Vinnalls for panoramic views across Shropshire and the Welsh hills beyond.
Dymock Woods, Herefordshire
Wild daffodils, also known as the Lent Lily, flower in March and early April. Dymock Woods puts on a spectacular display with the woodland carpeted in golden yellow each year. Within the woods is Shaw Common, one of the best woodland sites in Britain for wild daffodils. Shaw Common is also registered as a special 'seed-stand' for the sessile oak, one of two species of oak tree native to Britain. The Daffodil Way, a 10-mile circular walk, also passes through Dymock Woods. Each year the villages within the 'Golden Triangle' organise a festival, which includes guided walks to see the flowers and teas in the village halls.
Westonbirt, The National Arboretum, Gloucestershire
Magnolia flowering is always a special time in the old arboretum and the 'Westonbirt Diva' is a magnificent attraction in spring as the dramatic display of wonderful pink flowers reaching to the sky dominates the view on Circular Drive. Take a walk in Silk Wood to drink in more of nature's springtime show. This is a glorious woodland in spring – full of birdsong and a riot of colour thanks to carpets of native wildflowers - primrose, lesser celandine, wood anemone and bluebells.
Micheldever Wood, Hampshire
This beautiful predominantly beech wood just five miles from Winchester, is home to a diverse range of birds and insects as well as putting on a stunning display of bluebells and other woodland wildflowers. Two waymarked trails, including a buggy friendly family trail mean it's a great spot to plan a spring outing for all ages.
Fineshade Wood, Northamptonshire
Fineshade Wood near Corby is the perfect location for a woodland wander. Look out for winter aconites, members of the buttercup family with beautiful, yellow cup-shaped flowers. Aconites are one of the first to flower in woodlands and take advantage of the maximum amount of sunlight penetrating the tree canopy early in the year. The on-site Grounds Café is ideal for a warming drink and treat after your adventure.
Lynford Arboretum, Norfolk
Lynford Arboretum near Thetford is noted for its variety of bird life and spring flowers and is the perfect place to enjoy some peace and quiet. Starting from the main carpark, the Red Walk leads you through an important collection of over 200 species of trees, many planted to evaluate their resilience to East Anglia's temperate climate, sandy soils and below average rainfall. On this trail drifts of bluebells will line your walk and carpet the spaces among the trees, flowering from mid-April to the end of May depending on the weather.
Notes to editor
Images are available here. Please credit Forestry England/Crown copyright.

Forestry England manages and cares for the nation's 1,500 woods and forests, with over 363 million visits per year. As England's largest land manager, we shape landscapes and enhance forests for people to enjoy, wildlife to flourish and businesses to grow. We are continuing the work we have already started to make the nation's forests resilient to climate change and by 2026 we will:   
create at least 6,000 more hectares where we integrate wilding activities in our productive forests. 

increase the diversity of visitors to the nation's forests and have one million hours of high-quality volunteer time given to the nation's forests. 

plant at least 2,000 hectares of new, high quality, predominantly broadleaf woodlands 
For more information visit forestryengland.uk. Forestry England is an agency of the Forestry Commission.
Media Contact:
Naomi Fuller, Media Relations Officer | media@forestryengland.uk  |T: 07825 255618|